Lily Aronin Shares Healthy Breakfast Recipes for Spring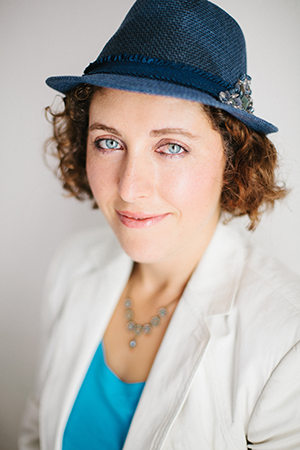 Ten women sat around a dining room table in Haifa chopping away at a selection of greens—broccoli, celery, kale. The vegetables were for a green goddess soup kit to be stored in our home freezers until one of those notoriously busy weekday nights when dinner plans are always challenging. This activity was part of a freezer-cooking workshop held by holistic health coach Lily Aronin that I took part in two years ago.
Before this moment, I had never touched kale. Aronin—a nutritional goddess of sorts in Israel—tried her best to impart her love for kale and all other healthy food stuffs to the group, answering our many questions along the way.
"What's millet?" someone asks.
"It's like quinoa's overlooked sister," Aronin assures us, describing the grain called for in her hearty split pea soup.
Today, Aronin splits her time between in-person classes—the freezer option is still popular, as are her family friendly and private courses—and her online challenges: sugar detox and plant-based eating, among others.
"I keep it simple," Aronin says of her many class offerings online. "Water first, lots of delicious vegetables and then any real food that is full of flavor and simply prepared. We hold each other accountable to share our success and our favorite failures."
As a baker, I am in desperate need of a sugar detox myself, but getting started is the hardest part. Yet with spring almost here, and jackets and sweaters coming off, I can no longer hide my extra winter weight. Starting with the very first meal of the day is my first baby step along the way to healthier eating.
Aronin, a 34-year-old mother of five, has an impressive morning routine that she has developed over time. She rises before her children, prepares a drink of hot water with lemon and salt; a spinach omelet; and sprouted toast with a schmear of almond butter.
After the children leave for school, she listens to a podcast, works out and downs four full cups of water. She eats some post-workout fruit and checks in with clients, all before 9:30 A.M.
You'd probably assume that Aronin has always been this healthy, but the opposite is true. She has admitted to online followers that she used to binge on Shabbat sweets and "tastings" while cooking each Friday for her family.
Mostly her advice is common sense—the kind that's always easier said than implemented. She preaches eating lots of fruits and vegetables, power grains, lean proteins, drinking lots of water and relying on healthy fats for treats, such as making chocolate pudding with a base of avocado. But most of all, she encourages people to treat their bodies with kindness and to set reasonable nutrition and fitness goals.
"The first step is learning to remove sugar and processed food from our daily lives," she says, describing the concept of clean eating. "You don't have to give up food groups or be extreme to be healthy and maintain your goal weight."
For now, a healthy breakfast and some joyful movement—a nice walk on the beach for me!—seem like just the push I need to get out of winter mode. And Aronin suggests two deliciously healthy breakfast recipes—Lily's Favorite Oatmeal and her portable Mushroom and Onion Egg Cups.
To a happy and healthier spring ahead!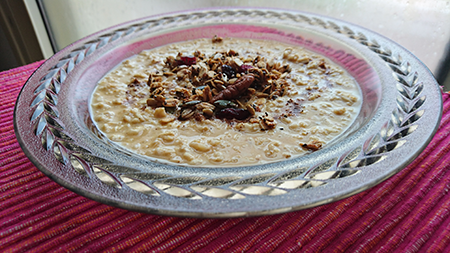 Lily's Favorite Oatmeal
Serves 4
2 teaspoons butter
1 cup steel-cut oats
3 cups boiling water
1 cup almond milk (or your favorite milk)
1 teaspoon cinnamon
1 teaspoon vanilla extract
1 tablespoon maple syrup or a sprinkling of stevia
1 Tablespoon prepared granola (optional)
In a large saucepan, melt the butter and add the oats. Stir for 2 minutes to toast. Add the boiling water and reduce heat to a simmer. Keep on a low simmer, covered, for 25 minutes, without stirring.
Combine the almond milk, cinnamon and vanilla with the oatmeal. Stir gently to combine and cook for an additional 7-10 minutes.
Spoon into a serving bowl and top with maple syrup or stevia and granola, if desired.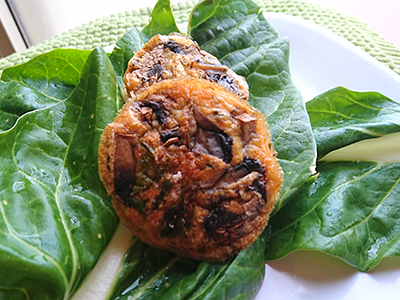 Mushroom and Onion Egg Cups
Serves 4
1 pint mushrooms
1 small onion
Coconut oil spray
Himalayan salt, to taste
Freshly ground black pepper, to taste
6 eggs and 2 whites
1 cup low fat ricotta cheese
and thyme
Sauté the mushrooms and onions in the coconut oil spray with a pinch of salt and pepper.
In a mixing bowl, combine the eggs and cheese with 1/4 teaspoon salt, 1/8 teaspoon pepper and 1/4 teaspoon dried thyme. Beat egg mixture until it is thoroughly combined.
Spoon the sautéed vegetables into four muffins molds on a large silicon muffin tray. Pour the egg mixture into the cups until they are 3/4 of the way full. Bake at 350 until the cups are golden and puffed. Allow them to cool on a rack before you unmold them.