Actions, Text and Subtext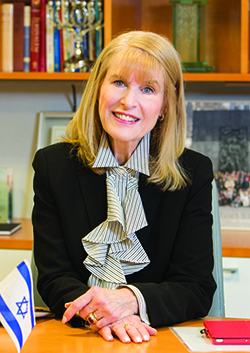 What we do in Hadassah is inseparable from who we are. Ever since Henrietta Szold called our first meeting to order in 1912, we have not only written our own story but also added to Jewish, Zionist and Israeli history. And every line of text that we write with our actions has a subtext.
This connection—between our roots and our daily activity—has rarely been more apparent than it is this month. Sandwiched between Mother's Day, Yom Yerushalayim (both on May 13) and Shavuot (which begins the evening of May 19), and coinciding with National Women's Health Week, we will be in Washington, D.C., advancing and celebrating the mission that unites us all to one another, to Hadassah's founding generation and to the generations since the Torah was given to us at Sinai.
Beginning on May 14, we will hold our National Assembly, National Business Meeting and the Hadassah Women's Health and Advocacy Conference. Following the conference, we will carry out our Day on the Hill initiative, in which Hadassah members meet with their representatives in Congress to advocate for issues that concern us as Zionists and American women.
One of the week's highlights will be the Women's Health Equity Summit, under the umbrella of the Coalition for Women's Health Equity, a group of national and women's health organizations working together to advocate for gender equality in medical treatment, research and funding. Hadassah launched the coalition in 2016 with 14 member organizations, a number that has since grown to 28.
We moved the National Assembly and Business Meeting from July to May this year to capitalize on our Washington presence and attract more participants to each of the week's events. We also wanted to link some key milestones. In addition to the 70th anniversary of Israel's independence (May 14 on the secular calendar, though this year it fell in April, according to the Jewish calendar), 2018 marks the centennial of the Hadassah Medical Organization, the Henrietta Szold Hadassah-Hebrew University School of Nursing and the HMO Department of Ophthalmology. Simply put, May provides a unique focal point for what we do and who we are.
Yom Yerushalayim marks the anniversary of Jerusalem's reunification in 1967. It was to Jerusalem that Hadassah sent its first two nurses in 1913 and it was in Jerusalem where the American Zionist Medical Unit (the 44-member medical team that was the seed of HMO) opened its doors in 1918. When Hadassah began its work, health conditions in Palestine were abysmal and two of the most consequential efforts of our first medical personnel were devoted to improving maternity care and fighting trachoma. So the key subtexts to this month's activities are the centrality of the city that has been the spiritual capital of the Jewish people for 3,000 years—and the declared capital of modern Israel since 1948—the magnitude of women and mothers to a society's overall welfare and the importance of eye care to public health.
Hadassah is recognized around the world as a medical pacesetter. From the beginning, our reputation—not only for care and research but also as an oasis of peace in a troubled region—has been a manifestation of our Zionism.
The milestone anniversaries we observe in 2018 are at the heart of our May schedule, and they will also have a sequel in From Dream to Innovation, Hadassah's Milestone Mission to Israel, from October 7 to 15. Participants will see our institutions of healing and education and also walk in the footsteps of our medical pioneers as they celebrate a century of new texts. It's not too late to sign up.
Our whirlwind week in May concludes in time for Shavuot, which celebrates both the wheat harvest of ancient Israel and receiving the Torah on Mount Sinai. It's a fitting close to a series of events tied to our roots and values, our texts and subtexts, reminding us that they come not only from the ground on which we stand but also from above.