A Moveable Feast Through Israel's Shuks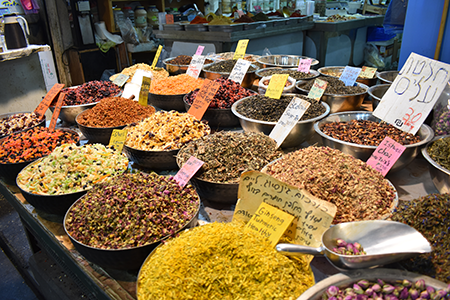 Paper-thin layers of fried eggplant are pressed next to sliced hard-boiled egg and tomato, placed in a fresh pita and then topped with hummus, tahini, shredded cabbage and the spicy mango condiment amba. This sandwich, called sabich, awakened my taste buds—and I don't even like eggplant.
​We were at Sabich Tchernikovsky, Tel Aviv's top purveyor of the specialty, according to culinary tour leader Inbal Baum. People spilled onto the sidewalk from the tiny shop's interior as each waited to get a lovingly crafted sandwich. Like the best Israeli food vendors, Sabich Tchernikovsky does one thing and one thing only. Sabich is "the only true Israeli food," said Baum, founder of Delicious Israel food tours and our guide that day. It was created by an Iraqi family that served the sandwich—based on a traditional Mizrachi Sabbath breakfast—to dockworkers.
​The sabich stop was the second of a dozen on Baum's tour in and around Shuk HaCarmel, an expansive and bustling market in the heart of Tel Aviv. Food tours of Israel's varied shuks are booming, and there are many more than those in which I participated during a recent visit to Israel. While no one website lists them all, a Google search of the shuk of your choice plus "food tour" will turn up several options. TripAdvisor is also a good resource.
​Our Shuk HaCarmel tour—I was accompanied by my older daughter, Aliza—included a stop at HaMalabiya, a café selling beer and malabi, a milky pudding with a flan consistency that is generally topped with crushed peanuts and rosewater. Toppings here include crushed pistachios and coconut.​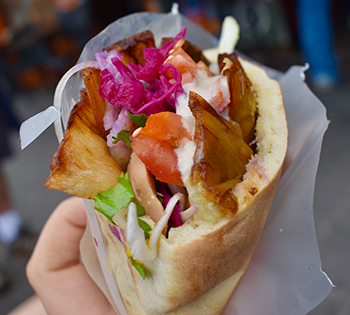 When we reached Shlomo & Doron, a hummus place in the heart of the Yemenite Quarter that runs alongside the shuk, plates of the chickpea dip in various iterations both classic and original arrived almost instantaneously. And it was at Shlomo & Doron that I ate the single best thing of my two-week long trip: humshuka—hummus with shakshuka cooked in the middle. The dish was sublime.
​At Irit's House, a mini-restaurant in a semi-industrial zone on the outskirts of the Yemenite Quarter, a few tables and a tiny counter front a small stove with a frying pan. In that well-worn pan, Irit herself conjured the magic known as lachuch—a savory Yemenite pancake—from flour, salt, oil and fenugreek.
​Strolling back to the shuk, we fressed on the date-filled Yemenite pastry called ma'amoul. Our final stop was at Elad's falafel stand in Shuk HaCarmel, where the fried balls are crisp on the outside, tender on the inside and topped with more salads and slaws than I've ever seen.
A few days later, my husband, Marc, and I along with Aliza and our younger daughter, Elana, toured Tel Aviv's Levinsky Market. More neighborhood than market, the Levinsky area in south Tel Aviv is where the city's Balkan and Turkish residents first settled. This tour was guided not by a person but by the Bitemojo app and included "bites" at several stops. First up was Café Levinsky 41, a stall with a counter where owner Benny Briga made me one of his famous fruit gazoz beverages. With artistic flair, he placed chunks of fruit and fresh herbs in a cup, adding fruity syrup topped with fizzy water.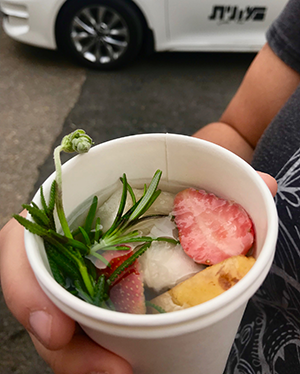 ​Next was Bourekas Shel Ima—Mama's Bourekas. They're not the little stuffed triangles or squares familiar to most Americans. They're Turkish style, large u-shaped filos stuffed with cheese, spinach or potato. Wrapped in waxed paper with hard-boiled egg, pickle and a bit of spicy tomato sauce on top, they were a tasty, filling lunch. There were more bites ahead but first we stopped at a street cart where a giant bottle of juice—we chose tapu-gezer, orange-carrot—was remarkably cheap and squeezed as we waited. Then we moved on to Pimpinella, a corner bar and restaurant where we sampled beer-battered tempura fish and chips.
​On the way to our last stop, Bitemojo provided information about the architecture and graffiti for which the Levinsky and larger Florentin neighborhoods are famous. Finally, we arrived at Hummus Ajami. Our appetites had miraculously returned and we ordered the organic hummus that comes with the Bitemojo tour, adding a hummus with chopped meat for my carnivore daughter.
Several days later, we decamped to Jerusalem, where Elana and I embarked on a culinary tour of Machaneh Yehudah that ended with dinner at Chef Tali Friedman's atelier. Passing myriad cafés and bars, it became clear that Machaneh Yehudah is as different from Shuk HaCarmel as Jerusalem is from Tel Aviv. While Tel Aviv is known as a foodie's paradise, this shuk is the more sophisticated of the two: larger, more developed and with more exotic offerings.
​Our guide was Friedman's brother, Yossi Hillel. We started at The Original Bourekas From Haifa on the market's main street. Hillel produced a platter filled with sliced bourekas, boiled egg and condiments. The difference here, he explained, is that the dough is made with vegetable oil rather than margarine.
​Up next was Mizrachi Pitzuchim, or the Mizrachi family "crackables," i.e., sunflower seeds, other seeds and nuts. Mizrachi Pitzuchim also sells organic dried fruits including apricots, figs, pears, raspberries and plums as well as exotics like goji berries and Greek strawberries. Freshly made granola in several flavors is a shop specialty. A large metal scoop of each granola—less sweet than supermarket granola—was passed around our small group, which included grandparents, children and grandchildren from New York.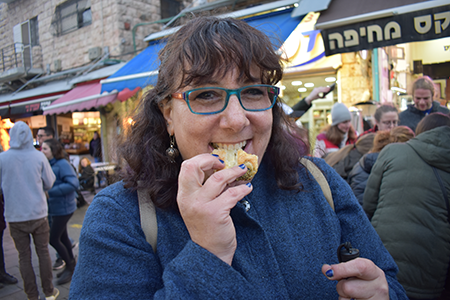 ​Down another market lane is Basher Fromagerie, run by brothers Eli and Dudi Basher. According to Hillel, it is considered the best cheese shop in Israel. Clad in a cheesemonger's white coat, Eli greeted us saying, "Welcome to paradise." Enormous wheels of mold-covered cheese were laid out, with beautiful fresh breads, pickled condiments and fresh pastas also heaped on two counters. Truffles and truffle butter from Italy are the store's top sellers. Eli had us taste Goudas of various ages as well as other specialty cheeses.
​The next stop may have been the most interesting: Kingdom of Tehina. In the back of this sliver of a shop stands a huge stone cold press, and we were offered tastes of tahini straight from the spout. It was unlike any I've ever tasted—smooth but deeply nutty, more like fresh peanut butter than typical tahini.
​Just across Eitz HaChaim Street is Halvah Kingdom. While wheels of halvah appear in every Israeli shuk, the difference here, Hillel told us, is that typical halvah is 70 percent sugar. Halvah Kingdom's is 70 percent sesame and 15 percent sugar (plus added flavorings). We sampled some of the stand's 100 different varieties, from common pistachio and almond to cilantro, coffee and scotch.​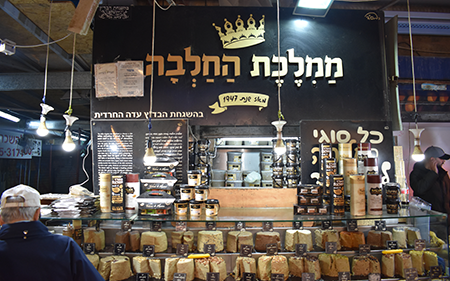 Tired and stuffed, we climbed a narrow staircase over a nondescript vegetable stand to Friedman's atelier. As the meal was prepared, I chatted with Friedman, who trained in France, ran restaurants in Israel, has authored cookbooks—her newest, Market to Table, comes out in English this year—and claims to have offered the first Machaneh Yehudah culinary tour. "Now, if you throw a stone you hit someone" giving one, she said. What she doesn't like is how the market is changing.
​"Until five years ago, it was fruits and vegetables and poultry and fish, with two or three coffee shops," said Friedman, who is on Machaneh Yehudah's leadership committee. "Today, pizza is taking over." Every time a longtime stall goes out of business, a café or bar opens in its place. The leadership committee is developing regulations to limit the number of restaurants and bars, she said. "Otherwise, we will lose the authenticity and it will be just for tourists."
​My recommendation? Even if you've been to Israel a dozen times, go on a good shuk food tour. You'll learn about purveyors of the finest food in Israel in tucked-away corners of streets you won't likely discover on your own. Just be warned:You'll likely return home a few pounds heavier.
SHUK FOOD TOURS
Tel Aviv
Bitemojo
Self-guided itineraries for hipsters, vegans and drinkers
Boker Tours
Food-focused and general, personalized tours of Israel
The Curious Foodi
Curated trips through the city's three different markets
Jerusalem
Chef Tali Friedman—The Atelier
Machaneh Yehudah tours with or without workshop and dinner
Israel Unlimited
Private noshing expeditions through the Old City
Haifa
Haifa Street Food Tours
Custom-built kosher and nonkosher tours created by Hadassah Magazine's online food writer, Jessica Halfin
Chef BaLaShuk
Food treks in the Wadi Nisnas neighborhood
Debra Nussbaum Cohen is an award-winning journalist and New York-based correspondent for 'Haaretz.' She is also the author of 'Celebrating Your New Jewish Daughter: Creating Jewish Ways to Welcome Baby Girls Into the Covenant.'