Jake Tapper on the 'Pleasure' of Covering Washington in Fiction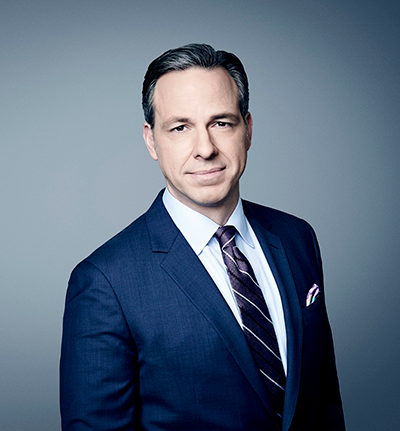 The Hellfire Club
, a new book from Jake Tapper, explores a Washington, D.C., divided and in disarray. It is a place, he writes, "populated by grifters and con artists," a city where things advance based on "who you knew and whose back you scratched"—and a government run behind a veil of secrecy.
Oh, for the record, it's fiction. Or is it?
Hellfire Club is set in the early 1950s—the height of anti-communist hysteria—when the House Un-American Activities Committee and the infamous Army-McCarthy hearings limited free speech and almost entirely silenced dissent. It's the story of a newly appointed congressman who realizes it can be dangerous to stand up for what you believe and that speaking truth to power can literally get you killed.
Tapper is best known as the host of The Lead with Jake Tapper, his highly rated weekday show, as well as the Sunday program State of the Union, both on CNN. He is the author of three previous works of nonfiction, most notably The Outpost
, about a small group of young American soldiers placed at a remote Afghan base as indefensible as the generals' reasoning that put them there.
Tapper attended the Akiba Hebrew Academy (now the Jack M. Barrack Hebrew Academy) outside Philadelphia. He currently lives in Washington with his wife and two children. This interview has been edited for brevity and clarity.
You paint a bleak picture of Washington in Hellfire Club. Is it really that bad?
I think in some ways it's probably better. But in some ways, it's worse. There have been a lot of reforms and laws passed since 1955 that help make it somewhat less swampy then it was then. There are a lot more disclosure requirements. The Washington I describe in the book is sexist and racist. That's improved significantly. That being said, there is a thriving industry of lobbying and influence peddling that is much bigger today than it was then. The wrong of money in politics is much bigger today than It was back then. Today, it's a necessity. It's not unusual to have millions of dollars poured it into a House race.
Why did you turn to fiction?
A lot of reasons. It was a great release and pleasure [compared] to the world of nonfiction. [In fiction], I have a more linear story with a beginning, middle and end. Whereas right now, we're in the middle of an arc and we don't know if it's ever going to end. Also, there were things I wanted to say about the political world that I thought would be better illustrated and more accessible through fiction than nonfiction.
With all that's going on in Washington, how do you keep your head from exploding?
[Laughing] Writing this book helped. The news cycle today is truly insane. What I do to stay sane is exercise and spend all my free time with my wife and children. My children, their concerns aren't about world affairs. Their concerns are about their friends, and that grounds me. Also, I have faith in the structure of the U.S. government created by the Founding Fathers, the separation of powers and the freedom of the press. Those are the things that have kept me as sane as I am.
You mention freedom of the press. How is the media doing in the era of "fake news"?
I think the press is thriving and in a great place. I've been hearing appreciation for journalists in a way that I haven't for a long time. I think it's important for journalism to rise above and not be dragged down by the people trying to undermine us. This is a golden age of journalism. There's a lot of tremendous work being done by our competitors, The Washington Post, The New York Times, The Los Angeles Times.
On air, you have essentially called to task President Trump and his staffers. In these divisive times, do you fear for your safety?
No. It's a very heated environment out there and anyone in the public square should be smart. You've also seen a rise in anti-Semitic attacks and anti-media rhetoric. But, no, I don't feel endangered.
Do you ever worry that being Jewish makes you particularly vulnerable?
I'm not concerned. But, since 2016, when I asked then-candidate Donald Trump about the Ku Klux Klan and David Duke, there's been a rise in anti-Semitic attacks on social media. At the end of the day, I have no idea how many are real people and how many are Russian bots.
Why did your parents decide to send you to a Jewish day school?
We were raised Conservative, but around the time I was in the fifth or sixth grade, my father became more observant. My brother had already been at Solomon Schechter, and my father chose to enroll me in Akiba.
How would you describe the school?
It was a small school with a bunch of really smart kids and really smart teachers who tried to instill in us values and ethics. A lot of what they taught stays with me today in terms of tikkun olam and trying to treat everyone as you want to be treated.
Anything else from your Akiba days that stays with you?
The values and traditions of the debates we had is obviously important in my job moderating political debates. The idea of listening to all sorts of ideas I think is very Jewish and part of what I do for a living. Also, the Jewish concept of giving people the benefit of the doubt. Don't always assume the worst words about someone. That's part of my work and part of my life when I'm trying to be at my best.
Curt Schleier, a freelance writer, teaches business writing to corporate executives.