Tori Avey's Shavuot Table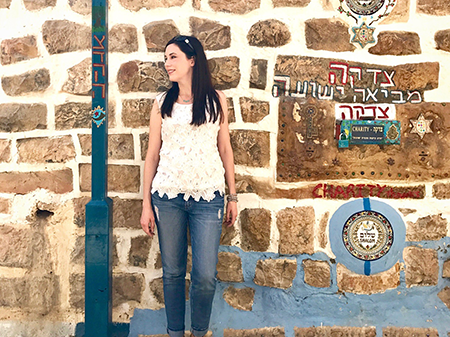 Tori Avey is a big name in the Jewish food world. Whether you want to know how to make the perfect matzah ball soup or an amazingly flavorful shakshuka, she's your gal. With over 20 million hits on her eight-year-old website each year, you've probably encountered the historical food buff and her kosher recipes many times online.
"My original intention was to write a simple blog and share recipes and food history with family and friends," said Avey. "My husband was born in Tel Aviv, and the recipes he grew up with were unfamiliar to me as a born-and-raised California girl. Exploring the cuisine became more than a hobby. At the time I started the blog, I was also embracing Judaism, so I wrote a bit about that process as well," she adds, referring to her conversion.
Throughout her development as a food writer, photographer and recipe developer, Avey said she "read a lot and researched food voraciously." She found a mentor in the late Gil Marks, a well-known cookbook author and Jewish food historian; and befriended famous chefs, such as Uri Jerimias of Akko's much lauded Uri Buri seafood restaurant, and Chef Katsuji Tanabe, a Top Chef cast member known for opening the first authentically Mexican kosher restaurant in the United States—Mexikosher.
Her intense curiosity about food history has not diminished. In fact, aside from the Jewish dishes on her site, following Avey will leave you mesmerized by recipes that Abraham Lincoln and Princess Diana enjoyed, and novelty posts on topics such as the history of American cereal.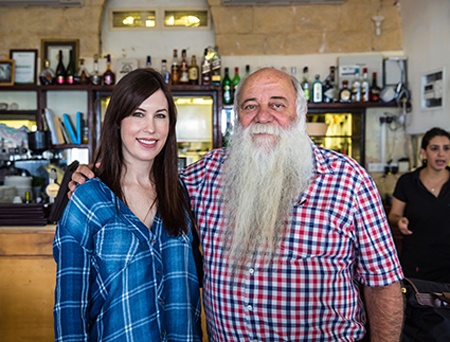 "My ultimate goal is always to bring people together through the shared experience of cooking and enjoying a homemade meal," she said. "I am also excited about introducing my readers to new cultures and cuisines—opening minds and hearts through food, travel and historical exploration. But above all else, I am focused on making my site as interesting, useful and informative as it can be."
Her most "interesting" and "informative" recipes may also be the most personal for her family. On her site, she shares several "Ashkephardic" recipes, which combine the Ashkenazi and Sephardi heritages of her husband. While she appreciates both those Jewish influences, she confesses a preference for Mediterranean, Sephardic flavors.
With Jewish holiday cooking on my mind—Shavuot begins the evening of May 19—I am dying to know what Avey makes for the holiday. Being a baker, dessert enthusiast, a lover of vegetarian casseroles as well as fresh seasonal produce, the dairy-centric festival is one of my favorite on the Jewish calendar.
"I am an unabashed cheese lover," she confirmed, "so I'm a big fan of Shavuot's connection to dairy foods. We fill the table with early-summer salads, vegetarian entrées and sometimes a fish dish." (Her family is mostly pescatarian.) "And I'll take any excuse to make cheese blintzes! At this time of year, blintzes are particularly symbolic; when you place two side-by-side they look like little Torah scrolls. And of course, cheesecake always make an appearance in one way or another, usually as cheesecake parfaits."
Here she shares her most popular Shavuot recipes: Baby Lox Potatoes Appetizer; Stuffed Peppers With Goat Cheese; and an irresistible Greek Yogurt Apple Streusel Cake.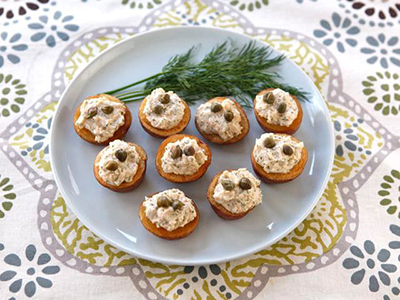 Baby Lox Potatoes Appetizer
Makes approximately 40 potato bites
This appetizer will allow you to enjoy lox and cream cheese as a lightened up, gluten-free appetizer. Roasted baby potatoes create little "boats" for a luscious lox spread. Greek yogurt lends nonfat creaminess to the lox; combined with a small amount of cream cheese, the flavor is rich and creamy without being overly caloric. Topped with capers, the flavor is heavenly. In addition to this baby potato appetizer, the lox spread goes great on whole grain toast, as a topping for crostini or the old-school way—on a toasted everything bagel. Essen!
 2 pounds small red new potatoes or baby potatoes, 2-inches each
2 1/2 tablespoons extra-virgin olive oil, divided
3/4 cup nonfat Greek yogurt
1/4 cup cream cheese
8 ounces Nova lox or smoked salmon
2 tablespoons chopped fresh dill
Capers for garnish
1. Preheat the oven to 400 degrees. Scrub the potatoes clean, leaving the skin intact. Slice the potatoes in half horizontally. Use a vegetable corer or melon baller to scoop out a teaspoon-sized hole in the center of the cut side of each potato half. Place halved potatoes into a large bowl and discard the cored pieces. Toss the potato halves with 1 1/2 tablespoon olive oil till evenly coated. Brush the baking sheet with the remaining 1 tablespoon olive oil. Put the potatoes onto the baking sheet, cut side down, skin side up. Roast the potatoes for about 30 minutes till tender. Let the potatoes cool to room temperature.
2. Meanwhile, put Greek yogurt, cream cheese, lox and dill into the food processor. Process ingredients until they are blended together.
3. When potatoes are cool, use a small spoon to fill the hollowed-out potato halves with the lox mixture. Garnish each potato half with 2-3 capers. Serve.
Make Ahead: I'm not a huge fan of refrigerating potatoes (they can sometimes turn mealy), so if you want to make this ahead I recommend making the spread in advance and spreading it on crackers or bagel chips. Still delish, and your prep time will be cut down considerably. Enjoy!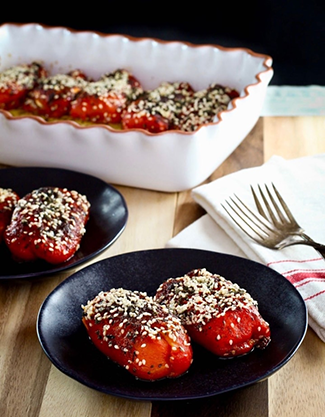 Stuffed Peppers With Goat Cheese
Serves 5
These roasted peppers are stuffed with tangy goat cheese and then topped with sesame seeds and fresh herbs.
5 large red bell peppers
8 ounces soft goat cheese (or substitute feta)
Extra-virgin olive oil
1/4 teaspoon allspice
2 teaspoons fresh minced hyssop (or 3/4 teaspoon dried hyssop- see substitution note)
2 teaspoons fresh minced sage (or 3/4 teaspoon dried sage)
1 1/2 teaspoons fresh minced oregano (or 1/2 teaspoon dried oregano)
1/2 teaspoon fresh minced thyme leaves (or a pinch of dried thyme)
1 tablespoon sesame seeds
Salt
1. Roast your bell peppers, then steam, seed, and peel them. For instructions, read How To Roast Bell Peppers.
2. Take a roasted bell pepper and place it on a cutting board. Slice the pepper vertically from top to bottom and spread it open. Cut the pepper flesh in half, slicing it from top to bottom so you have two equal-sized pieces of roasted pepper.
3. Repeat this process for the remaining bell peppers. You will end up with 10 pieces of roasted pepper.
4. Preheat your oven to 300 degrees. Grease a small baking dish with extra-virgin olive oil, then sprinkle the oiled surface with salt.
5. Place one of the roasted half-peppers on a cutting board with the inner side facing up (the side that used to have skin on it should face downward). Form 1 tablespoon of the cheese into an oblong oval shape. Press the cheese into the center of the pepper.
6. Wrap the ends of the pepper up around the cheese and pull the sides across till it makes a little package. Turn the stuffed pepper over and place it into the bottom of your baking dish, seam side down. Repeat the process until all the pepper halves are stuffed with cheese.
7. Sprinkle the tops of the stuffed peppers with allspice. Mix the fresh or dried herbs together in a small bowl till well combined. Sprinkle the herbs evenly over the top of the peppers.
8. In a skillet, toast 1 tablespoon sesame seeds over medium heat till lightly browned.
9. Sprinkle the toasted seeds on top of the herbs. Alternatively, you can use pre-roasted sesame seeds or gomasio. Drizzle the tops of the peppers lightly with olive oil and sprinkle the entire surface with salt to taste.
10. Place the dish in the oven and bake for 30 minutes. Serve hot.
Substitution Note: If you can't find fresh or dry hyssop, you can add and additional 1 tsp sage and 1 tsp minced fresh mint to the mixture. Feel free to adjust the herbs according to taste or what you have in your garden or spice cabinet. I've provided dry herb amounts here, but I do recommend you use fresh herbs if possible—they really enhance the natural flavors in this dish.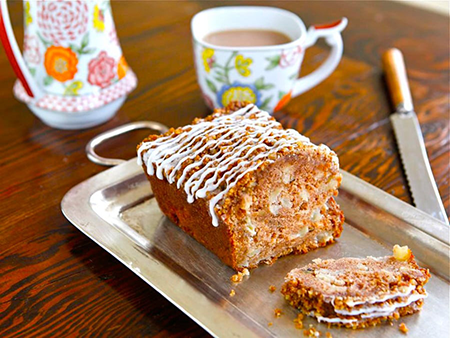 Greek Yogurt Apple Streusel Cake
Serves 16
This is a simple, moist loaf cake with lots of cinnamon, a sweet, nutty streusel topping, and a pretty white-icing glaze.
FOR THE CAKE
1 pound Granny Smith apples, peeled (about 3 medium)
2 tablespoons lemon juice
1 1/2 cups plus 2 tablespoons sugar, divided
1/4 cup unsalted butter, room temperature
3 large eggs, room temperature
1 tablespoon vegetable oil
1 cup Greek yogurt
1 teaspoon vanilla
1/2 teaspoon almond extract
2 1/2 cups flour, divided
1 1/2 teaspoon baking soda
1 3/4 teaspoon cinnamon, divided
1/4 teaspoon salt
1/4 teaspoon nutmeg
Dash cloves
1/3 cup chopped walnuts
Nonstick cooking oil spray
FOR THE STREUSEL
3/4 cup chopped walnuts
1/4 cup brown sugar
1 tablespoon unsalted butter, melted
Pinch salt
FOR THE GLAZE
1 cup powdered sugar
1 1/2 tablespoons water, or more if needed
1 teaspoon melted butter
Put peeled apples into a bowl of cold water mixed with lemon juice. Reserve. Place a rack in the center of the oven and preheat to 325 degrees. Cut the butter into small chunks and place in a large mixing bowl along with 1 1/2 cups sugar. Use an electric mixer to beat together the butter and sugar for a few minutes. Make sure the butter is fully integrated into the sugar and the mixture turns into small, even-sized crumbs.
1. Add the eggs and oil to the bowl. Continue to mix until smooth. Add the Greek yogurt, vanilla and almond extract to the bowl. Use a spatula to stir the mixture till smooth.
2.  In a medium bowl, sift together 2 1/4 cups flour, baking soda, 1 1/2 teaspoon cinnamon, 1/4 teaspoon salt, nutmeg and cloves.
3. Fold the dry ingredients into the wet to make a thick batter. Don't overmix—a few lumps are O.K.
4. In the same medium bowl you used to sift the flour, sift together the remaining 1/4 cup flour, 2 tablespoons sugar and 1/4 teaspoon cinnamon.
5. Drain the peeled apples and pat dry. Core the apples and dice them into small 1/4-inch chunks. Add the apple chunks to the flour, sugar and cinnamon mixture. Toss the apple chunks with the flour till evenly coated. Fold the apple chunks and walnuts into the cake batter. Grease two loaf pans with nonstick cooking oil spray. Divide the batter evenly between the two loaf pans.
6. Combine streusel ingredients in a food processor and pulse till a crumbly topping forms. If you don't have a processor, chop the walnuts into very small pieces and mix them with the other streusel ingredients till the mixture is moist and crumbly. Sprinkle the tops of the two cakes evenly with streusel, half on each cake.
7. Place the cakes into the oven. Bake for 60-70 minutes, turning once halfway through cooking, till the top is brown and a toothpick inserted into the center of the loaf comes out clean. If the top of the cake browns faster than it bakes, cover with foil for the remainder of baking time. It's a very moist cake, so err on the side of cooking it a little longer if you're unsure, using the foil to protect against burning.
8. Let the cakes cool for 20 minutes in their pans, then gently release and place on a wire rack to cool completely. If the cakes will not release easily, you can also let them cool completely in the pan.
9. To make the glaze icing, sift powdered sugar into a small mixing bowl. Use a whisk to mix the ingredients till a thick and creamy icing forms. You want the consistency of thick honey; if you need a little more moisture, add milk a few drops at a time. Just a drop can take it from a thick honey to a runny texture, so add with care. The thicker the frosting is, the more white it will dry… adding too much water will cause it to dry clearish, and it won't have that nice thick white look to it.
10. Line a glass with a plastic bag, wrapping the edge of the bag around the outer rim of the glass. This will help you fill it with frosting. Use a spatula to scoop the frosting into the bag. Place cakes on top of a piece of parchment paper or paper towels to catch drips. Work the frosting into the corner of the bag and snip off a small corner with scissors. Gently squeeze and drizzle the frosting in a zig-zag pattern across the top of the cakes, using half of the icing for each cake.
11. Let the icing dry for at least 30 minutes to set (it may take longer depending on the weather). Serve cake slices with a cup of tea or coffee. Sigh contentedly. Apple cake is good. Life is good.