Beth Warren and Her (Kosher) Diet Secrets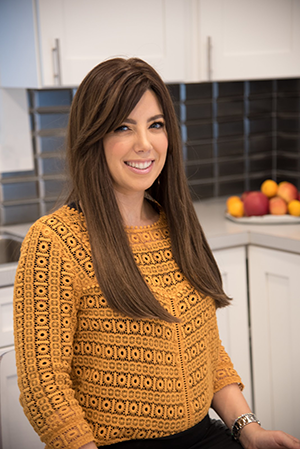 "Kosher girl. It's a title that elevates me to superhero status," writes Beth Warren in her latest food title, Secrets of a Kosher Girl: A 21-Day Nourishing Plan to Lose Weight and Feel Great (Even If You're Not Jewish)
. "I envision myself standing on top of the Kotel, the Western Wall, in Jerusalem, Israel, with a cape flapping in the breeze, dressed in a blue and white uniform…. The kosher girl is a term that reveals my inherent extraordinary power of keeping a kosher diet, because committing to a kosher lifestyle sometimes requires superhuman strength."
Pulling a beautiful piece of pink-hued wild salmon smothered in a layer of kale pesto (yes, you read that correctly, kale pesto) out of my home oven, I have my own superhero moment as I check the doneness on one of the recipes in Warren's book that I'm testing for the first time. Warren's artfully composed, healthy dishes make me a believer that "clean eating" doesn't just make you feel good—it can also make for an eye-pleasing, delicious final product. Let me explain: Warren is not just a kosher girl, she's also a registered dietitian-nutritionist who knows her stuff.
"My diet uniquely integrates ancient kosher practices," Warren writes, "including spiritual and standard rules of kosher law with a nutritionally balanced, scientifically sound strategy." Secrets of a Kosher Girl is a marriage between successful dieting techniques that then lead into healthy lifestyle maintenance—all the while following halakhic Jewish eating requirements.
In the book, Warren provides readers with a 21-day plan to reboot and reprogram their bodies while retraining their minds. She recommends a lifestyle that flips on its head the ratio of highly processed to natural foods the average person consumes.
In addition to the eating plan—complete with recipes for the duration of the 21 days—the book also offers inspiration through rabbinic quotes and proverbs and provides charts for tracking progress; infographics on fitness; a wealth of knowledge about whole foods; a guide to serving sizes; and mindful meditations and self-affirmations.
When asked how to maintain a clean-eating lifestyle when, let's be honest, eating is one of the most important aspects of Jewish social events, holidays and parties, Warren said this: "First, I think you should never go anywhere starving. It's hard to make a mindful decision when you literally do not have food fueling your brain to think rationally."
Another surprising tidbit is that the young dietitian adores chocolate, saying she inherited her love of the sweet treat from her father. Warren, a mother of four girls and one boy, also doesn't outright ban any type of food in her home.
"I am very cautious not to forbid any foods or make my kids think any one food is 'bad,'" she tells me. "Generally, I try not to buy anything highly processed. I do buy packaged foods, but I check to make sure they are made with ingredients I can pronounce. What's important to me is that my family's overall diet is whole food, plant-based, but I don't worry about the occasional treat."
Here, I am sharing that Kale Pesto Salmon that changed my mind about clean eating. Also, here is one of Warren's more decadent recipes—Rosemary lamb chops. It is an elegant choice for a special-occasion dinner or Shabbat meal. Pair the chops with her wild rice and dried nut-and-fruit side dish. Also, I encourage you to try Warren's Detox Smoothie to get you started and keep you going on the path toward healthy, clean eating.
FOR THE KALE PESTO SAUCE
1/4 cup pine nuts
2 cups fresh kale, firmly packed
3 garlic cloves
1 teaspoon sea salt
2 tablespoons extra-virgin olive oil
FOR THE SALMON
1 pound wild salmon, with skin
1/2 lemon
1/4 cup (about 4 tablespoons) kale pesto sauce
Prepare the kale pesto sauce: Preheat the oven to 400ºF. Place the pine nuts on a baking sheet lined with parchment paper and toast until golden, about 3 minutes. Place the kale in a food processor, add the pine nuts, garlic and salt. Pulse until the kale is finely chopped. Drizzle in the olive oil and continue to pulse until the pesto sauce reaches the desired consistency.
Prepare the fish: Preheat the oven to 350ºF. Line a baking tray with parchment paper. Lay the fish, skin side down, on the parchment paper. Squeeze the lemon over the fish. Spread the pesto sauce to cover the top and sides of the fish. Bake about 10 minutes, then broil for 5 more minutes.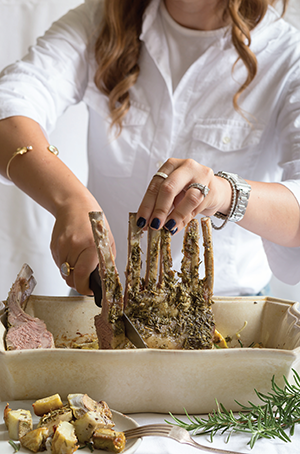 Rosemary Grass-Fed Lamb Chops
Serves 8
1 handful of fresh rosemary
4 garlic cloves
1 tablespoon extra-virgin olive oil
1 teaspoon salt
Pinch of black pepper
1 rack of lamb (about 8 chops) 
Preheat the oven to 350ºF. Place the rosemary, garlic, olive oil, salt and pepper in a food processor and pulse to combine.
Rub the rosemary-garlic mixture on the lamb in a glass casserole dish.
Bake, covered, about 40 minutes. Uncover and bake a few more minute to brown the chops.
Wild Rice With Almonds and Cherries
Serves 6
1 onion, chopped
1 tablespoon extra-virgin olive oil
1 cup wild rice
2 cups low-sodium organic vegetable broth
1/4 cup sliced almonds
1/8 cup dried cherries (no sugar added), cut into pieces
Salt and pepper, to taste
In a medium saucepan, sauté the onion in olive oil until softened. Add the wild rice and broth. Season with salt and pepper, lower the heat and cover. Cook about 20 more minutes.
Add the almonds and cherries, and more salt and pepper to taste.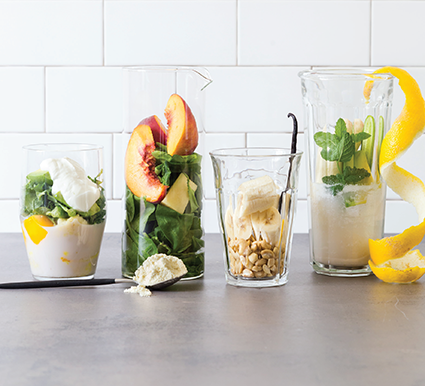 Detox Protein Smoothie
Makes one shake
1 teaspoon freshly grated ginger
2 handfuls baby spinach, thoroughly rinsed
2 cups frozen sliced peaches
1 1/4 cups water
2 scoops grass-fed whey protein powder
Cut off a thumb tip-sized piece of ginger and pulse in a blender to grate it. Add the spinach, peaches, water and protein power; blend until smooth.