Salt and Serenity, Cindy Feingold's Kitchen Cravings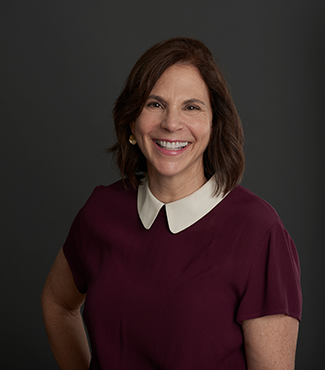 I have never been to Canada, despite growing up in New Hampshire, just a few hours south from the province of Quebec. So my first instinct is to ask Cindy Feingold, the blogger behind Salt and Serenity, what seasonal summertime produce she can find in her home base of Ottawa.
"Rhubarb finally made an appearance a few weeks ago," Feingold replies excitedly. "I got to work immediately as soon as I spotted it, creating a Rhubarb Raspberry Meringue Tart and a Rhubarb and Pistachio Bundt Cake." As bloggers tend to do, she is always planning for the next recipe ahead, even when her excitement has not yet waned about the one prior.
And if rhubarb leaves Feingold elated, then the approaching wild blueberry season is making her downright giddy. "Chances are," she tells me, "unless you live in the northeastern area of North America, it is unlikely you have ever experienced the wonder of a fresh-from-the-bush wild blueberry. They differ wildly—pun intended!—from their sibling, the cultivated blueberry. They are smaller, sweeter and more flavorful… If you are lucky to live in The Maritime provinces, Ontario, Quebec or Maine, you will understand why I squeal with joy when they finally arrive in mid-July each summer."
Half a world away, I can relate, having just spotted the season's first mango and lime here in Haifa. And I must tell you that I did in fact nearly squeal when I saw them.
Just when I think Feingold is all about fruits and vegetables, she dispels that myth: "And Rideau Bakery here in Ottawa makes THE BEST Jewish rye bread in the world!" She gushes about the largely unknown Ottawa Jewish food scene.
It is always a soul-warming experience to speak with other food writers and chefs about simple joys like good bread and seasonal produce. Not everyone geeks out over such basic delicacies, but foodies just seem to get it.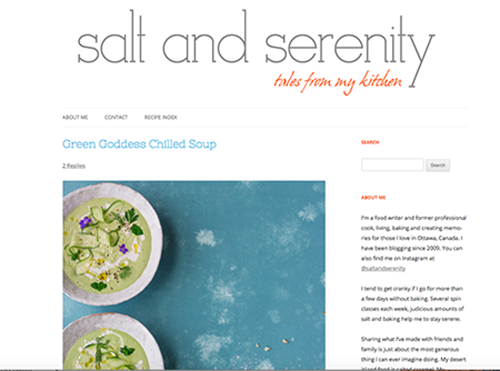 Feingold, like me, plays with classic recipes to create her own takes—and as an exercise to stay sane and find inner peace. However, she tells me, being an introvert, she wasn't necessarily the most obvious candidate for a long-term blog project. She had professional cooking and marketing skills, but only got started in the blogosphere—in 2009—because she felt compelled to participate alongside some 200 other bloggers from around the world in a project to bake their way through master bread baker Peter Reinhart's The Bread Baker's Apprentice—one artisan recipe at a time. To take part, Feingold had to blog, and so she did.
"I named the blog Salt and Serenity, because I crave both on a regular basis," says Feingold.
Almost 10 years later, blogging has become a creative passion for her, the outlet through which she revels in culinary triumphs and discoveries, sharing her affinity for bold fresh flavors as well as an insatiable passion for baking.
Curious what her latest food obsessions are, I ask her. "I recently discovered watermelon radishes, which I think are so gorgeous," she says excitedly. "They are working their way into almost everything I make lately."
On the flip side, the baker in her can also appreciate some less healthy fare.
"I am also currently crushing on blonde chocolate," she tells me. "Valrhona has taken white chocolate and caramelized it. Roasting white chocolate changes the flavor profile, making it more complex. Browning it gives it more depth and less sweetness. I make sweet and salty blondies with it as well as macarons."
I make a mental note to look online for blonde chocolate—it sounds divine.
On the blog, popular posts explore everything from Caramel Chocolate Dipped Pretzels to a perfect Mexican Marinated Skirt Steak, which includes a video guide for how to properly slice the meat. The varied content embodies her philosophy of "everything in moderation, including moderation," an adage made famous by Oscar Wilde.
But for now, in light of the beautiful garden vegetables of summer, Feingold encourages me to make—and share with you—a meal that takes advantage of this vibrant produce. The recipes here are for Feingold's Grilled Chicken Skewers with Coconut-Ginger Sauce, Sicilian Haricot Vert and Tomato Salad, and a trendy cocktail—Hibiscus and Grapefruit Gin and Tonic. To summer, and serenity!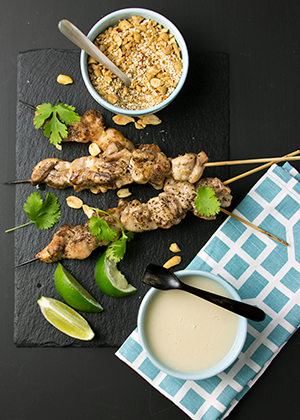 Grilled Chicken Skewers with Coconut-Ginger Sauce
Serves 4
Very slightly adapted from Chris Schlesinger and John Willoughby's brilliant book, License to Grill. If using wooden bamboo skewers, soak skewers in cold water for at least 1 hour prior to threading chicken on them.
FOR SAUCE
1 teaspoon sesame oil
2 tablespoons minced ginger
1 tablespoon minced garlic
1 jalapeno, seeded and finely diced
1 can (400 ml) unsweetened coconut milk
2 tablespoons fresh lime juice
2 tablespoons chopped cilantro
FOR SHAKE
1/4 cup sesame seeds, toasted
3/4 cup unsalted roasted peanuts, roughly chopped
1-2 tablespoons red pepper flakes
1 teaspoon cumin powder
FOR SKEWERS
8 boneless skinless chicken thighs, cut into 1 inch dice
1 tablespoon vegetable oil
Salt and freshly ground black pepper
In a medium saucepan over medium-high heat, heat the sesame oil until hot but not smoking.  Add the ginger, garlic and jalapeno and sauté, stirring, until soft, about 2 minutes.
Add the coconut milk and lime juice and bring to a boil. Reduce the heat to low and let simmer for about 20 minutes, or until the liquid has been reduced by half. Sauce can be made several hours ahead and refrigerated. Gently reheat before serving and mix in cilantro.
Combine all the ingredients for the shake in a bowl, mix well and set aside.
Thread chicken chunks onto 8 skewers; sprinkle lightly with the oil and salt and pepper to taste.  Grill over a medium-hot fire for 2-3 minutes per side. To check for doneness, cut into one of the pieces of chicken and check to be sure it is opaque all the way through.
Remove skewers from grill and place on a serving platter.  Sprinkle a bit of the shake over them and serve with the warm ginger-coconut sauce.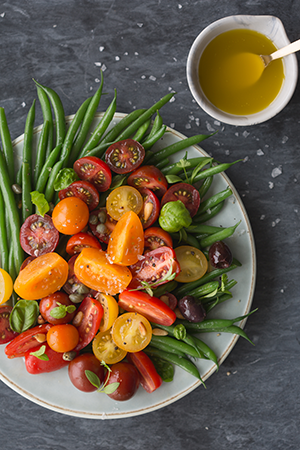 Sicilian Haricot Vert and Tomato Salad
Serves 4-6 as a side dish
3 tablespoons kosher salt
1 pound haricots verts or green beans
1 garlic clove, grated on a microplane grater
1 1/2 teaspoons anchovy paste
2 teaspoons Dijon mustard
2 tablespoons fresh lemon juice
2 tablespoons white wine vinegar
1/2 cup extra-virgin olive oil
1/2 teaspoon kosher salt
1/4 teaspoon freshly ground black pepper
2 pints cherry or grape tomatoes (rainbow ones are pretty if you can find them), cut in half or quarters if large
1/4 cup pine nuts, toasted until golden brown
2 tablespoons capers
1/4 cup Kalamata olives, pitted and halved
12 large basil leaves, thinly sliced
1/4 cup ricotta salata, grated (optional)
Bring a large pot of water to a boil. Add 3 tablespoons kosher salt and the haricot verts to the boiling water. Cook until bright green and just tender, about 3 minutes. While haricots verts are cooking, prepare an ice water bath. Drain haricot verts and then transfer to the ice water bath to stop cooking. Drain, shaking off excess liquid and set aside.
Make dressing: in a medium-sized mixing bowl, whisk together garlic, anchovy paste, mustard, lemon juice and vinegar. Slowly drizzle in olive oil while whisking. Season with salt and pepper.
Toss drained haricot verts with 2 tablespoons dressing. Arrange on a large serving platter.
Toss tomatoes with 2 tablespoons of dressing and arrange on top of the haricot verts.
Scatter pine nuts, capers, olives, basil and ricotta salata (if using) on top. Serve.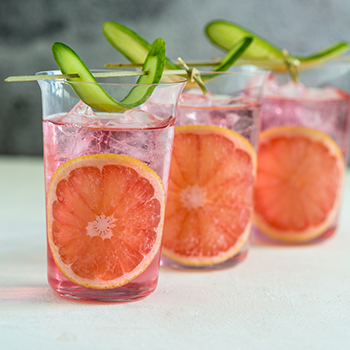 Hibiscus and Grapefruit Gin and Tonic
Makes 2 drinks
1 teaspoon dried hibiscus flowers (widely available online)
3 ounces gin (I highly recommend The Botanist)
12 ounces tonic water (I highly recommend Fever-Tree Mediterranean Tonic water)
2 slices pink grapefruit
2 slices cucumber
Place hibiscus flowers and gin in a small cup and let sit for about 5 minutes until the gin turns a gorgeous pink color. Strain flower from gin.
Place a grapefruit slice in each of 2 tall glasses. Add about 6 ice cubes to each glass. Pour 1 1/2 ounces gin into each glass. Top with 6 ounces of tonic water. Garnish with cucumber slice.