Chai-Tea with Ron Dermer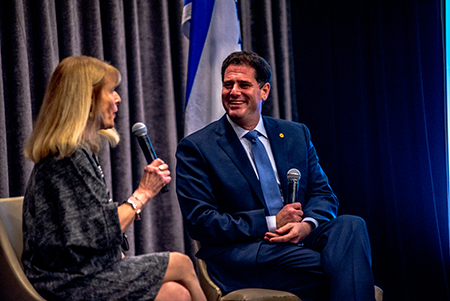 With a sense of optimism and humor, Israel's ambassador to the United States, Ron Dermer, extolled the Trump administration's recent withdrawal from the Iran nuclear deal as well as the opening of the United States Embassy in Jerusalem in an address to Hadassah delegates during the group's national advocacy conference in Washington in May. (Read our complete report of the Women's Health Empowerment Summit here.)
Taken together, these events mark a "historic time in the life of Israel," Dermer told a rapt audience enjoying the May 17 afternoon session dubbed Chai-Tea.
Simply put, Dermer said, Israel viewed the nuclear deal as an existential threat because it would not stop Iran, which calls for Israel's annihilation, from obtaining nuclear weapons. While the move drew outrage in Europe, Dermer noted that Jerusalem's endorsement was echoed by Saudi Arabia and other Middle Eastern nations—in other words, he said, by those who live in, and understand, the neighborhood.
"I hope that people can support an effort to confront that regime and not appease it," he said of Iran.
As for the long-anticipated relocation of the United States Embassy to Jerusalem, Dermer called it "one of the four great decisions in the history of Zionism," along with the Balfour Declaration, the United Nations' recognition of Israel and President Harry S. Truman's recognition of the Jewish state.
"That act of opening the embassy was a small step for peace and a giant leap for truth," Dermer said. "It punctures the lie that the Jewish people are foreigners in our homeland" and enables the recognition of Jewish ties to Jerusalem. "To recognize that connection is to admit that the Jews are in that land by right, not just by might," he asserted.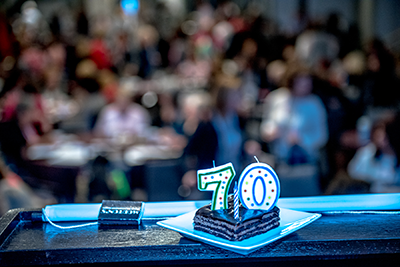 Dermer, 47, was born and raised in Miami Beach, made aliyah as an adult and was appointed ambassador in 2013 by Prime Minister Benjamin Netanyahu, with whom he had long been close. He said he has worked during his tenure to stress "the miracle of Israel."
"Let's remember that our grandparents and their grandparents would have given anything to trade their problems with ours," he said, adding that
three generations of Jews now "have had the privilege of living that dream."
Following Dermer's speech, Jim Rotenberg, president of the National Committee of Hadassah Associates, officially made him an Associate, to which Dermer replied: "I just want to say I've been trying to get into women's clubs my whole life." When he added that Hadassah could recruit four more Associates with his sons—he also has one daughter—a delegate toward the back of the room piped up: "Four sons! How old? I have three daughters!"
In a follow-up exchange with the ambassador, Hadassah National President Ellen Hershkin asked how American Jews can best support the Jewish state. Dermer advised investing in day school education and the experience of Jewish camping. Regardless of the stream of Judaism, he added, "the stronger their Jewish identity, the stronger their connection to the State of Israel. I have no doubt about it."