Norene Gilletz, Canada's Leading Kosher Foodie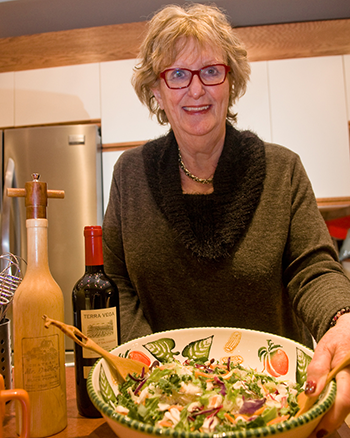 As a child in Winnipeg, Canada, Norene Gilletz grew up with vegetable-filled meals big on flavor and conspicuously devoid of processed foods. Her mother treated her family to homemade soft cheese and roasted eggplant to spread on rye bread, and a rotating selection of vegetable-based soups and fresh salads.
​"She made everything from scratch, not only because it was economical but also for health," Gilletz said of her mother, Belle Rykiss, whose early adaptation of conscious cooking was inspired by her husband's high cholesterol level. "When we would visit my mother later in her life, my daughter would open the cabinets looking for packaged snacks."
​"I don't have food," Gilletz recalled her mother saying. "I have ingredients."
​It was a lesson in healthful eating that Gilletz, 78 and now based in Toronto, has carried with her through a career that began 50 years ago with Second Helpings, Please!—a Canadian B'nai Brith Women cookbook now in its 17th printing, after having sold in excess of 175,000 copies. Since then she has written several Jewish cookbooks as well as many designed for people on special diets. One of her most famous is the best-selling The New Food Processor Bible, which contains a staggering 500-plus recipes.
​"I have done it all—lower glycemic, low fat, high fiber, colon health," said Gilletz. Need to follow a low-iodine eating regimen? Gilletz penned The Low Iodine Diet Cookbook: Easy and Delicious Recipes and Tips for Thyroid Cancer Patients in 2005, and then updated it in 2012. Most recently, she contributed her expertise to two volumes of The Silver Platter: Simple Elegance, a collaboration with up-and-coming Toronto Jewish chef Daniella Silver.
But as she ages, Gilletz has been returning again and again to one compelling conclusion. "The common takeaway for me is that we should really be lowering added sugar in our diets," she said. "I would probably live on sugar if I could, but it's the worst thing for the aging brain."
​She's been keeping that in mind as she works on The Brain-Boosting Diet, a cookbook she's co-authoring with Edward Wein, a biochemical engineer who is an international consultant and lecturer on food and nutrition technology. The book, which is slated to come out next year, advises readers to be aware of refined sugar's inflammatory properties, which are believed to compromise brain function.
​
Recent research backs this hypothesis: At the 2017 Alzheimer's Association International Conference,results of a study of 6,000 older adults who ate a low-sugar diet originally designed to promote heart health demonstrated improved cognitive function as well. And now, the Mediterranean-DASH Intervention for Neurodegenerative Delay, or MIND diet, whose efficacy was first verified in 2015, is gaining popularity as a weapon in the fight to preserve brain function.
​"The earlier you start a healthy diet, the higher the risk reduction," said Wein. "A MIND-type diet reduces blood pressure, diabetes risk and obesity, which in turn will reduce the risk of Alzheimer's and dementia. So diet is really a multipronged approach for reducing cognitive decline."
​The MIND diet, which Gilletz and Wein will promote in the book, includes meals low in refined sugar and made with olive oil, whole grains (fiber is known to mitigate the effects of sugar) and lots of fruits and vegetables. At home, Gilletz stocks her fridge with meal-prep staples like shredded cabbage, lean chicken breast, cut-up vegetables and berries—all great for putting together a satisfying meal with minimal effort.
​That doesn't mean she refrains from small indulgences. "For me, bread and butter is the ultimate comfort food," said Gilletz. "I still eat it, just in moderation."
​More often, she snacks on popcorn popped in a paper bag in the microwave that she drizzles with olive oil and dried spices, or protein-rich Greek yogurt topped with fruit. "I call it 'The Joy Principle,' " she continued. "If you don't love it, don't eat it. And if you do, eat just enough to satisfy you."
​Gilletz suggests inviting friends to a meal for meal-prep motivation, because, let's face it, chopping endless vegetables and grilling or sautéing lean proteins can feel like a chore.
​"I know this sounds crazy, but when you're cooking for yourself, sometimes making a salad seems like a lot of work," she said. "I am a believer that it is not only what is on the table, but who is at the table."
​But if you are cooking for one, Gilletz urges you to find the requisite energy to prepare healthy recipes. And she further advises to double whatever you're making. "I don't mind leftovers," said Gilletz. "They save time and, if I liked something once, chances are I'll like it again."
​Cooking for older adults is one of many topics she discusses with the 8,000-plus members of her Facebook group, Norene's Kitchen, where an active following turns to her for recipes and advice. She has also begun hosting a podcast, Norene's Kitchencast. Gilletz promotes her cookbooks and appearances as well as her eponymous kosher food line—her kugels, salads, soups and appetizing dishes are sold in many Toronto supermarkets—on her website, Gourmania.
​"It's a fun new chapter for me, interacting with so many people," said Gilletz. "It keeps me sharp."
Adeena Sussman is a cookbook author and recipe developer based in Tel Aviv. Her latest cookbook is Short Stack's Tahini.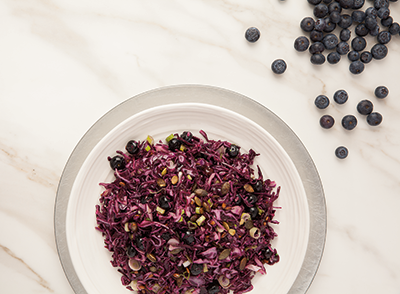 Blueberry Cabbage Slaw
Serves 8
From The Silver Platter: Simple Elegance by Daniella Silver and Norene Gilletz
1/3 cup extra virgin olive oil
1/3 cup seasoned rice vinegar
2 tablespoons honey
Kosher salt
Freshly ground black pepper
8 cups sliced red cabbage
2 cups fresh blueberries
3/4 cup toasted pumpkin or sunflower seeds
Combine the oil, vinegar, honey, salt and pepper to taste in a glass jar; seal tightly and shake well. Toss the cabbage and dressing in a large bowl, cover and chill until serving. When ready to serve, toss in the blueberries and seeds and season with additional salt and pepper.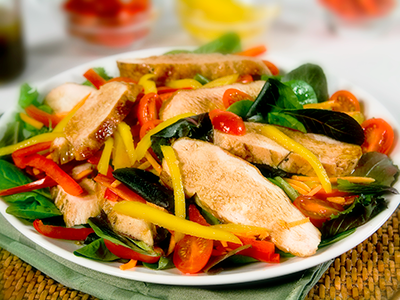 Grilled Chicken, Red Pepper and Mango Salad
Serves 4
FOR THE SALAD
4 grilled chicken breasts
6 cups mixed salad greens
1 firm ripe mango, peeled and sliced
2 red bell peppers, halved and thinly sliced
1 medium red onion, halved and thinly sliced
2 medium carrots, grated
12 cherry or grape tomatoes, halved
FOR THE DRESSING
3 tablespoons balsamic or rice vinegar
2 tablespoons olive oil
1 teaspoon sesame oil
2 tablespoons orange juice
1 tablespoon honey
1 clove garlic, minced
Salt and pepper to taste
1.  Salad: Cut grilled chicken breasts crosswise into 1/2-inch strips. Wash salad greens and dry thoroughly. Arrange salad greens on a large platter. Arrange chicken strips on top of greens. Top with mango, red peppers, onion, carrots and tomatoes. (If preparing the salad in advance, cover and refrigerate until serving.)
2.  Dressing:  In a glass jar, combine vinegar, olive oil, sesame oil, orange juice, honey and garlic. Season with salt and pepper. Cover tightly and shake well. Drizzle the dressing over the salad and serve.