Connecting Lone Soldiers to Home, and Vice Versa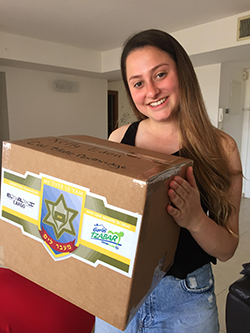 When Drew Alyeshmerni Leach moved to Israel from the United States at 21 to become a lone soldier in the Israel Defense Forces—a soldier who does not have family living in Israel—she missed a tether to her Jewish community back home in Scottsdale, Ariz. Seven years later, when she returned to America, she decided to address that lack for future lone soldiers, establishing the nonprofit M'ever LaYam in 2016.
Designed to pair lone soldiers with young Jews near their hometowns, the organization also aims to increase Diaspora Jews' emotional attachment to Israel. "The reality of this program," explained Leach, "is that the soldiers who enroll are doing so partly to provide a connection to Israel for the young people back in their communities, which helps create a tangible solution to the deterioration in the relationship between young Jews and Israel."
Hebrew school students, youth groups and Jewish organizations connect with a soldier and, over the course of a year, send them monthly video messages and semiannual care packages. M'ever LaYam predominantly partners with Garin Tzabar—the leading program serving young Jewish adults from around the world who have made aliyah and are in the IDF—to recruit participants. To date, M'ever LaYam has connected 68 soldiers to groups in America, largely on the West Coast.
Eli, a lone soldier in his 20s matched to the San Jose State Hillel, described his participation as a two-way street. "We serve as a connection to one another," he said. "It's keeping me strong and making me feel like I'm not so far away from home."
So what did Eli—assigned to an ultra-elite unit and whose last name the IDF would not allow to be published—request in his packages? In the first, he asked for the usual cravings of youth: Cheetos, Funyuns, 100 Grand Bars. Six months into training, his requests reflected the severity of his service: a foam roll for his back and a foot bath.
If you know a lone soldier interested in participating, or if you want to connect to a soldier, visit M'ever LaYam's website.