Peace, One Step at a Time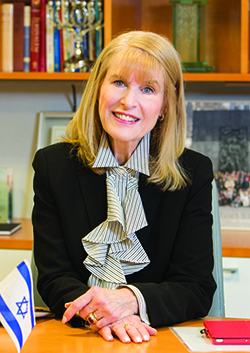 Modern Israel wasn't created in a moment. The state never would have come into being if the Zionist movement hadn't spent decades building political, educational, medical, legal and cultural institutions that are the infrastructure of a society. When the First Zionist Congress convened in 1897, a Jewish state was a distant dream. With every building block, it came closer to reality.
Seventy years into Israel's saga, the greatest unrealized dream is peace. Though some despair of ever achieving reconciliation between Israel and the Arab world, the only practical approach is the one that worked in creating the state itself—to build. We are working toward something that will come to pass, even if it's hard, and even if we can't predict the date on which it will happen.
And while peace beyond the state's borders may be elusive, there is much we can do—and are doing—to make Israel itself a model of coexistence between Jewish, Muslim, Christian and Druze neighbors.
When Hadassah's first clinic opened its doors, it didn't turn anyone away. Over the course of a century, the Hadassah Medical Organization has built a reputation as an oasis of peace, where Jewish and non-Jewish patients and families, doctors, nurses and technicians, not only meet, but also thrive as a community of neighbors, colleagues and, ultimately, friends.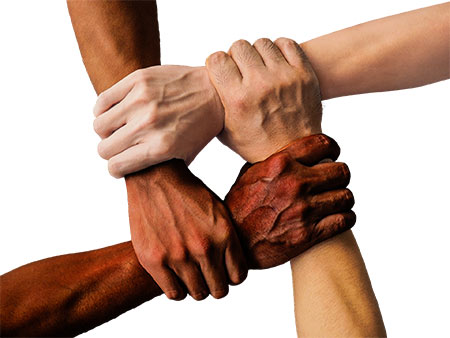 Outside the walls of Hadassah's hospitals, this pluralistic partnership seems remarkable. Inside, members of our medical staff do remarkable things together, their religious or ethnic identity only a detail. Look at Hadassah's website at any given time and you'll see stories like these:
Fadia Abed-Fatiha is a veteran nurse in HMO's Pediatric Intensive Care Unit. Many stories about children treated in the unit have happy endings, but not all are so fortunate. An experience of watching a child who died in her mother's arms inspired Abed-Fatiha to research how parents can be helped through the most terrible loss. After consulting with rabbis, imams and priests, she created a cart with three drawers—for Jewish, Muslim and Christian families—carrying prayer books and religious artifacts. "In my experience, no one is an atheist when their child is dying," she says. The cart's most popular item is an inkpad for parents who want to preserve a memorial handprint or footprint.
HMO is known widely for its cross-border outreach, including, most recently, surgery for Syrian children with congenital heart defects whose families manage to reach Israel. But in addition to helping in moments when patients and families are in tears, we also have specialists in the best medicine—laughter. One of our most renowned ambassadors of healing is David "Dush" Barashi, who heads HMO's team of medical clowns. A group of Yazidis from Iraq was in Israel this past summer and did an intensive course with Dush on how to take laughter to ailing patients in their war-torn country.
Hadassah stands out for its contribution to Israel's foundation and as an example of peace and cooperation today. We also applaud others—individuals and organizations—that pursue and reflect these goals. One of our newest initiatives, a podcast series called The Branch, calls attention to bridge-building efforts. The series focuses on Jews and Arabs living together in Israel "even when it's complicated," and is hosted by veteran journalist Dina Kraft.
Subjects the podcasts have covered thus far include a Jewish-Arab theater company in Jaffa, the only one of its kind in Israel; the only bilingual Hebrew-Arabic school in Jerusalem; and Buza, an ice cream chain whose Jewish and Arab partners have created what they call a corner of "delicious sanity." To hear these and future podcasts, click here.
None of these initiatives on its own will make Israel a perfect nation or bring peace to the Middle East. But the more people there are working together to create a shared society, the sooner the bigger dream will come true.