Molly Yeh Is Home on the Range in Minnesota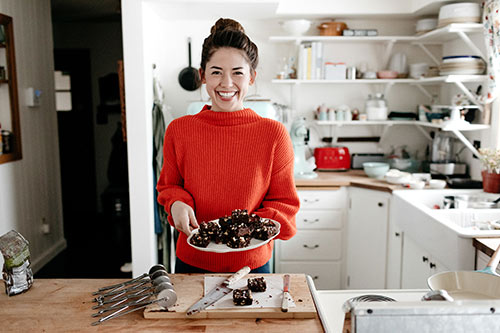 "I'm drawn to anything colorful," food writer and television personality Molly Yeh declares in a phone interview from her home in East Grand Forks, Minn., on the border with North Dakota. "Especially if it's handmade and meaningful."
If you've watched Yeh on her new Food Network show, Girl Meets Farm, this comes as no surprise. Irrepressibly bubbly, funny and sweet, she's never met a recipe that couldn't be improved with sprinkles. From her home base on the farm where she lives with her husband, fifth-generation farmer Nick Hagen, the 29-year-old has cultivated a cozy, inviting universe that effortlessly blends her Jewish and Chinese ancestry with tales of sugar beet harvests, holidays and quirky humor.
With her conversational voice and gorgeous photographs, Yeh—pro-nounced yay—has more than 300,000 Instagram followers and millions of monthly visitors to her blog, My Name Is Yeh. Add to that the publication in 2016 of her best-selling cookbook, Molly on the Range, followed by the Food Network show—returning for its second season on November 11, with reruns also available on the Food Network—and you've got a bona fide millennial food celebrity with multigenerational appeal.
So how did this classically trained percussionist and Jewish-Chinese foodie come to be? Yeh's parents, who are divorced, each had their sphere of influence during her childhood in suburban Chicago. (Yeh has an older sister, Jenna, who is a chef and wine distributor; she also has a younger sister, Mia, from the second marriage of her father, John Yeh.)
Her Jewish mother, Jody Yeh, who worked as a chocolatier before switching to social work, instilled in her a love of food—although Molly Yeh confesses that her earlier years were marked by a predilection for Wonder Bread and macaroni and cheese.
"The fact that she never forced me to eat things like broccoli meant that when I finally really came around to it," Yeh writes in her cookbook, "I could approach it with a clean, excitable slate, free of any haunting childhood memories." She went to Hebrew school, had a bat mitzvah and gravitated toward a group of Jewish friends.
"But I was never made to choose," Yeh says in the interview. "One culture wasn't more important than the other." A combination of Rosh Hashanah briskets and weekend dim sum seemed perfectly normal to her. "It was always very natural," she says.
Her Chinese-American father, a principal clarinetist with the Chicago Symphony Orchestra, introduced a passion for music. A talent for percussion instruments eventually brought Yeh to the Juilliard School in New York, where she met Hagen, a trombonist, whom she affectionately refers to as "eggboy" on her blog for his ability to consume enormous numbers of eggs.
They bonded instantly over their laid-back personalities and homebody tendencies. In 2013, after doing the New York thing—playing music and working various jobs to make ends meet—the couple left the hustle and bustle behind and moved from Brooklyn to the Midwest.
"I singlehandedly tripled the Jewish population of East Grand Forks," Yeh jokes as she describes her home on the farm, where Hagen tends to his family's sugar beet and wheat crops and Yeh has all the room she lacked in Brooklyn to outfit her dream kitchen with colorful appliances and homey accessories. She spends most of her days there honing her whimsical recipes and cute-meets-sleek photography style (she styles and shoots all the dishes for her blog). Yeh has taken to the small-town life, making friends and spending her days writing and recipe developing.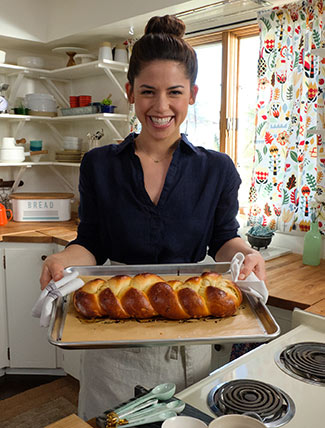 "Molly is fully herself at all times—she never doesn't love sprinkles or hummus or challah," says Lily Diamond, a close friend and founder of the blog Kale and Caramel. "I think there is a cultural void of that kind of genuine joy, especially at a time when so much in our media sphere feels so heavy and daunting. Her fans look to her knowing she is going to bring a distinct kind of lightness and energy and creativity to their lives."
It was while in New York for the launch of her cookbook in 2016 that Yeh was initially approached about a television show. A Food Network crew eventually came to her home to shoot a pilot in 2017, greenlit the show, and she filmed during the first half of this year.
"The Jewish-Asian blend was very important to me," Yeh says of the television series. "If it didn't feel right, I wouldn't have done the show. I had a clear sense of the food I wanted to cook, and the Food Network people were always extremely encouraging." That means a recipe mix similar to the one in her book and on her blog, where grilled cheese with everything bagel seasoning gets equal billing with pot stickers and scallion pancakes.
Though she fields the occasional internet troll's comment about being the product of an interfaith marriage, Yeh says that for the most part, people have been extremely welcoming of her approach to her blended heritage. At the same time, she finds that living further from a built-in Jewish network—Yeh says the nearest is the approximately 50-person community in Grand Forks, N.D.—has actually strengthened her faith and practice. "I find myself making more effort and energy keeping Judaism and Jewish customs alive in my home," says Yeh. "Being more proactive about it, taking ownership, has made it more meaningful."
Holidays, including Hanukkah, continue to inspire Yeh. Her husband hand-carved their menorah out of wood, adding metal candleholders to the top. "I cherish lighting it so much," says Yeh. Her chocolate-frosted olive oil blondies are a reminder of the original Hanukkah miracle. And her baharat-spiced sweet potato chips and latke hotdish—a holiday comfort casserole extraordinaire—reflect Yeh's flair for creativity and her desire to put a twist on tradition. "I love helping my readers look at a recipe in a new way," she says. "That is what inspires me."
Adeena Sussman is a cookbook author and recipe developer based in Tel Aviv. Her latest cookbook is Short Stack's Tahini.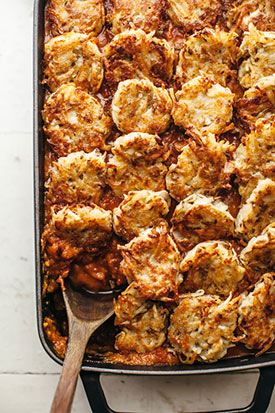 Latkes
1 1/2pounds russet potatoes
1 large yellow onion
3/4 teaspoon kosher salt
2 large eggs
1 tablespoon lemon juice
1/3 cup all-purpose flour
Fresh ground black pepper
Hotdish
2 1/2 tablespoons canola or vegetable oil, divided
2 pounds brisket, cut into 2-inch pieces
Kosher salt, divided
Fresh ground black pepper
1 large onion, sliced
2 carrots, chopped into 1/2-inch coins
2 celery stalks, chopped into 1/2-inch pieces
1/2 cup red wine
1 tablespoon brown sugar
2 tablespoons tomato paste
1 (14-ounce) can chopped tomatoes
2 cups beef or vegetable stock
Leaves from 2 sprigs fresh rosemary, chopped
2 apples, cored and sliced
1 small (2 – 2 1/2 pounds) butternut squash, halved and seeds removed
Good pinch of crushed red pepper
1 batch latkes
Chopped fresh parsley (optional garnish)
1.  Make the latkes: Shred the potatoes and onions together in a food processor or with a grater or mandoline. Place in a strainer that's been lined with cheesecloth. Toss with salt, to taste, and let sit over a bowl for 30 minutes. Gather the top of the cheesecloth and then use your hands to squeeze out as much excess moisture as you can.
2.  Transfer to a bowl and mix in the eggs, lemon juice, flour and a few turns of black pepper. Heat a skillet with 1/4 inch of oil until shimmering. Working in batches so as not to crowd the pan, fry up loosely packed rounded tablespoons of the latke mixture until browned on both sides. Add more oil to the pan as needed. Transfer to a paper towel lined-plate and set aside until ready to use.
3.  Prepare the hotdish: Heat 2 tablespoons canola oil in a large pot over medium high heat. Add the brisket, season with 1 1/2 teaspoons salt and a few turns of black pepper and cook until browned on all sides, about 10 minutes.
4.  Reduce the heat to medium and add the onion, carrots and celery and cook, stirring, until softened, about 10 minutes. Add the red wine and cook for a few minutes until it's reduced by half.
5.  Add the brown sugar, tomato paste, canned tomatoes, stock, rosemary and apples and simmer uncovered for 2 1/2-3 hours, stirring occasionally, until meat is tender. You want the liquid to reduce and get quite thick and saucy; however, if it reduces too far to where it's more gloopy than saucy, add a bit more stock.
6.  Meanwhile, preheat the oven to 375°, brush the innards of the squash with the remaining 1/2 tablespoon of oil, sprinkle with 1/4 teaspoon salt and a few turns of pepper and roast until a fork pokes easily into the center; begin checking at 1 hour. Purée the squash and then stir it into your hotdish mixture with crushed red pepper. Taste and adjust seasoning.
7.  Increase the oven temperature to 400°. Transfer the mixture to an 8-by-12-inch casserole dish and top with latkes lined up in nice neat rows. Bake until the mixture is bubbly and the latkes are deep brown, about 45 minutes. Let cool slightly and then top with chopped parsley, if using, and serve.
OLIVE OIL BLONDIES WITH CHOCOLATE FROSTING
Makes 9 large blondies
Blondies
2 cups flour
2 cups lightly packed dark brown sugar
1 teaspoon kosher salt
3/4 teaspoon baking powder
1 cup extra virgin olive oil
3 large eggs
2 teaspoons vanilla extract
Frosting
1/2 cup unsalted butter, softened
1 1/2 cups confectioners' sugar
1/2 cup cocoa powder
Pinch of kosher salt
3 tablespoons heavy cream
1 teaspoon vanilla extract
Sprinkles (optional)
1.  Preheat the oven to 350°. Grease and line an 8-inch square pan with parchment paper.
2.  In a large bowl, whisk together the dry ingredients. In a separate bowl, whisk together the wet ingredients.
3.  Stir the wet ingredients into the dry ingredients and pour the mixture into the pan, spreading it out evenly.
4.  Bake until the center is set, begin checking for doneness after 35 minutes. Let cool in the pan on a rack for 10 minutes, then remove blondies from the pan and place on the rack to cool completely.
5.  To make the frosting, use an electric mixer to beat together the butter, confectioners' sugar, cocoa powder, salt, heavy cream and vanilla. Spread it on the blondies, top with sprinkles (if desired) and cut into squares. Store in an airtight container in the fridge for up to a week.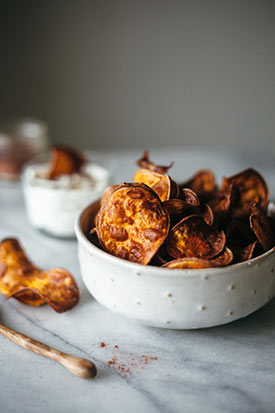 OLIVE OIL BAHARAT SWEET POTATO CHIPS
Garlic and Onion Yogurt Sauce
4 cloves garlic, smashed
1/2 purple onion, finely chopped
1/2 cup plain Greek yogurt
Kosher salt
Fresh ground black pepper
Potato Chips
Good olive oil, for frying
1 large sweet potato, thinly sliced with a mandoline
Kosher salt
1 teaspoon baharat spice blend, or to taste
1/4 teaspoon sugar
1.  To make the sauce, mix together the garlic, onion and yogurt, and then season to taste with salt and pepper.
2.  In a heavy pot fitted with a thermometer, heat about 2 inches olive oil to 360°. Fry the potato slices in batches until browned and crispy, 1 1/2-2 minutes. Transfer them to a paper towel. Sprinkle with salt, Baharat and sugar, and enjoy!