Old-New Land, Old-New Building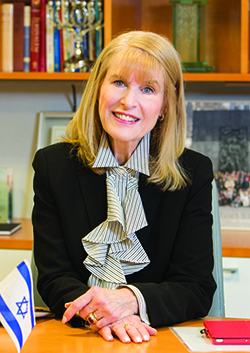 Modern Israel is not a newly formed or newly conceived nation. It represents a return and a renaissance. Sometimes new is best, sometimes renovation is the answer—and sometimes you can have both.
Six years ago, Hadassah dedicated the Sarah Wetsman Davidson Hospital Tower, the pristine state-of-the-art surgical and inpatient center at Hadassah Hospital at Ein Kerem. The tower was needed because the former anchor of the campus, our iconic round building, was more than 50 years old.
Now we need a solution to an occupancy rate at the medical center that exceeds 100 percent, and the answer is right on campus. That same round building—inside of which so many Israelis came into the world, and so many were healed—sits empty. It is ready for a renovation that was impossible while it still functioned as the Hadassah Medical Organization's nerve center, a renewal that will put its facilities on par with those of the adjacent tower.
Conventional wisdom says it is easier to raise funds for a new building than to restore an old one, but we are confident that in Israel the idea of renovation takes on an added dimension. We are equally confident that—for the Hadassah family of members, friends and donors—ultimately a building is only as good as what happens within its walls.
That's why we launched our 360° of Healing/Full Circle Campaign, a $91.2-million capital project to bring the round building into the 21st century.
At HMO, extraordinary effort and superlative care never stop—not for nightfall, Shabbat or holidays; not for construction, financial crises or war. Like the sentinels on Jerusalem's watchtowers, our hospitals function 24/7, 365 days a year. Inside, the astonishing is routine and, as an old Israeli saying goes, "the impossible takes a little longer."
Consider a few recent examples:
A Hadassah pediatric gastroenterologist made it possible for a 6-month-old baby born with a severe intestinal defect to eat normally—rather than be fed intravenously—for the first time. "The baby was suffering and receiving acetaminophen around the clock to alleviate her pain," said the physician, Dr. Mordechai Slae. "In cases like these, my motto is to try every possible solution, even if it seems unorthodox." The unorthodox in this situation was a drug that had been used safely on children a few years old, but never on a patient so young. The result was dramatic improvement not only in colon function, but also a surprising improvement in the baby's bladder, which was also compromised.
In another case, a 42-year-old patient with a rare disease that made his kidneys fail had already endured three transplants and could no longer tolerate dialysis. With no healthy kidneys available, Hadassah nephrologist Dr. Keren Tzukert suggested a lifesaving alternative: A kidney from a donor with Hepatitis C. Antiviral medications make such transplants a viable option; the patient accepted and is doing well. Three other recipients have since received kidneys that once would have been rejected.
There is no cure for Alzheimer's disease—once the brain begins to deteriorate, the process can't be stopped. But if the onset could be predicted well in advance, medical science could help protect healthy brain tissue before deterioration begins. With that in mind, Dr. Shahar Arzy, Hadassah senior neurologist and director of the Computational Neuropsychiatry Laboratory, is conducting clinical trials of a diagnostic test using functional magnetic resonance images (fNMR) taken of healthy brains as patients respond to questions that highlight mental orientation.
As Thanksgiving and Hanukkah approach, we are entering a season that reminds us to be grateful for all that we have and to celebrate miracles. The holidays are about more than joy expressed and blessings received. They are about our personal and institutional obligations—demonstrated through commemoration and appreciation, to be sure, but also through investment and renovation—guaranteeing that our societies thrive.
​A wonderful Thanksgiving and a luminous Hanukkah to all!