My Meeting With George H.W. Bush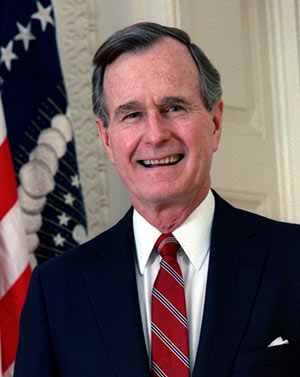 It was a great privilege to begin my professional career at Hadassah Magazine, way back in the late 1980s. It was a wonderful opportunity to cover subjects I cared about and hone the craft of feature journalism in a widely read and highly respected publication.
The highlight of my tenure was an opportunity in August of 1992 to visit the White House, alongside a dozen or so more established journalists, to meet with President George H.W. Bush.
It was a huge vote of confidence that then-editor Alan Tigay considered me up to the task, and it was a thrill to be able to say at that early stage in my career that I had reported from the White House, even if it was just a small recap of the meeting. (There was no internet at the time, and the long lead time between issues left most of the news already reported by the next publication date.)
The topics of the day were Jonathan Pollard, the Bush administration's vigorous attempts to jumpstart the Israeli-Palestinian peace talks, the United States's financial support of Israel and continuing efforts to clear the way for Jewish emigration from the crumbling Soviet Union.
The political context was that President Bush was looking at a difficult re-election campaign; riding high from his victory in Operation Desert Shield, but struggling with aftershocks of a recession and facing a significant challenge in the charismatic team of Bill Clinton and Al Gore, nominated by the Democrats a month earlier.
As part of a multifaceted outreach effort, the administration therefore invited a dozen or so journalists from Jewish community newspapers, magazines and newswires for a White House press briefing. At that point, the only other major journalistic event I had under my belt for Hadassah Magazine was the United Nations General Assembly vote on the "Zionism is Racism" resolution in December 1991.
The meeting took place in the Roosevelt Room, with a dozen or so journalists seated around the table with the president. As luck would have it, I ended up directly across from Bush.
In the wake of his passing, much has been said of President Bush's manner and his ability to connect with people. Although, as in the case of any leader, there were plenty of negatives about his single term (often tense relations with Israel among them), I can attest that in that room, despite respectful but sometimes persistent questions, the president was extremely cordial and graceful, exuding an air of southern hospitality. That's not to say that he didn't stick to his positions. On Pollard, whom he refused to consider pardoning, I recall his declaration that "what he did was terrible, just terrible."
Toward the end, I was able to get one question in, noting that in the past he had opposed Palestinian statehood. In light of the recent peace talks he had arranged in Madrid, had he changed his position? A single word answer: "No."
Immediately after that, the president posed for pictures and made sure to shake everyone's hand, in no apparent rush to leave. When it was my turn, he simply asked where I was from, and I told him (Brooklyn, at the time), unable to think of much small talk with the leader of the free world.
In hindsight, I thought about the possibility of talking about my mother's battle with Parkinson's disease, and how stem cell research, which he opposed, might help people like her. But that would have crossed a line, since I was invited as a journalist.
Although I later briefly met Bill Clinton, in Israel, years after he left office, that face-to-face with Bush remains my only meeting with a sitting president, a privilege very few Americans get.
As the former president was just laid to rest, it seemed only appropriate to recall my very limited encounter, and my sense that he did envision the "kinder, gentler nation" guided by the "1,000 points of light" he was famous for talking about.
Adam Dickter worked at Hadassah Magazine from 1989-1992, and later at New York Jewish Week. He is now a director at Dukas Linden Public Relations.