It's Time to Walk Away From the Women's March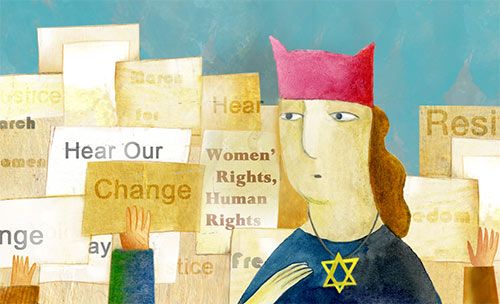 Politics makes strange bedfellows, forcing us to ally ourselves with people whose views on other matters we do not share. How should we determine with whom to join hands and whom to reject? Some people have proposed a quantitative scale: If we agree on 75 percent of issues, then we can work together. I think our barometer must also be qualitative. Some differences are so beyond the pale that, even if I agree with most of your objectives, there is no room for compromise. I cannot join you. Such is the case with the current leadership of the national Women's March.
Many Jewish women enthusiastically participated in the January 2017 marches, the largest of which happened in Washington, D.C., but also occurred in cities across the United States and the world. They came in droves with their pussy hats, baby strollers, walkers, mates, children, grandchildren and witty signs. But things have soured since then, not with the march's objectives, but with its leadership.
In the months following the march, it became clear that one of its main organizers, Linda Sarsour, was a virulent opponent of Zionism, having tweeted back in 2012: "Nothing is creepier than Zionism." Embracing the canard that Zionism is racism, she laid down a challenge to women who "call themselves Zionists" and want to participate in racial justice events. They must choose, she argued in more tweets: "We will not change who we are to make anybody feel comfortable. If you ain't all in, then this ain't the movement for you." In other words, it's either progressivism or Zionism.
Sarsour and some of her colleagues' allegiance to Nation of Islam leader Louis Farrakhan is most disturbing. Sarsour and Tamika D. Mallory, one of the co-leaders of the Women's March, kept silent when Farrakhan described "the powerful Jews" as "my enemy," and "the mother and father of apartheid." When Mallory was criticized for her failure to condemn Farrakhan's statements, she tweeted: "If your leader does not have the same enemies as Jesus, they may not be THE leader! Study the Bible and u will find the similarities." This reference to Jesus' enemies ("the Jews") had unmistakable antisemitic overtones.
In recent months, Farrakhan again has engaged in hateful rhetoric, declaring in a sermon that "Satanic Jews" have "infected the whole world with poison and deceit." Denying he's an antisemite, he said at another speech that he is "anti-termite."
In the wake of these controversies, Women's March leaders have belatedly issued statements insisting, "We will not tolerate anti-Semitism, racism, misogyny, homophobia, and transphobia and we condemn these expressions of hatred in all forms." While they have disassociated themselves from antisemitism in general, they did not explicitly condemn Farrakhan's statements.
For many Jewish women, particularly baby boomers, this controversy resonates in a deeply painful way. Various international women's gatherings, including those under the auspices of the United Nations, have been the scene of virulent antisemitism. In July 1975, at the U.N. World Conference of the International Women's Year in Mexico City, we witnessed successful attempts, spearheaded by the Soviet Union and the Palestine Liberation Organization, to link Zionism with racism and colonialism. Subsequently, the full United Nations declared Zionism to be racism. Today, this effort by the far—and not so far—left to toxify Zionism and Israel has continued. We see it in the Boycott, Divestment and Sanctions movement; among the leadership of the United Kingdom's Labour Party, with Jeremy Corbyn at the head; and in many other arenas.
It is encouraging that some local Women's March groups have publicly walked away from the national movement, denouncing its exclusion and antisemitic associations. Coalitions in Colorado, New York, Rhode Island and elsewhere have organized their own efforts, including new marches on Jan. 19, when another national march was also slated. And even as we leave this particular effort, we must do two things: We must remain warriors for women's equality and fight to end sexual abuse of women in the workplace and beyond, and we must recognize that antisemitism is not just on the political left. Most of the overt, violent antisemitic acts in the United States have come from far-right individuals and groups that are both antisemitic and misogynist.
Clearly, Sarsour, Mallory and their colleagues are not responsible for what Farrakhan says. But how can they claim to lead a social justice movement when they stand shoulder to shoulder with a man who explicitly expresses virulent antisemitism and homophobia? We are not asking them to conform to our views or become Zionists. We are asking, "How can self-respecting Jewish women support you when you stand by someone who called us termites and then only offer tepid critiques after a wave of criticism swept over you?"
For those who have refused to sever ties with the national movement, this should be a deal breaker because what, of course, does one do to termites? (See under Nazis.) We already know the answer to that.
Deborah E. Lipstadt teaches Holocaust studies at Emory University in Atlanta and is the author of the recently published Antisemitism Here and Now (Schocken), from which portions of this article are drawn and which explains the author's preference for the spelling of antisemitism.