2018 Ribalow Prize Winner 'Barren Island'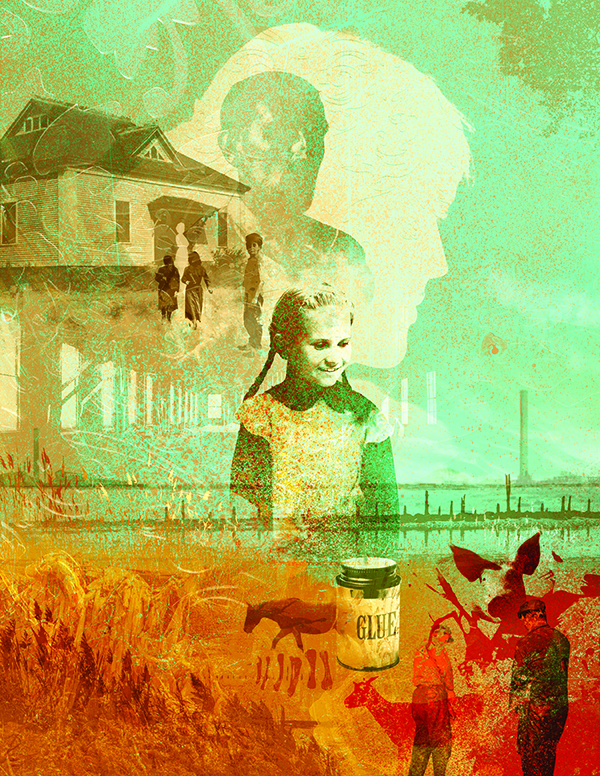 It is 1927 and 7-year-old Marta lives on Barren Shoal, a ferry ride—and a world—away from Brooklyn. She is happy. She has a best friend, Sofia; loving parents; plenty of homegrown food to eat; and she is excited to be starting school, albeit in a one-room cabin. In Barren Island, Hadassah Magazine's 2018 Harold U. Ribalow Prize winner, Carol Zoref brings to life both the beauty and the ugliness of Marta's unusual habitat. In this work of historical fiction, daily barges haul animal carcasses to the factory where her father and other men render them into glue, the incinerated remains polluting the air. Marta knows there are starving children scavenging for food and learns how the factory workers are exploited. The way she navigates this world of stark contrasts shapes the woman she will become.
My father could have been a butcher. The animals he dismembered on Barren Shoal were just a different kind of dead. Hundreds of carcasses arrived every day: work horses that collapsed from illness or exhaustion; dogs found roaming in packs and shot for sport by policemen; pigs, goats, and cows too diseased to be disguised and dressed as meat. The Barren Shoal cutters beheaded and quartered them, gutted them, severed their limbs, spilling new blood on top of the old blood that clotted the cutting room floor. The loaders—less skilled and fewer in numbers—shoveled the usable pieces into vats where they were rendered into commercial grease and glue. The unusable body parts went into ovens where they were burned down to ash and smoke.
My brother Noah was born in 1914, seven months after my parents arrived on Barren Shoal. On the morning that my mother was in their cabin in labor, gasping and pushing and moaning my father's name, my father was butchering a draft horse that had died of the colic. A midwife, a Jewish lady who lived on Barren Island, came over on the high tide by rowboat to help my mother; she sent her son to fetch my father when Noah finally arrived. Mr. Boyle, the plant foreman, told the boy to wait while my father finished slitting the dead horse's belly in order that its knotted intestines could be pulled away.
Noah was named in memory of my father's great-uncle, Noach Eisenstein, but I like to think it was in honor of my brother being conceived on a ship crossing the Atlantic. I was born five years later and named Marta in honor of my mother's mother Magda, though she told me it was in memory of some great-uncle whose name was Moishe. My mother made up her own rules regarding the traditions about giving names, certain that once she left for America she would never lay eyes on her mother again and that the prohibition against naming a newborn for someone living would not matter. About that she was right.
My mother never saw the baby blanket that my grandmother knitted after the letter arrived back in Zyrmuny announcing the birth of Noah. My grandmother slept with it every night, she explained in a letter to my mother, the only way she had of swaddling her first grandchild. The blanket was made of sheep wool dyed with turmeric, which turned it amber. I would like to have seen it. My younger sister Helen arrived three years later, also in July, and Grandma knitted another blanket, this one dyed burgundy with beetroot. I am surprised that I do not remember the color of the blanket she knit for me, but I cannot. Such a silly thing to forget. The Olympic Games took place in Paris the summer Helen was born, and my mother said that this baby kicking so hard in the final weeks of her pregnancy must be an Olympian. She named her Helen, from the ancient Greek story that was even told by people in Zyrmuny, which was not really all that far from ancient Troy.
In 1926, Sofia Paradissis and her parents, brother Yorgos, and grandmother moved next door. A family from a place even closer to Troy. Sofia was as dark-haired as I was blonde, straight haired to my curls, with brown eyes to my hazel and a round face just like mine. Sofia was 18 months older than me, the girl on the Barren Shoal closest to my age.
Within weeks of her family's arrival, Sofia and I were rambling back and forth all day from her house to mine and to hers again. Mr. Paradissis, a carpenter in Greece, got assigned to the cutting room with my father. Sofia's mother, like all the mothers, raised chickens that kept the family in eggs until the coldest days of winter, when the hens refused to lay. The Paradissises, like everyone, planted a vegetable garden on every inch of the sandy patch behind their little house. My mother raised lettuces and cucumbers, pole beans and squashes, cabbages, garlic, beets, tomatoes, radishes, dill, bay leaf and parsley; Mrs. Paradissis introduced her to dandelion greens and escarole, eggplant and zucchini, rosemary and oregano. Mr. Paradissis set up hives. Soon we had real honey. He built a little arbor for growing grapes. We fed the plants a muck of garden scraps, eggshells and disintegrated fish.
Noah and Yorgos, close in age, were more cautious about friendship than Sofia and I. Noah never spoke with anyone, even me, unless he had to. Though he was around plenty, the door to his room was always closed. One day, a couple of months after the Paradissises moved to Barren Shoal, my mother said I could go fishing with Noah if Sofia came along to stop me from pestering him. Mrs. Paradissis said yes but only if Yorgos went along to watch over Sofia. Mrs. Paradissis was very Old World, even if she had nothing to worry about with Noah.
My father rigged poles for each of us, and after that we never returned home empty-handed. Most days we got flounder and blowfish. When the current was cold there were plenty of blues. Our mothers split the catch evenly no matter which one of us had pulled in what or how many. There were lots of blue crabs and chowder clams for the taking, gorged on what the garbage scows lost to the sea. These we carried home in a burlap sack for the Paradissises. It was impossible to keep kosher on Barren Shoal, but my mother said it was easy enough not to eat traif. My mother sometimes sent Helen along with us so she could run herself tired in the sand. She was only three years old then, but Yorgos made a toy pole for her from a driftwood stick and some string. She would carry it proudly until she got tired and then she would cry for someone to carry her. Sometimes we made her walk home anyway to stop her from becoming spoiled, we told ourselves. The fact was I did not want her bothering me any more than Noah wanted me pestering him.
By the time the Paradissis family celebrated their first year on Barren Shoal, Sofia and I were inseparable, and our parents had given us permission to wander the entire island, together, on our own.
After waiting a lifetime, we entered grade school in September. The center of our universes shifted overnight from our little houses and yards to the schoolhouse, where it stayed until I had a universe large enough to keep me busy for a lifetime.
A whitewashed wood and tar cabin identical to our houses, the schoolhouse was little more than a frail box with a thin roof and walls. Our parents were grateful for those boxes even though they were poorly insulated—even though the toilets were outside in tiny huts and the indoor tap ran cold. They did not yet know that Mr. Boyle's monthly "occupancy charge" went straight into his pocket, a fact revealed when there were union troubles. We knew nothing, either, of how in other parts of New York the schools had desks with inkwells, instead of discarded tables with legs sawed short for the smaller children and planks of wood balanced on saw horses for the big ones. The one black child in the school said that in the Negro schools in Brooklyn the pupils sat on church pews and used their laps as desks. Our teacher, Miss Finn, made do with a 30-year-old globe commemorating the dawning of the 20th century. On its base were the words: Human Progress Through Technology.
Every day on our walk to school Sofia and I saw the barge scavengers Mrs. Paradissis compared us to when we swiped her cookies. The factory owners did not care about the scavengers. Glue was made from bones, not from the rotting meat and sinew that the scavengers picked until the carcasses barely resembled the animals they had been. So long as the factory got the bones, no one bothered the scavengers coming and going. The men on Barren Shoal did not talk about them, as if that kind of poverty was contagious. Every day Sofia and I saw children foraging with adults. Some of the adult scavengers would wave a child over to work a rich find; others pushed them away. They ate while they worked, stuffing extra little pieces into their pockets and spitting into the water the unchewable. It was enough to make anyone sick, which it surely did, but it was better than starving. As for our mothers, they went on feeding us as much as
they could.
You girls have no business being late," Miss Finn scolded when Sofia and I rushed into the single, drafty classroom that was our school. "Young girls work spindles in textile mills and boys are sorters in coal mines," Miss Finn continued as we settled into our chairs. "Sharecropper children and tenant farmer children and migrant farmer children plant and pick, as do the children of
families who own their own land. Federal child labor laws mean little without the mechanisms for enforcing them." Miss Finn turned everything into a lesson, including our being late.
She set Sofia and me and the other small children to work copying alphabet letters. She turned the attention of the older students to current events. The Young Plan, she wrote on the board. She raised a newspaper and read aloud that the "'Young Plan Meets New Opposition.'" Miss Finn brought newspapers that her sister in Brooklyn saved up to the island every Monday: The New York Times, The New York Post, The Herald-Tribune.
The week-old newspapers took on second lives at Barren Shoal as our textbooks. Come the third week they were cut into toilet paper for the outhouses, except for the ones that Sofia and I took for our Odyssey Project. We were keeping a scrapbook of articles about all the places in the world we wanted to visit. We collected countries the way that older girls clipped out photos of Clark Gable and Greta Garbo.
"'The Young Committee on Reparations is meeting resistance from conservative Germans and their right-wing leadership,'" Miss Finn read.
It was hard to concentrate on penmanship while Miss Finn was speaking. My strokes became confused with the Aleph-Bet-Gimmels that my father had taught me, which looked nothing like the Roman letters we were learning. Sofia confused her letters with the mysterious Alpha-Beta-Gammas of Modern Greek.
"Look," I whispered to Sofia. "This U is a horse's foot; this A is a house."
"Sofia, Marta!" Miss Finn hushed us from the other side of the room. Sofia kicked my foot beneath the desk. I dropped my head lower and lower to keep from laughing until my nose touched my sheet of paper.
"Yorgos," said Miss Finn to Sofia's brother, "can you tell us about The Young Plan?"
Yorgos Paradissis was handsome at fourteen, already mannish with a five o'clock shadow.
"The Young Plan…" Yorgos stumbled, "is…is…"
I perked up. "It has something to do with…"
"No one's asking you," said Yorgos.
I wanted to redeem myself with Miss Finn. Children yearn for the clean slate. Mind you, if I had a clean slate now there would be nothing to remember. We make mistakes, we apologize, we take corrective action and we remember. This is what it means to be a person. You forget, you are nothing.
But I knew as little about the Young Plan as Yorgos, who elbowed Noah, who was sitting next to him.
"Tell Miss Finn about the Young Plan, Noah," said Yorgos to my brother. Better to be bested by Noah than by a little girl.
Miss Finn ignored the exchange between the boys. "The Young Plan will be a blueprint for German reparations for The Great War. Who will please define 'reparations'?"
More silence.
Yorgos had been rescued from Miss Finn's questioning, but not the rest of the class. I forgive us for not knowing about the Young Plan; we were children, even the older ones. You would think that if I could forgive us, I could forgive others for their silences, too. But I cannot.
The smell from the furnaces thickened like it always did as the sun rose higher. Miss Finn was still waiting for an answer. The only sound now was the thin whistle of Marie Dowd's breath, the remnants of a childhood bout of rheumatic fever. Marie was already fifteen.
"A definition for reparations?" Miss Finn repeated.
Her voice settled into the background while she explained.
At seven years old I had already heard endless talk about the war. It was one of the reasons my parents left Poland or Russia, or wherever it was they had lived, the borders forever shifting. The new rulers had changed the names of the old towns again and again to their liking. My parents left a place that was no longer the place they had fled.
Adapted from Barren Island
, published by New Issues Poetry & Prose. Copyright © 2017 by Carol Zoref. With permission of New Issues Poetry & Prose.