In the Kitchen With Dorie Greenspan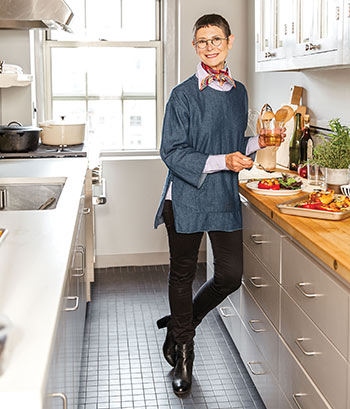 It's rare that you get to hang out in the homes of your culinary heroes, but there I was in Connecticut one summer day in 2014, walking into cookbook author Dorie Greenspan's sunny kitchen.
A friend had won a coveted item in a silent auction—a private baking session with Greenspan—at a dinner benefiting Cookies For Kids' Cancer, an organization that raises money for pediatric oncology research. When my very generous friend, Dr. Ruby Gelman, invited me to tag along, I jumped at the chance to meet someone whose books had lined my shelves for years.
While I vividly recall what we prepared that day nearly five years ago in Greenspan's kitchen—a luscious caramel tart, a batch of chocolate sable cookies and a delicious fruit crumble—even clearer is the way she made us feel at ease. "Mistakes are how we learn," I remember her saying when one of us rolled out a crust too thin. "I make them all the time."
Somehow, amid all our baking, Greenspan and her assistant had managed to quietly prepare a lunch of roasted salmon and citrus salad. We feasted on her back patio, while a brook flowing at the edge of the wildflower-studded property sent the slightest hint of cooling mist our way. The whole time, Greenspan—known for her pixie-cut hairstyle and crisp, upturned collars, and who declines to divulge her age to journalists—was the consummate host, keeping the cold rosé flowing and the conversation moving.
Today, Greenspan, a three-time winner of a prestigious James Beard Foundation cookbook award, is the "On Dessert" columnist for The New York Times Magazine. She is also a powerful social media presence, sharing glimpses of her personal and professional lives with her nearly 70,000 Instagram followers and on her website, doriegreenspan.com.
The author, who divides her time among homes in Westbrook, Conn., Manhattan and Paris, draws legions of admirers with her chic, casual approach to cooking and baking that makes you feel like she's cooking right there with you. In her nine solo cookbooks—most recently Everyday Dorie
, which came out late last year—Greenspan has guided thousands through everything from gougères pastry to goat cheese tart.
"Dorie is so likable and kind, and it comes through in her prose," said New York Times food columnist and prolific cookbook author Melissa Clark. "But she's also insanely exacting, so she does the worrying for you. I love how detailed her recipes are, and how calmly she takes you by the hand, even through the trickiest of techniques."
With such an illustrious career, you might think Greenspan was raised by a great balabuste, but you'd be mistaken. "My mother, Helen Burg, hated cooking but loved to shop for food," said Greenspan, who grew up mostly in the Midwood section of Brooklyn. She has fond memories of the neighborhood, with its bagel store and a Woolworth's—complete with a soda fountain counter—steps from the grocery store her father, Abe Burg, owned and operated.
It was while working at Harnick's card and record shop at the age of 16 that she met Michael Greenspan, an older college student from the neighborhood. "He thought I was cute but too young," said Greenspan, "so he brought his younger brother around." But she only had eyes for Michael, with whom she developed a deep friendship over several years as the two wrote letters between Brooklyn and Stanford University, where he attended graduate school.
Michael eventually returned from Palo Alto and proposed, and they settled down in Brooklyn, where Greenspan—then in college—covered her tiny kitchen in colorful contact paper and set about learning how to cook and entertain, and especially how to bake. She found a role model in her mother-in-law, Esther, who hosted a weekly Shabbat dinner that always included three main courses: veal cutlets, brisket and roast chicken.
"I used to love to watch her work in the kitchen," said Greenspan. "You could see she knew what she was doing, and she loved to laugh." Greenspan also absorbed by osmosis Esther's big-tent entertaining style. "Those dinners would grow as they progressed. By the time the last piece of cake had been passed around, we had doubled in size and people just wanted to stay. I remember thinking, 'This is what I want.' " Eventually, the young couple moved to Manhattan, where Dorie ambivalently considered a master's degree in gerontology before Michael challenged her to pursue her passion for baking.
She found her way to working for legendary baker and restaurateur Sarabeth Levine, but soon realized that life in professional pastry production wasn't her calling. It was around that time that a friend suggested she put together an article pitch for Food & Wine magazine. Rather than writing the proposal for dessert ideas, Greenspan baked them, hand-delivering a basket of sweets to the magazine's offices (she got the assignment). A prolific career unfurled from there, including a five-year stint writing the James Beard Foundation's newsletter; work as a talent liaison during the Food Network's earliest days; and assignments for Elle magazine's American edition, which gave her entrée to a world of French chefs such as Daniel Boulud and Pierre Hermé. It also led her to Julia Child, with whom she coauthored Baking with Julia: Savor the Joys of Baking with America's Best Bakers.
"It was life changing," Greenspan said of her time working with Child in the mid-1990s. "She was as remarkable as you think and want her to be. She was interesting, endlessly curious, boundlessly encouraging, naturally funny—her timing was amazing. She said to me, 'You are so lucky to work in this field because you'll never stop learning.' " Soon, Greenspan was working on books with Boulud and Hermé, which allowed her to travel more freely to Paris.
"I realized my mother had made a terrible mistake having me in Brooklyn," laughed Greenspan, who fell in love with the seasonal, market-driven model of eating Parisians hewed to long before Americans began to embrace similar ideals. "I would walk to work over the Seine and I would feel, at that moment, that I lived there." Since 1997, she and Michael—who have an adult son, Joshua—have had an apartment near Saint Germain-des-Prés and now spend several months in Paris every year, time that has deeply influenced her kitchen life.
"It has changed everything about the way I cook," said Greenspan. "Learning a new language and culture, finding a new neighborhood and community of friends, you grow in ways you can't imagine." Several of her cookbooks, including Cooking Chez Moi and Around My French Table, have reflected this influence, filled with simple tarts, rillettes and other Gallic staples.
"I love that in France, dinner at home is the main event, with what I call 'elbows on the table,' " Greenspan said, referring to a casual style of eating and socializing that says less about the food on the table than who is around it. A recipe for happiness, indeed!
Everyday Dorie is a delight to cook from. Here, I'm sharing Greenspan's Lower-East-Side-Brunch Tart, a baked interpretation of a bagel slathered with cream cheese, lox, onions and capers. Last-of-the-Bunch Banana Bundt will remind readers that the Bundt pan was invented by NordicWare in Minnesota at the request of Hadassah members looking for a vessel in which to recreate Kugelhopf, the classic German dessert.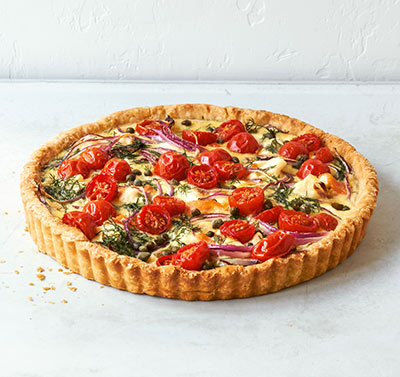 Lower-East-Side-Brunch Tart
1 9- to 9-1/2-inch tart shell made with pâte brisée (or store bought), partially baked and cooled
1 1/2ounces cream cheese, cut into small bits
3 ounces smoked salmon, finely chopped (about 1/3 cup)
1/4 cup finely chopped red onion, rinsed and patted dry
3 tablespoons capers (chopped, if large), rinsed and patted dry
1 tablespoon minced fresh dill
3/4 cup heavy cream
2 large eggs
1/2 teaspoon fine sea salt
1/4 teaspoon freshly ground black pepper
About 12 cherry tomatoes, halved
1.  Center a rack in the oven and preheat it to 350°. Place the partially baked tart shell on a baking sheet lined with parchment paper or a silicone baking mat. Scatter the bits of cream cheese over the bottom of the crust, followed by the salmon, onion, capers and dill. Beat the cream and eggs together with the salt and pepper in a bowl until smooth. Pour this into the crust, stopping when you're just below the rim. (It's often hard to judge just how much filling a crust will take, so you might have a few drops left over.) Top with the tomatoes and very carefully slide the baking sheet into the oven.
2.  Bake the tart for 40 to 45 minutes, or until it is puffed and set—a skewer inserted into the center will come out clean. If the center of the tart has risen as much as the sides, you can be certain it's baked through. Transfer the baking sheet to a rack and let rest for at least 15 minutes before serving—it's best just warm or at room temperature.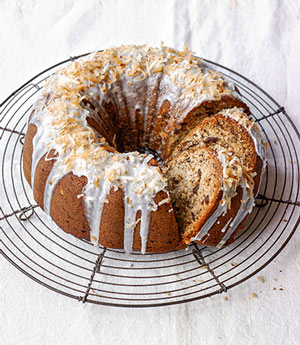 Last-of-the-Bunch Banana Bundt
FOR THE CAKE
3 cups all-purpose flour
2 teaspoons baking soda
1/2 teaspoon freshly grated nutmeg
1 stick (8 tablespoons) unsalted butter, cut into chunks, at room temperature
1/2 cup coconut oil, at room temperature, or another stick of butter
1 cup sugar
1 cup packed light brown sugar
1/2 teaspoon fine sea salt
2 large eggs, at room temperature
1 tablespoon dark rum (optional)
1 tablespoon pure vanilla extract
3 to 4 ripe bananas, mashed to a puree (about 1 3/4 cups)
1 cup plain yogurt (Greek or regular)
3 ounces chocolate (milk, semisweet or bittersweet), finely chopped
1/2 cup sweetened flake coconut
FOR THE ICING (optional)
3/4 cup confectioners' sugar
1 to 1 1/2 tablespoons milk
1.  To make the cake: Center a rack in the oven and preheat it to 350°. Generously butter a Bundt pan, dust the interior with flour and tap out the excess (or coat the interior with bakers' spray). Do this even if your pan is nonstick.
2.  Whisk together the flour, baking soda and nutmeg. Working in a stand mixer fitted with a paddle attachment, or in a large bowl with a hand mixer, beat the butter, coconut oil (if you're using it), both sugars and the salt together at medium speed for 3 minutes, or until well blended, scraping down the bowl as needed. Add the eggs one by one, beating for 1 minute after each egg goes in, then beat in the rum (if you're using it) and the vanilla extract. With the mixer on low, beat in the mashed bananas; don't worry about how curdled the batter looks. Still working on low, add half of the flour mixture. When it's almost incorporated, beat in all of the yogurt and when that is almost all in, add the rest of the flour and mix until blended. Switch to a flexible spatula, scrape down the bowl and mix in the chocolate and coconut.
3.  Spoon the batter into the pan, smoothing the top and swiveling the pan from side to side to even the batter and get it into all of the pan's nooks and crannies. Bake for 65 to 75 minutes, until the top is brown and the sides of the cake pull away from the pan when gently nudged; a skewer inserted into the center of the cake will come out clean. Transfer the cake to a rack and let it rest for about 5 minutes, then unmold it onto the rack. Let cool to room temperature. If you have patience, wrap the cake once it cools and let it "ripen" overnight.
4.  To ice the cake (optional): Put the sugar in a small bowl and stir in 1 tablespoon milk. Add more milk if necessary, a drop at a time, stirring until you have an icing that falls easily from the tip of the spoon.
5.  Drizzle the icing over the cake and let the cake sit for at least 20 minutes, or until the icing is set, before you serve or store the cake.
Sheet-Pan Supper: Balsamic Chicken with Baby Potatoes and Mushrooms
Serves 4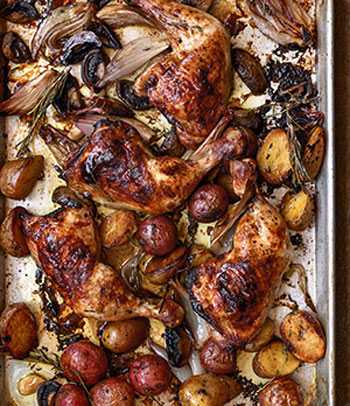 1/2 pound white mushrooms, cleaned, stemmed and cut in half if large
1 large shallot or medium onion, trimmed and rinsed, patted dry cut into 8 wedges
4 garlic cloves, unpeeled
8 sprigs rosemary
8 sprigs thyme
1 1/2 teaspoons fine sea salt, divided
Freshly ground black pepper
6 tablespoons extra virgin olive oil
1/4 cup balsamic vinegar
1 1/2 pounds small potatoes, scrubbed and halved if too large
4 whole chicken legs (thigh and drumstick), with or without skin, patted dry
Center a rack in the oven and preheat it to 450°. Line a baking sheet with foil and rub the foil with a little oil.
Put the mushrooms, shallot or onion and garlic in a large bowl. Toss in 2 sprigs each of the rosemary and thyme, 1/2 teaspoon salt, a few grindings of pepper, 2 tablespoons of the oil and 1 tablespoon of the balsamic. Mix everything well and spread the ingredients out on one end of the baking sheet.
Put the potatoes in the bowl and add 2 sprigs of each of the herbs, 1/2 teaspoon salt, some pepper, 1 tablespoon of the oil and 1 tablespoon of the balsamic. Mix everything together and lay the potatoes next to the mushrooms.
Put the chicken in the bowl, along with the remaining 3 tablespoons oil and 2 tablespoons balsamic, 1/2 teaspoon salt and a good amount of pepper, and mix well to coat the chicken. Lay out the chicken on the pan and tuck the remaining 2 of each of the herbs sprigs under each piece (do the same if you are using breasts). Roast the chicken or 40 minutes to 1 hour, until a thermometer stuck into the thickest part of the thigh measures 165°.
Arrange everything on a big platter, pour over the cooking juices on the baking sheet and serve.
Adeena Sussman is the author of the upcoming cookbook Sababa: Fresh Israeli Cooking (Penguin/Avery), which comes out in June. She lives in Tel Aviv.