What Israelis Can Learn From Pittsburgh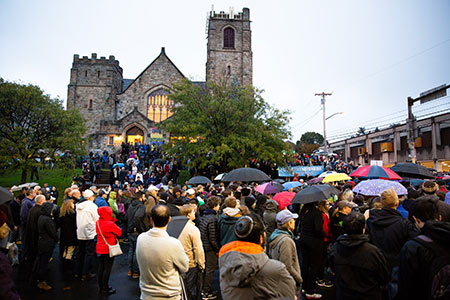 A visibly moved Isaac Herzog greeted me in Pittsburgh that Friday night, six days after the Tree of Life synagogue massacre. Standing in a huge tent erected in a municipal parking lot, the new head of the Jewish Agency for Israel embraced, and was embraced by, the hundreds of people gathered inside.
​In this groundswell of support, it was clear that the gunman who had struck down 11 members of Pittsburgh's Jewish community on October 27 had also unwittingly sparked a unified front, forged in the Steel City tragedy.
​Herzog, astounded by the broad base of allies, took note of the diverse crowd. There were even Christians, he disbelievingly remarked to me, a Times of Israel reporter flown in to cover the tragedy's wake. They came in support of the Jews, he repeated several times, as if to cement what to us seemed like a surreal reality.
​At that Friday night dinner in Pittsburgh, we saw far-left secular Jewish activists working alongside black-and-white clad representatives of Chabad. Modern Orthodox in knitted yarmulkes supped on the same chicken and noodles as the non-Jewish politicians and neighbors who came to experience a traditional Shabbat dinner for the first time. Truly a strange sight for our Israeli eyes.
​But in the America embodied by Mr. Rogers' Squirrel Hill neighborhood, it was hardly extraordinary. There, the Jewish community mourned together as the city closed ranks around it, protecting and consoling its wounded citizens.
​For Herzog and for myself, our Israeli reality is far different from that unifying moment in Pittsburgh: Our only version of neighborly "support" is continued nonaggression, not solidarity.
​To live in Israel is to exist in daily, back-burner, existential danger. My decision to make aliyah was solidified as I, a naive 24-year-old from Indiana, faced the rows and rows of graves at the national military cemetery at Mount Herzl. Only then did I fully understand what it meant to immigrate to a land where there are zero degrees of separation from potential national tragedy.
​This looming, ever-present willingness to sacrifice is part of our covenant as Jewish citizens in the Land of Israel. And it is too often fulfilled. When soft, sad songs are played on the radio, we know there's been an attack. When sirens wail during missile barrages, we know how many seconds there are until we have to seal the heavy safe-room door. And when we are yet again on the brink of all-out war, as a nation we hold our breath, hoping that if it does have to happen, that it may, finally, please God, be the last time.
​Perhaps ironically, as Israelis, we are also used to our politicians making broad, sweeping statements when our Jewish brothers and sisters abroad are hurt. "Tonight, I call on all of you, and on all young Jews around the world: Come to Israel, make aliyah. This is your country. This is your birthright," cried Prime Minister Benjamin Netanyahu following the horrific 2015 Paris attack at the Hyper Cacher supermarket, where four hostages were murdered.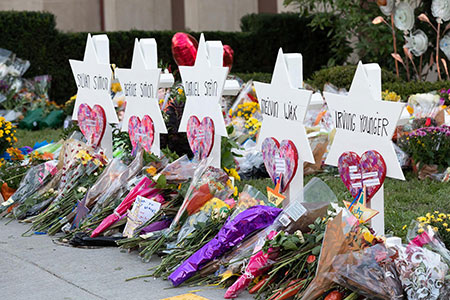 ​But unlike areas in the world that suffer constant anti-Semitism, for the rich, vibrant community of Pittsburgh—and most of America—being Jewish is an overtly worn badge of honor. Even most Israeli politicians knew it was not the time to call their fellow Jews "home."
​Walking in the damp fall foliage in the urban shtetl that is Squirrel Hill, there was still that undimmed Jewish pride, even as the community packed funeral services, visited makeshift memorials and marched with their neighbors in the streets.
​This is their American birthright.
​In the days I spent in Pittsburgh, covering funerals and attending communal events, I came to realize this is no weak Diaspora that needs salvation. In the face of terror, the different denominations and Jewish organizations here coalesced over a common concern. Strong but ineffably divided, Israel, I thought, has much to learn from these Americans who were able to put aside their differences in this moment of collective pain.
​The slain worshipers in Pittsburgh did not volunteer to become kiddushei Hashem, martyrs who sanctify God's name through their deaths. Their murders were not a knowing sacrifice, and they did not spur calls of vengeance.
​The biggest existential threat to the American Jewry I left 20 years ago was assimilation. Today, it may be guns. Jews are being mobilized, and words are their weapons of choice. Gun control advocate Rabbi Sharon Brous of IKAR, a congregation in Los Angeles, said in the wake of the Pittsburgh shooting: "America is waking up. Our grief and indignation are fueling our moral imagination. We have to use our voices, our money, our connections, whatever public platform and whatever political capital we have to call out the insanity of a culture of hatred and access to deadly weapons."
​In Pittsburgh, this new battle was thrust upon America's Jews and is now part of their covenant of living in the Land of the Brave.
Amanda Borschel-Dan is the Jewish World editor at The Times of Israel.