A Seasonal Israeli Gardening Calendar, Now in English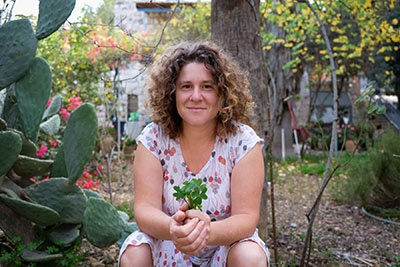 A rainy, temperate climate means that Israeli winters can easily resemble New York springs: gardens bursting with fresh, colorful lettuces and herbs, and the damp, unfrozen soil supporting wild flowers and  green clovers.
Ilana Stein is a wild-plant and gardening expert as well as a graphic artist. Passionate about teaching others the art of foraging—finding foods that grow wildly and using them for food—and backyard gardening, she started Shana BaGina, a website through which she and her partner, Davidi Maller, sell Hebrew-language, illustrated gardening calendars that follow the secular year and that highlight the different growing seasons specific to ha'aretz, the Land of Israel. For 2019, just in time for Tu B'Shevat—which falls on January 21—Stein has released her first English calendar, A Year in the Garden, which includes markers for Hebrew and Israeli holidays and the month's moon phases. As an American-born Israeli, Stein jokes that English is "father" tongue.

Though her calendars focus on the Israeli agricultural seasons, they contain a wealth of information for anyone looking into growing their own food—no matter where they reside. The seasonal bounty may vary, but the philosophy is the same.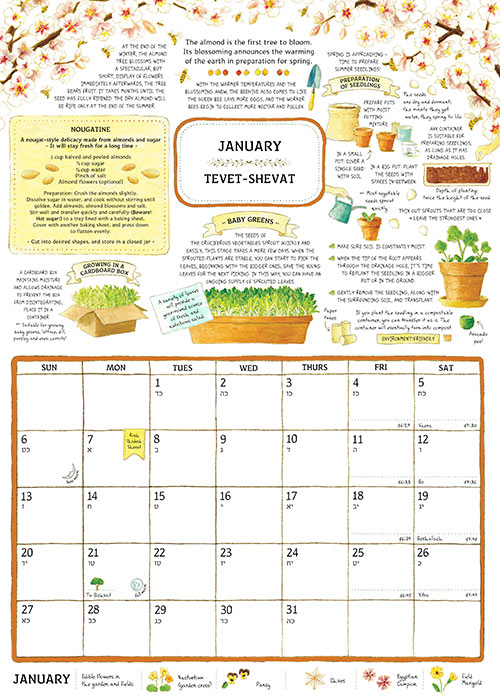 "Just start," Stein says. "Take a seed and put it in the ground—in a small plot of land, in a pot on the fifth floor, or in the communal garden. Choose a corner of the house that has sun, fill a flowerpot with soil, bury the seeds, cook it (meaning keep the soil moist, but not soaked), and after a few weeks you can enjoy the vegetable you raised."
She makes a beautiful thing seem so simple, making sure to remind me that lettuces and leafy greens can be grown efficiently with little space in a simple cardboard box in one's house—no matter the climate where you live.
Stein's calendars—printed on ecologically-sourced paper and which undergo an environmentally friendly printing process—are beautifully illustrated and helpful, giving information on composting, natural pest control, the life cycle of bees and offering recipes that correspond to the month's crops. Step-by-step instructions, such as how deep to plant a seed and how and when to prune and replant, are meant for beginners, urging us to remember that, "A huge tree also started from a small seed."
"My goal is to connect to time, to food, to the land on which I live," says Stein. "These are the things that do good to me, and I believe that they can do good to other people, and the land."