Hannah Bronfman on How to 'Do What Feels Good'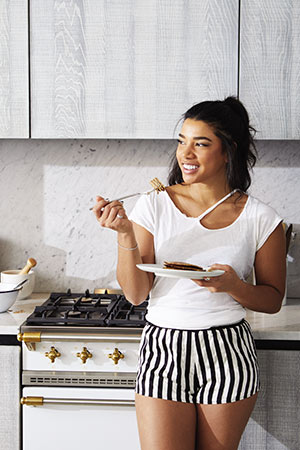 Hannah Bronfman, or HBFIT as her friends call her, wants healthy food to feel satisfying—not like a choice you feel forced to make. In Do What Feels Good: Recipes, Remedies, and Routines to Treat Your Body Right
, the advice, recipes, beauty and lifestyle suggestions are about just that, coming from a lifelong New Yorker who still reminisces about her love of eating Katz's deli pastrami sandwiches while loathing the aftereffects.
The Jewish D.J., artist, former ballerina and avid Instagrammer turned health-and-fitness guru encourages her followers to let go of what weighs them down in favor of doing what feels good. Makes sense, but then there are chicken tender and chocolate cake cravings, and sleepless nights with toddlers that make Bronfman's common-sense notion easier said than done. Even so, one might be able to edge just a little closer through Bronfman's home remedies, healthy recipes, suggested daily routines and overall positive, can-do attitude.
For Bronfman, 31, the D.J. part was key in her finding the strength to change. Initially, that career led to burn out for Bronfman: late nights of working, drinking and sleeping in resulted in poor eating habits, little opportunity for exercising and a body that was out of whack. To put it lightly, she had become a wreck, and she doesn't shy away from divulging the reality of all those late nights. In the book, she is a candid, no-holds-barred version of herself, even dishing on tummy troubles (gut health is key here) and period woes, hormones imbalances and the acne and yeast infections she suffered.
So, what this savvy, vibrant New Yorker—the daughter of prominent Jewish businessman Edgar Bronfman Jr. and actress Sherry Brewer—to do? Becoming a guinea pig, she took on the challenge of visiting alternative health specialists and implementing their advice to see if one really can take charge of one's own health, all the while sharing her findings on Instagram with friends and family.
"Everything I know about beauty, health, fitness, and food, I learned by trying," she tells readers in Do What Feels Good. "Becoming healthy shouldn't hurt and shouldn't stress you out. The journey shouldn't suck. It should be fun and different and make you feel all sorts of good, strong, and empowered."
Similarly, she inspires readers to eat foods that will make their skin glow (according to Bronfman, "your face tells a story"), while at the same time coaxing them to replace, for example, a workout routine that may feel too intense for their body, because something that feels torturous isn't a healthy choice.
Now more into smoothies than vodka shots, Bronfman shares Chinese medicine theories as well as recipes for fermented foods like yogurt (which she makes with coconut milk), cured foods like the smoked salmon and trout she grew up eating and elixir recipes that, to be honest, are probably only for someone aggressively pursing alternative therapies. But, Bronfman's non-conventional advice is shared alongside real-world weeknight dinner recipes that anyone would find delicious and fulfilling.
"I like a sweet. I like a snack," she admits in her book. "I'm not going to apologize for that! I'm going to figure out a way to make it work! What I know is that you can be healthy and still get your sweet or savory cravings fully fulfilled, because whatever you love, there's bound to be a healthier version out there that satisfies the same urges. And I'm not talking about a disappointing chemical substitute. I'm talking about a swap that really satisfies."
Recipes like flourless pancakes made from mashed banana and almond butter are just one example. Avocado-based green goddess dressing and sweet-potato oven fries that come out nice and crispy after baking on a preheated tray are delicious swaps that satisfy. And who wouldn't want a cocktail that fights inflammation, or a bowl of avocado chocolate mousse that is both light and fluffy?
"I wrote this book for the same reason I started sharing my journey and discoveries online," Bronfman tells readers. "Because it's my mission to live my life as the happiest and healthiest version of myself, and to share what I've learned with the people that I care about.  The way we nurture ourselves matters, and the way we support each other matters, too."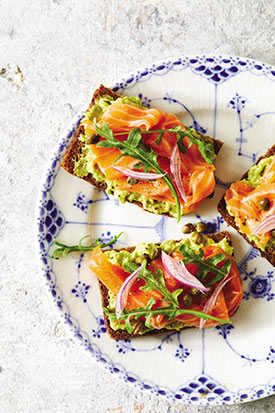 Avocado-Smoked Salmon Toast
Serves 2
This smoked salmon toast is a grown-up version of what I used to have back in the day. If you don't like rye or pumpernickel bread, you could use Ezekiel sprouted grain bread instead.
1 ripe avocado
Finely grated zest and juice of 1 lemon
1/4 teaspoon ground cumin
1/2 teaspoon sea salt
4 slices rye or pumpernickel bread, toasted
2 tablespoons capers
1 tablespoon minced red onion
1 cup arugula
4 ounces sliced smoked salmon
In a bowl, mash the avocado with the lemon zest and juice, cumin, and salt.
Spread the avocado mixture on the toast, and top with the capers, red onion, and arugula.*
Top with the smoked salmon, and serve.
*You can also put the capers, onion, and arugula on top of the salmon, but layering them between the salmon and the avocado makes this dish easier to eat!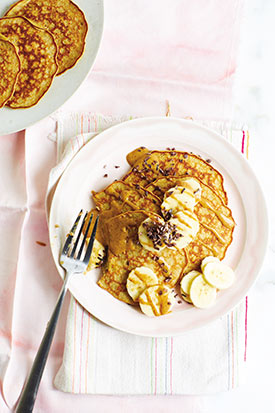 Almond Butter and Banana Pancakes
Serves 4

Pancakes made of bananas and almond butter?? Enough said. The protein here comes from the eggs, which also give these sweet, nutty pancakes a light, crepe-like texture.
2 large, very ripe bananas
1/2 cup smooth almond butter
4 large eggs
1 teaspoon ground cinnamon
1 tablespoon coconut oil
Sliced banana and cocoa nibs, for serving
In a large bowl, mash the bananas until smooth.*
Whisk in the almond butter, then add eggs one at a time, making sure each is thoroughly incorporated into the mixture. Stir in the cinnamon.
Heat a large cast-iron (or ceramic skillet) over medium-high heat. When the skillet is hot enough that a drop of water splashed on it sizzles and bounces, add the coconut oil.
Scoop 2 tablespoons of the batter per pancake onto the skillet, leaving room for them to spread.
Cook 2 to 3 minutes, or until the bottom is set, before flipping. Cook on the opposite side for an additional 2 to 3 minutes.
Serve topped with sliced bananas and cocoa nibs.
*I like to use a potato masher—if you want to make this even easier on yourself, you can make this recipe in a mixer or a high-speed blender—just add all the ingredients and process until combined.
Recipes and photos from Do What Feels Good: Recipes, Remedies, and Routines That Treat Your Body Right by Hannah Bronfman, published by Harper Wave. 
.