Inches, Miles and Miracles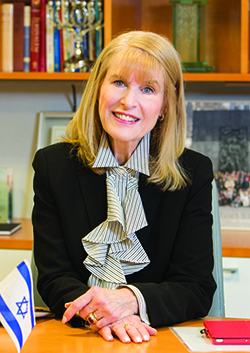 Hadassah's projects and institutions foster a culture of excellence and caring—or, as I like to put it, of going the extra mile. Here are a few examples.
Israeli children with cancer are routinely sedated before radiation treatment, but that's changing, thanks to Emunah Steinmetz, an engineer and volunteer science teacher at the Hadassah School for sick children. Aware that some of her students were fearful before and uncooperative during radiation, Steinmetz thought the calming effect of knowledge might be more effective. Starting with some Playdoh and a laser, she worked with a medical equipment firm and an art studio to produce models of the radiation equipment to show children how the process works and explain why it helps to remain still. More than a dozen kids she worked with have now undergone treatment without sedation. One technician told Steinmetz that a 9-year-old she treated was one of the most prepared patients she had ever encountered.
To outward appearances, the 41-year-old lawyer had a well-adjusted life, but one childhood trauma weighed on him: His abusive father had broken his right arm twice, leaving it three inches shorter than the left. He ultimately made his way to HMO's Dr. Vladimir Goldman, one of the few orthopedists in Israel equipped to address his problem. Dr. Goldman used a procedure called distraction osteogenesis, which involves cutting the shortened arm and inserting rods and pins as well as an "external fixator"—basically a screw. The patient turned the fixator four times a day for 40 days, until his arms were of equal length; muscles, skin, blood vessels and nerves adapted as the limb lengthened. He than waited until the bone hardened to begin physical therapy for maximal range and strength.
A 10-year-old Jerusalem boy fell five stories into an elevator shaft. When he got to Hadassah Hospital in Ein Kerem, his face was so battered he had no identifiable mouth to administer anesthesia; doctors established an airway through the neck. His head was split open from eye socket to chin and only a CT scan showed were the damage was. His brain was hemorrhaging, and surgeons struggled to stop the leakage and close the dura that covers the brain and spinal chord. The team operated all night, its priorities to save the boy's life and preserve his brain. Only later would they fix his smashed jaw, teeth, fractured arm and legs. A month later, as the boy sat up playing with his tablet, doctors expressed optimism for full recovery. Everyone learned something: The boy's parents learned the Hebrew word for miracle ("ness") and taught the Arabic equivalent ("muejaza") to their son's caregivers.
Going the extra mile often means ignoring conventional schedules. Medical professionals respond to emergencies in the middle of the night. And at Young Judaea, volunteers engage in tikkun olam while on vacation. Ever since Hurricane Katrina devastated New Orleans, YJ's Alternative Winter Break program has allowed young people to donate a week of their winter recess to those in need. This past December, 58 Young Judeans from 14 states went to Puerto Rico, still struggling more than a year after Hurricane Maria. They repaired or painted 14 houses in three communities, entertained local children in two carnivals they organized themselves, distributed over 120 Christmas gifts—and slept on floors.
A half-marathon is 13 miles, but the winner of last year's race in Tiberias covered a lot more ground just getting to the starting line. At 14, Louis fled his native Eritrea to come to Israel, covering much of the 2,000-mile journey on foot, dodging border patrols in three countries to get to the one place where, he heard, "the guards don't shoot." In a refugee center in Hadera, he met the Hadassah-Neurim Youth Village director, who agreed to admit him to the residential school. At Neurim, Louis learned Hebrew, got an education and discovered his passion for running. Now 21, he is one of Israel's top runner's in his age category, still trains at the Neurim track and is an Olympic prospect.
When we go the extra inch, mile or miracle, the people we help often wind up ahead of us.