Celebrity Chef Gail Simmons on 'Top Chef,' Kids and Israel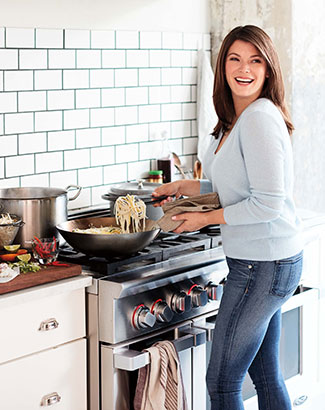 You might say that Gail Simmons was born to eat. Growing up in the suburbs of Toronto, she watched her mother, Renée, become a food columnist for the city's largest newspaper, the Globe and Mail, and teach hundreds of cooking classes from their home.
"It was a great way for her to work and still be with us," said Simmons, 43, who today lives in Brooklyn with her husband and two young children. And there have been many other mentors as Simmons has worked her way up the ladder in the highly competitive culinary world.
Through a combination of talent, savvy and a Zelig-like propensity for being in the right place at the right time, Simmons has earned many career highs, including a role as one of the original—and current—judges on Bravo television's hugely popular show, Top Chef. She also hosts Iron Chef Canada; makes regular guest appearances on the Today show and Good Morning America; serves as a contributor to Food & Wine magazine; and is the author of two books. Through her production company, Bumble Pie, Simmons scouts potential female on-air talent for food media.
Indeed, supporting women in the workplace is a belief shared by Simmons and close friend Padma Lakshmi, the famous host of Top Chef. "Gail is one of the most supportive, warm, wonderful women I know," observed Lakshmi. "I couldn't ask for a better colleague. I have been in a lot of situations where there was competition between women, and Gail and I have always been supportive of one another from day one."
When Top Chef debuted in 2006, Simmons seemed to burst onto the scene out of nowhere. But in truth, she had been positioning herself at the intersection of food and media since her college days at McGill University in Montreal, where she wrote restaurant reviews for the school newspaper and began cooking as a hobby.
After college, she nabbed an internship at Toronto Life magazine, then moved to the National Post, where she realized she was spending every available moment trailing the restaurant critic. After deciding she needed to deepen her knowledge of food, she moved to New York and enrolled in culinary school.
"I thought I'd move back to Canada and be a big fish in a small pond," said Simmons. But after graduating, she stayed in New York, working in two Michelin-starred kitchens, Le Cirque and Vong.
"I found it incredibly challenging work," said Simmons, who assessed her time on the kitchen line in light of the #MeToo movement. "I was never physically harassed, abused or assaulted, but there were a lot of inappropriate comments. I got passed over for not being able to haul a stockpot on my own and told to 'take it like a man.' There were a lot of private tears."
Leaving behind the world of the fast-paced, high-end restaurant kitchen, Simmons became the assistant to legendary Vogue food writer Jeffrey Steingarten. "He taught me everything I know about food writing and introduced me to everyone," she said.
Through Steingarten, she met celebrated chef Daniel Boulud, who hired her to do public relations for his growing restaurant group. After three years with the French chef, she moved to Food & Wine magazine, where she spent five years overseeing the Aspen Classic, the publication's annual high-profile gathering in Colorado. Working on the exclusive event meant Simmons was collaborating with virtually every well-known food-world personality of the day, from Jacques Pépin to Anthony Bourdain.
"I remember her walking around with a headset and rain boots, incredibly capable and personable at the same time," said Dana Cowin, who was Food & Wine's editor in chief during those years. Simmons was still at the magazine when she auditioned for Top Chef. As an event producer and marketing professional rather than an editor, Simmons was an unconventional pick for the show.
"The truth is, she was the perfect choice," said Cowin. "She had done so much, was so well-rounded and had a little bit of everything needed to help her succeed."
Growing up, the Simmons household—led by Renée and father Ivor—was decidedly traditional. Shabbat dinners for Simmons and her two older brothers were non-negotiable, and all the major holidays were observed at their Conservative synagogue followed by festive meals at home.
"What people don't realize is that Toronto is the fourth-largest Jewish city in North America after New York City, Los Angeles and Mexico City," Simmons said proudly of her hometown.
Her family is strongly Zionist, and she had been to Israel twice before a recent press trip: once for a family vacation that got postponed for a year due to the Persian Gulf War and then again before college, when she lived on Kibbutz Beit HaEmek with her Canadian boyfriend for two months.
She initially worked in the kibbutz's chicken coop, but after a split with the boyfriend and a brief foray harvesting avocado groves, she ended up working the breakfast station in the communal dining room, slinging eggs for 500 every morning.
"I worked 50 eggs at a time," said Simmons. "By the time I cracked the last one I had to flip the first." Her favorite kibbutz meal was a self-assembled breakfast of cottage cheese and Israeli salad with a sprinkling of za'atar and a drizzle of olive oil. "To me that was what Israeli food was—simple."
Her perception changed when she took part in the February "Celebrity Chef Birthright" trip, during which she toured the country in the company of 30 fellow foodies, including Chopped judges Marc Murphy and Amanda Freitag and former Gourmet magazine editor Ruth Reichl.
"Coming from America, you get this real sense of history, plus how modern and innovative the country is," she said. "It all felt really authentic."
Simmons stresses the importance of authenticity and staying true to oneself. Her first book, Talking With My Mouth Full: My Life as a Professional Eater
(2012), was aimed at inspiring young adults straight out of college. "I hate calling it a memoir," said Simmons, who is all too aware of the optics of a woman then in her mid-30s dispensing advice. "My message was that there are so many possibilities out there and it is never a straightforward path. Mine certainly wasn't."
Her own journey to marriage and family was far from direct. It was while in culinary school that she met her husband, Jeremy Abrams, a fellow Canadian who now runs a music-related tech company. "My parents were happy I met a nice Jewish boy from Montreal," she said, laughing.
Ambitious and focused on their careers, Simmons and Abrams were together for almost a decade before marrying in 2008 and starting a family. "It took a lot longer than anticipated to have kids, but it all worked out," said Simmons, who conceived both Dahlia, 5, and Kole, 1, through in vitro fertilization. Shabbat meals are a regular event in the family's home, as are Sunday morning pancake breakfasts, which Simmons writes about in her second book, Bringing It Home: Favorite Recipes from a Life of Adventurous Eating
.
In both her professional and personal life, Simmons has followed the advice she shares in her memoir: "You should follow your passion. The world leads you to it in unexpected ways."
Adeena Sussman is the author of the upcoming cookbook Sababa: The Fresh, Sunny Flavors of Israeli Home Cooking (Penguin/Avery), which comes out in September. She lives in Tel Aviv.
---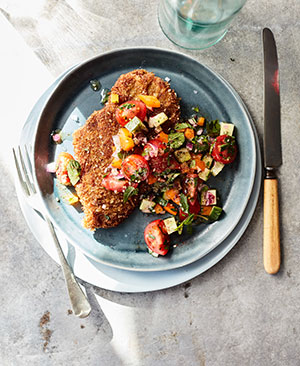 Za'atar Chicken Schnitzel With Israeli Salad
Serves 4
ISRAELI SALAD
1 red, yellow or orange bell pepper, cut into 1/3-inch cubes
1/2 English cucumber, cut into 1/3-inch cubes
1/2 small red onion, cut into 1/4-inch pieces
1 pint cherry tomatoes, quartered
1/4 cup finely chopped fresh flat-leaf parsley
1/4 cup coarsely chopped fresh mint
2 tablespoons extra virgin olive oil
1 tablespoon fresh lemon juice
1/2 teaspoon za'atar
1 teaspoon sumac (optional)
Kosher salt
Freshly ground black pepper
SCHNITZEL
1/2 cup unbleached all-purpose flour
Kosher salt
Freshly ground black pepper
2 large eggs
1 cup panko (Japanese breadcrumbs)
1 1/2 tablespoons za'atar
Freshly grated zest of 1/2 lemon
4 (1/4-inch-thick) chicken cutlets (about 1 pound)
1/2 cup extra virgin olive oil
Lemon wedges for serving
1.  To start the salad: In a large bowl, combine the bell pepper, cucumber, onion, tomatoes, parsley and mint. Cover and refrigerate until ready to use.
2.  For the schnitzel: Heat the oven to 200°. Place an ovenproof platter or a baking sheet in the oven to warm.
3.  In a wide, shallow bowl, stir together the flour, 1 teaspoon salt and a generous pinch of pepper. Whisk together the eggs and a pinch of salt in another shallow bowl. Combine the panko, za'atar, lemon zest and a pinch of salt in a third shallow bowl.
4.  Using the flat side of a meat pounder or a rolling pin, gently pound each cutlet between 2 sheets of plastic wrap to an 1/8-inch thickness. Pat the cutlets dry and season both sides lightly with salt and pepper. Dredge in the seasoned flour, shaking off excess. Dip in the eggs, letting excess drip off, then gently press into the panko mixture to completely coat. Transfer the cutlets to a large plate.
5.  Heat the 1/2 cup oil in a 10- to 12-inch skillet over medium-high heat until hot but not smoking. Fry the cutlets in 2 batches, turning once, until cooked through and crispy, about 3 minutes per side. Drain each batch on paper towel-lined plates, season with salt, then transfer to the platter in the oven to keep warm.
6.  To finish the salad, add the 2 tablespoons oil, lemon juice, za'atar, sumac if using and a generous pinch each of salt and pepper to the vegetable mixture. Toss to combine. Serve the schnitzel with the salad piled on top and lemon wedges on the side.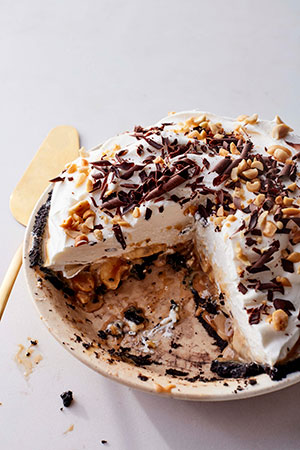 Chocolate Banoffee Pie
Serves 8
DULCE DE LECHE
1 (14-ounce) can sweetened condensed milk
THE PIE
9 ounces chocolate wafer cookies, broken into pieces
1 tablespoon granulated sugar
Kosher salt
10 tablespoons (1 1/4 sticks) unsalted butter, melted
1/3 cup roasted salted peanuts, coarsely chopped
3 large bananas, peeled and cut crosswise into 1/4-inch slices
1 pint heavy cream
1 ounce bittersweet chocolate
1. For the dulce de leche: Remove any labels from the can of sweetened condensed milk and place on the bottom of a large stockpot. Fill the pot with water, covering the can by 4 to 6 inches, then bring the water just to a boil over high heat. Reduce the heat to low, cover the pot and continue cooking, frequently checking the water level, for 3 hours. (The can should be covered by at least 1 inch of water throughout the cooking process or it could explode.) Remove the can from the water and allow it to cool at room temperature before opening. If making ahead, dulce de leche can be kept refrigerated, unopened or in an airtight container, for up to 1 week.
2.  For the pie: In a food processor, pulse the cookies until fine, then transfer to a large bowl. Stir in the sugar and a generous pinch of salt. Add the melted butter and stir until well combined. Press the mixture over the bottom and up the sides of a 9-inch pie plate. Refrigerate until firm, about 30 minutes.
3.  Spread the dulce de leche in a thick layer over the bottom of the crust. Reserve 1 tablespoon of the peanuts and sprinkle the remainder evenly over the dulce de leche. Arrange the banana slices in overlapping circles in 2 layers over the dulce de leche and peanuts.
4.  In a large mixing bowl, whip the cream until it just holds stiff peaks. Spoon the whipped cream over the bananas, covering the pie and forming a mound. With a vegetable peeler, shave the chocolate over the top, then sprinkle with the reserved
1 tablespoon chopped peanuts. Refrigerate until chilled, at least
15 minutes or up to 1 hour, before serving.
Recipes excerpted from Bringing It Home: Favorite Recipes From a Life of Adventurous Eating by Gail Simmons. Copyright © 2017 by GMS Media, Inc. Reprinted with permission from Grand Central Life & Style. All rights reserved. Photos by Johnny Miller.