Prep + Rally (Kosher) Meal Plans Help Families Cook Together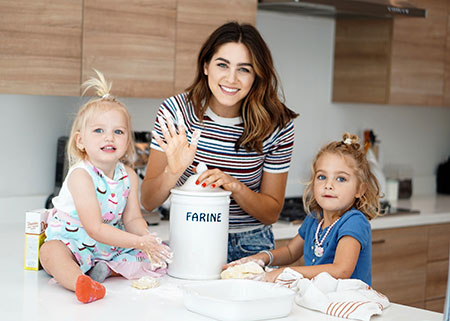 Chef Dini Klein starts her busy days with a double shot of espresso topped with steamed almond milk—sometimes she adds a boost of collagen powder to combat aging and promote digestive health—before tucking in to some variation of wholesome pancakes cooked with the help of her two young daughters. For Klein, the mornings are non-negotiable family time, and the priority she personally places on time spent in the kitchen with family was a major factor in her decision to launch Prep + Rally, her successful online meal-prep subscription service.
Prep + Rally eliminates the brain wracking that goes into planning weekly dinners by encouraging families to prep a week's worth of meals together, all at once, on the weekend. Here's how it works: Every Wednesday, Klein shares with subscribers the upcoming week's adaptable shopping lists, recipes and menus, all available as printable PDFs. On Sundays, subscribers can tune into Prep + Rally on Instagram TV, where Klein—glass of wine in hand—preps a minimum of seven recipes from that week's rotation.
Key elements (like sauces) are repurposed throughout the week to assemble different meals—often with enough for leftovers. Besides the recipes and menus—which, like the sheet pan chicken and kale salad below, are generally healthy, accessible and kosher—a main draw of the service is Klein's expert guidance in the form of how-to videos and access to the Prep + Rally Facebook community.
"Working as a private chef for seven years," Klein recalls, "I would cook staple dishes for my clients once a week to get them through seven days." All that experience paid off after Klein had her children and started to adapt and streamline her repertoire to feed her young family. "I started sharing [my weekly plans] via my social media community. The response was astounding. So many other busy mamas had the same stresses as me and needed a solution, and I knew I could help."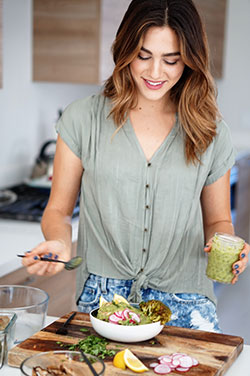 Klein has a positive, go-getter energy and is an enthusiastic advocate for playing around with healthier alternatives (check out her kid-friendly Chicken Tenders With Smoky Ketchup that are breaded with ground almond and flax meal).
In our interview, she tells me how much fun she is having testing out different muffin recipes using fiber-packed bran flour. She is also experimenting with the limits of her air fryer, though in general she eschews bulky appliances that take up real estate on her kitchen counter.
"All you really need in your kitchen is two to three high-quality chef knives and maybe a pairing knife," she concludes.
A graduate of Manhattan's Fashion Institute of Technology, the stylish Klein grew up in a modern Orthodox family that split their time between Israel and St. Louis, Missouri. Shabbat observance, especially quiet, stress-free family dinners, were a highlight of her week when she was young, and she now shares that joy with her daughters and husband.
Beyond Shabbat, Klein finds peace in knowing that she is bringing families together through her recipes—and, equally important, their prep.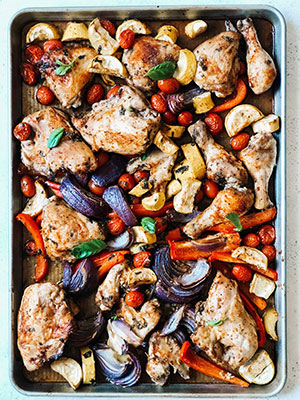 Ratatouille Sheet Pan Chicken
Serves 8
2 chickens, cut into eighths
Salt and pepper to season
2 teaspoons paprika
2 teaspoons garlic powder
2 teaspoons onion powder
2 teaspoons oregano
1 red onion cut into wedges
4 cloves garlic minced
1 red bell pepper, sliced
1 pint cherry tomatoes
2 squash or zucchini cut into rounds
3 tablespoons freshly chopped basil
3 tablespoons balsamic vinegar
2 tablespoons honey
2 to 3 tablespoons olive oil to drizzle
Preheat oven to 400 degrees.
Place chicken on a sheet pan and season with spices. Add the vegetables and basil to the sheet pan and massage all with the balsamic, honey and oil.
Bake for 50 minutes until cooked through and golden. Serve family style with fresh bread.
SALAD
2 bunches baby kale
1 cup celery, thinly sliced
1 cup seedless red grapes, halved
2 pears, quartered and thinly sliced
1 jar hearts of palm, thinly sliced (5 to 6 hearts)
1/4 cup toasted sunflower seeds
1/4 cup Parmesan (optional)
DRESSING
1/4 cup mayonnaise
2 tablespoons olive oil
3 tablespoons lemon juice
1/2 teaspoon fresh garlic, minced
2 tablespoons agave (or maple syrup)
1 tablespoon poppy seeds
Salt and pepper to taste
Combine all salad ingredients together in a medium bowl.
Whisk together the dressing ingredients and pour over salad.
Toss and serve immediately.
Cheesy Monkey Bread
Serves 6 to 8
2 tablespoons butter, melted
2 (16 ounce) packages of flakey biscuit dough
2/3 cup shredded cheddar cheese
TOPPINGS OF CHOICE:
Dried chives
Za'atar
Poppy seeds
White sesame seeds
Onion flakes
Garlic flakes
Black sesame seeds
Flax seeds
Caraway seeds
Preheat oven to 350º.
Coat the inside of a springform pan with butter using a pastry brush.
Open the packages of dough and separate pieces, rolling into 16 balls. Place in the pan so that the balls are all next to each other.
Brush the remaining butter over the tops of the dough. Sprinkle the cheese all over the top and in between the crevices of the bread.
Add toppings of choice. Tip: Make each ball a different flavor, so that no two flavors are touching.
Bake for about 50 minutes until deeply golden. Place on a serving dish and serve immediately.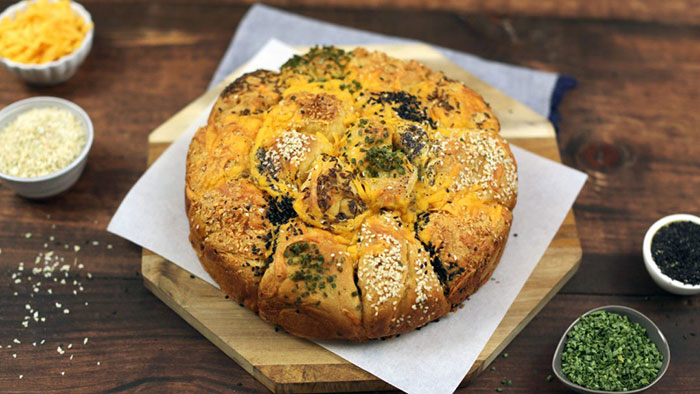 Recipes and Photos reprinted with permission by Dini Klein/DiniKlein.com