The Choice Is Ours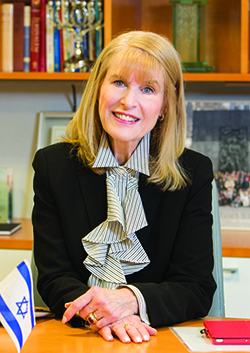 One of the defining terms of the Declaration of Independence, something most of us memorized even before we knew what the words meant, is "unalienable rights"—those so fundamental that no one, not even the government, can take them away.
The rights the Declaration referred to—life, liberty and the pursuit of happiness—were not originally extended to people of color or to women. But the genius of America is that it has slowly but surely grown into the ideal: Abolition, civil rights, voting rights for African-Americans, voting rights for women (approved by Congress 100 years ago this month), enormous strides toward equality of opportunity, all flowed from that enlightened document drafted by imperfect men.
For those of us who support women's reproductive freedom, Roe vs. Wade established an unalienable right. The 1973 Supreme Court decision declared that the Due Process Clause of the Fourteenth Amendment to the U.S. Constitution provides a right of privacy protecting a pregnant woman's liberty to choose whether to bring a pregnancy to term.
Like all the other advances in American liberty, Roe vs. Wade attracted critics from the beginning, but today it is under unprecedented attack. I am sure you all know that a wave of measures in a growing number of state legislatures aims at severely limiting freedom of choice, even in cases of rape or incest. Notably, the Alabama legislature has moved to eliminate pregnancy termination—with the sole exception of when a woman's life is endangered—and imposing on doctors who perform abortions penalties more severe than those for rape.
The lawmakers passing these state-level bills know they face stiff legal challenges, but they are betting that appeals reaching the U.S. Supreme Court will sooner or later lead to weakening or even overturning freedom of choice.
Hadassah stands unequivocally behind Roe vs. Wade. It has been our policy for decades and in light of the most recent assault on the ruling we have reaffirmed our stance. Throughout our history, we have never worried whether our policy statements were popular or not. But on this issue, we are gratified to stand with the majority. According to the most recent polls, more than 70 percent of the American public supports Roe.
In the purest constitutional form, the question for us is who makes the choice for a pregnant woman—the woman herself or the government? Hadassah, the Women's Zionist Organization of America, stands with the woman.
Reproductive freedom is good law and good policy. Its elimination would represent suppression of rights and oppression of women, both leading to an increase in depression.
Hadassah's position is in keeping with our longstanding commitment to advancing women's health, through the exemplary research and care of the Hadassah Medical Organization in Israel, as well as our health education and grassroots advocacy here in the United States.
We have always supported empowering women with the knowledge to make critical health decisions for themselves and their families. For decades Hadassah members and leaders have mobilized for reproductive freedom—advocating, issuing policy statements and attending rallies around the country.
I urge all Hadassah members—and anyone who believes in a woman's right to choose—to join us in speaking out, to urge federal and state officials to support women's preventive health and proactive reproductive rights legislation. Stay informed about state and local policies and get involved, as individuals and with Hadassah groups, in these community initiatives. Hadassah will keep you informed about our advocacy efforts.
Freedom of choice is one of the issues we'll be discussing at Hadassah's National Convention next month. There's still time for you to register and join us, July 15-18, at the Sheraton New York Times Square.
Our nation's founders recognized the ideal of liberty but the American Revolution was launched with the equal recognition that rights could be taken away. It's up to us to ensure that freedom of choice endures for ourselves and for the generations to come.