The Palliative Care Center for Kids With Chronic Diseases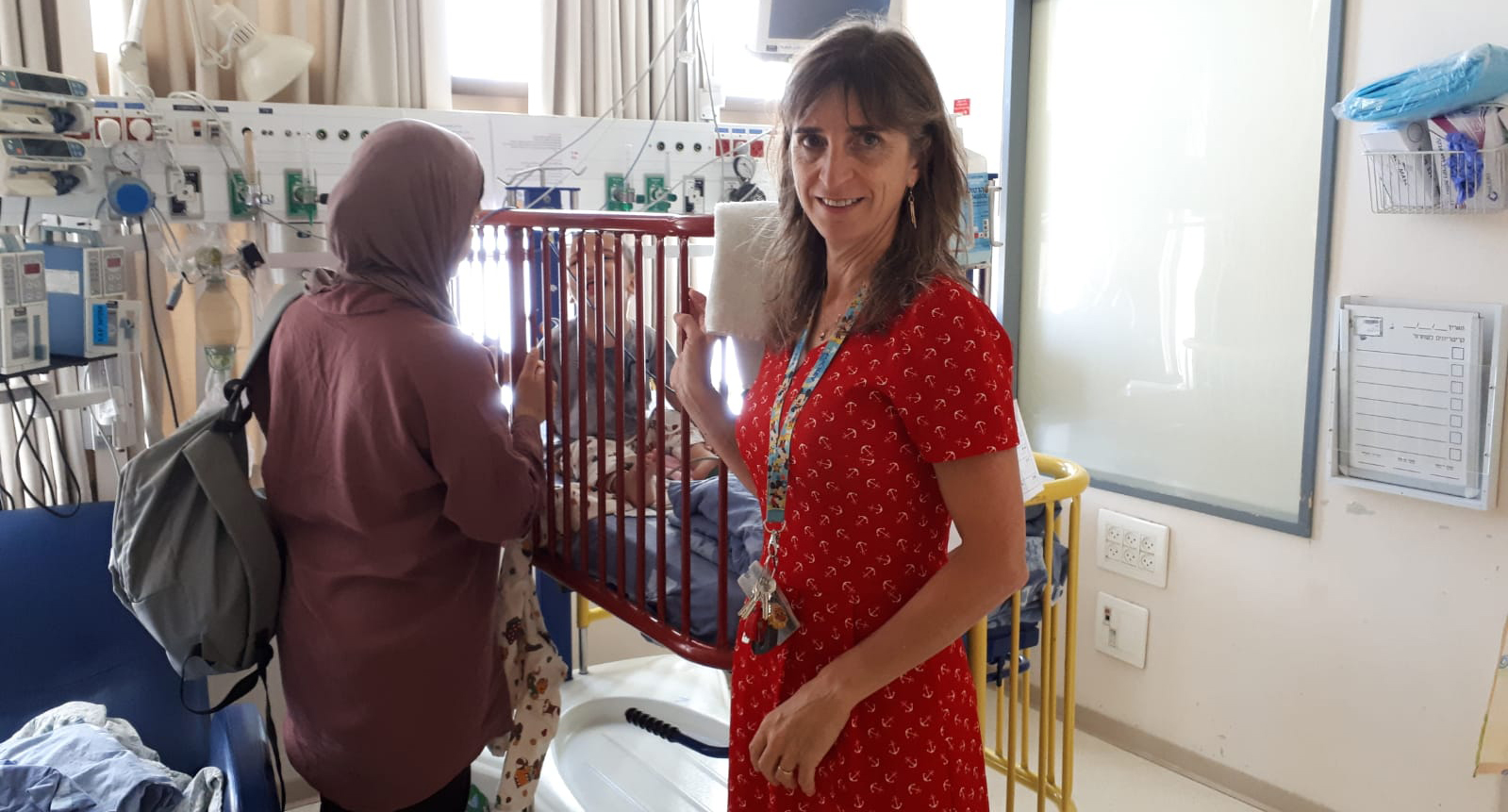 All her experience as a mom hadn't prepared Sima Levy to cope with the continuous medical care her youngest daughter, Rivky, required.
Levy, a computer analyst, unexpectedly gave birth in the 26th week of a troubled pregnancy at her home in the Ramot neighborhood of Jerusalem. The 1.9-pound newborn was rushed to the neonatal intensive care unit at Hadassah Hospital's Mount Scopus campus. Her lungs were underdeveloped, and she needed constant monitoring. After six months in the unit and weighing 8.4 pounds, Rivky went home.
"I came to understand that Rivky wasn't merely a child who was small and who would take some time to catch up size-wise and then be fine," said Levy, 40. "She was a baby with chronic and complex medical challenges."
Rivky is the ninth child in her Orthodox family. The others, aged 3 to 18, were all born full-term and healthy. "There was a urinary tract infection here, a playground cut that needed stitching there," Levy said of her other children. "But we'd had little contact with hospital care as the other children were growing up."
Now 2, Rivky has an unnamed orphan disease—the term for a rare, possibly genetic disease that only affects a small percentage of the population. She had so many health complications that she gained only ounces in the second half year of her life. Even when she wasn't feeling ill, her chronic problems required visits to an array of medical professionals, including an endocrinologist, pulmonologist, gastroenterologist, developmental expert and eating clinician. The Levy apartment filled with medical equipment. "You are only half asleep, waiting to hear if one of the alarms goes off," Levy said. "I often had an awful feeling that this was too big for me and I would make a mistake."
That's when Dr. Rivka Brooks stepped in. Founding director and co-medical director of Hadassah's Pediatric Palliative and Supportive Care Center at Mount Scopus, which opened in 2017, Dr. Brooks recognized the need for ongoing support for children with long-term health issues. She and her staff work with specialists to streamline care and serve as liaisons to the medical system the Levy family depend on to keep their little girl alive.
Dr. Brooks was inspired by her late father, Dr. Melvyn Brooks, a British-trained family doctor. (She was 3 years old when the family moved to Israel from England.) Her father served the Haifa-area community of Pardes Hanna-Karkur in northern Israel for four decades. Indeed, it was his dedication to his patients that eventually led his daughter to give up her childhood plans to be a kindergarten teacher in favor of studying medicine at the Hebrew University-Hadassah School of Medicine.
"My father was my role model in how I treat patients," she said. "But when we started the center, we went abroad to Boston Children's Hospital for professional training to learn how to best empower parents in a hospital setting."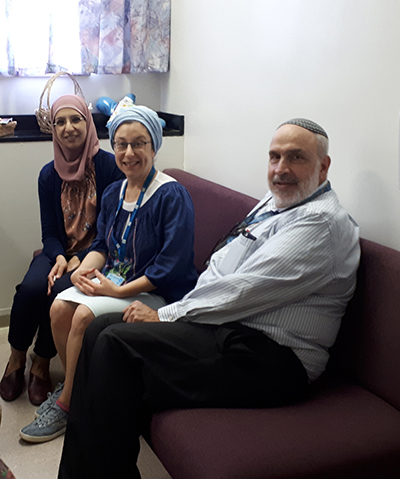 Dr. Brooks also heads the Pediatric Intensive Care Unit at Mount Scopus, where many of the patients are hospitalized for long periods. Her co-director is Dr. Isaiah "Shaya" Wexler, who heads the Center for Children with Chronic Diseases. Some children are patients of the center for their entire childhoods. The pediatric palliative care center is a natural extension of both units.
By definition, curative or supportive care involves treatment to extend the patient's life; palliative care refers to treatment that will improve the patient's quality of life. Curative and palliative care are separate disciplines for adults, but not so for children with chronic medical conditions that make them susceptible to life-threatening conditions.
Aya Azhmen, who lives in the predominantly Muslim neighborhood of Silwan on the outskirts of Jerusalem, learned to speak Hebrew during the many months her son Bilal, who has a neurodegenerative genetic disorder, spent in the PICU. "The doctors and nurses were so amazing, and although many speak some Arabic, I wanted to communicate with everyone in Hebrew," said Azhmen, 28. Her husband, Muhammed Azhmen, is a chef in a Jerusalem restaurant, a staff member of a methadone clinic and a volunteer for Magen David Adom, the Israel emergency service. Aya and Muhammed are first cousins who grew up next door to each other. "When I was 18, the friendship turned romantic," she said. "We wanted to get married, and our parents agreed."
Marrying cousins is common among Arab families. "We did genetic testing before we were married," said her husband. "But nothing came up."
According to Dr. Orly Elpeleg, head of Hadassah's Department of Genetic and Metabolic Diseases, genetic tests are not always comprehensive. In addition, "couples will learn that they have a 9 percent chance of having a genetic disease after testing," and decide to have children despite the risk.
The Azhmens have four children. The two oldest are Nahawand, an 11-year-old girl with a long dark braid, and a sporty 9-year-old son, Abed. With two healthy children, it took them by surprise when their third child, Bilal, now 8, was born deaf, visually impaired and with severe breathing problems. He spent months in an induced coma in the PICU. Even as a toddler, he was frequently symptomatic and required hospitalization. When he was 4, his mother was convinced something else was wrong when she heard a new blockage in his breathing. Bilal was diagnosed with lymphoma.
"We had to decide whether to treat or not," said Muhammed Azhmen. "We decided that we would go all the way with him, treat him as we would any child, fight for the child we loved." Because of his mother's alertness, the lymphoma was detected early and Bilal went into remission after seven months of treatment.
Then, in 2016, Aya Azhmen became pregnant again. "I won't say we weren't worried," she recalled. "We love Bilal, but his life has so much suffering. On the other hand, we had a chance to have another perfectly healthy child like our first two."
Prenatal testing didn't reveal any issues. But Tala, now 3, was also born deaf and visually impaired. She has the same disorder as Bilal, but without the extreme breathing problems or the cancer. Because her health is more robust than Bilal's, she is not a patient at the palliative care center but attends a children's rehabilitation program at Hadassah's Ein Kerem campus. Both parents say they wouldn't have been able to cope without Dr. Brooks, who has helped Bilal and Tala avoid hospital stays by tweaking their home care. She weighs their suggestions seriously, the couple said. "It's like having a full-time advocate-doctor on your team," added Aya Azhmen.
---
ALSO READ A Support Group for Mothers of the Sickest Kids
---
The palliative care center's multi-disciplinary team—Dr. Brooks, Dr. Wexler, coordinator Faygie Waxman, nurse Odaia Ehrlich and social worker Nadia Alian, together with the support of a pulmonologist, gastroenterologist, cardiologist and dietitian—not only cares for the patients and the families, it also helps them with the paperwork needed to connect patients to experts.
While most patients are referred to the center by Hadassah's health professionals or the local community, Dr. Brooks and her staff also visit the pediatric wards in both of Hadassah's medical facilities to determine which parents might need their support. This assistance engenders trust in the medical system. In the tragic event that children do die, the staff runs a program where parents can talk about their feelings.
"The parents are the ones in charge," said Dr. Brooks. "We never impose anything on them. Even when the future is uncertain, our role is to empower parents to enhance comfort, safety and meaning in children's lives, and we feel privileged to do so."
Barbara Sofer is a veteran journalist and author as well as the Israel director of public relations for Hadassah. She lives in Jerusalem.