The Allure of the Catskill Region for the Jewish Traveler
It was a Saturday spring night in Barryville, N.Y. As fireflies danced in the twilit woods, music wafted from the dining room of the Catskill Mountains Resort, where a pianist and singer riffed on standards like "Memories" and "All of Me."
The music went up-tempo as the night wore on, and by 9 p.m., the duo was joined by a twinkly-eyed spoons player and the maître d' on maracas. Waiters put down their trays and took turns dancing with the patrons. Fleece-wearing bird lovers who are members of the Ducks Unlimited preservation group wandered in from a banquet next door. On a break, the singer—a local elementary school teacher by day—showed my 5-year-old daughter, Zelda, how to make an origami boat out of her dinner napkin.
The convivial scene at the bungalow-and-cabin resort was a stark contrast to the lonely woods my husband, Oggi, and I had driven through just hours before. "We're having dinner at the hotel," I'd announced, unnerved by twisty backcountry roads, where we'd long since lost cellphone reception. "No way are we driving here after dark."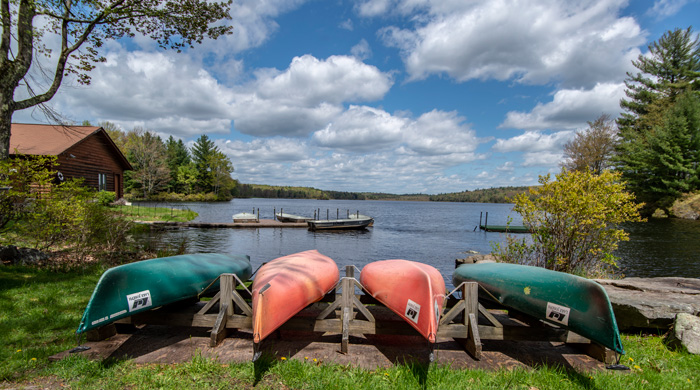 Drawn to the area by reports of a hipster revival, we had stumbled instead on the 2019 version of a classic Catskills vacation: the enveloping cocoon of a family hotel, where farmers mingle with city folk, toddlers waltz alongside septuagenarians and nobody ever needs to leave the property.
The dichotomy of forest wilderness and concentrated socialization has defined the Catskills experience for 150 years—from its 19th-century roots as a summer haven and artists' refuge, through the Jewish Borscht Belt years and ensuing decline, and now in its renascent moment as a low-budget Hamptons alternative.
---
Read Hilary Danailova's feature, Young Jews Are Bringing the Catskills Back to Life, to learn more about efforts to revitalize the region.
---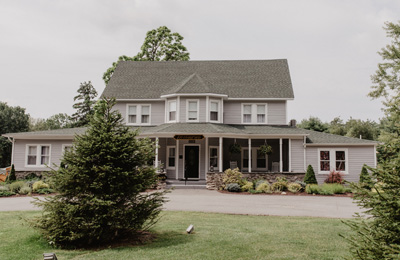 But just to be clear: The Hamptons, it's not. That tony, congested Long Island enclave is in many ways the opposite of the Catskills, a vast, largely undeveloped territory that sprawls over four counties (Ulster, Greene, Sullivan and Delaware). Countless pristine lakes are ripe for exploring; traffic is minimal, whether on roads or trails that wind for miles through silent forests. Dwellings are typically modest—bungalows, cottages and old farmhouses, some tidy, others decidedly ramshackle.
For many, this unpretentious bounty is the Catskills' charm. It's a woodsy paradise where you can hike, kayak and barbecue without ever having to put on makeup.
Today, the grand resorts have largely been demolished, and relatively little tangible evidence remains of the Catskills' storied past. For every tentatively gentrifying village, there are six more in varying states of senescence. At the heart of this territory is Catskill Park, 700,000 acres of low green mountains, nearly half of which is preserved in forested perpetuity for black bears, eagles and other native species (and where reservoirs provide drinking water to a more invasive species—New York City dwellers).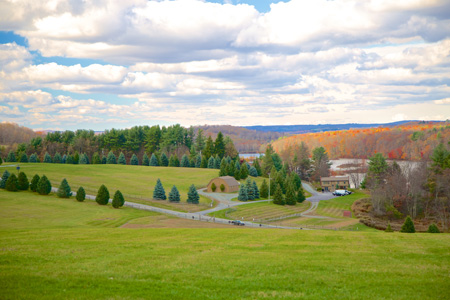 After we crossed the Delaware River at Barryville via an old stone bridge on our Catskills getaway last May, we got out to stretch at the Minisink Battleground Park, a Revolutionary War site. I quickly realized the temperature had dropped a good 15 degrees since we'd left Philadelphia.
The altitude and topography of the Catskills keep it comparatively cool year-round; those summer breezes, after all, are what first drew sweltering Manhattanites in the 1800s. Beginning around the turn of the century, Jewish immigrants with health problems ventured north for the fresh air and stayed, opening the boarding houses that were the precursor of Borscht Belt hotels, which flourished from the 1920s to the 1970s.
The kitschy romance of that midcentury Golden Age remains a lure for visitors, many of whom are young enough to be intrigued, rather than repelled, by old-fashioned vacationing. A kind of secondhand nostalgia is inspired by movies like Dirty Dancing, which glamorized Borscht Belt summers, and The Marvelous Mrs. Maisel, the current Emmy Award-winning series whose second season is partly set in a 1960s Catskills bungalow colony.
The new lodgings are often self-consciously retro, with a homespun aesthetic. They are converted 1940s motor inns, repurposed farmhouses and bowling alleys as well as cabins built from salvaged wood. Some deliberately don't offer Wi-Fi. One thing that has changed since the Dirty Dancing days: With two-person room maximums, many boutique hotels do not accommodate children.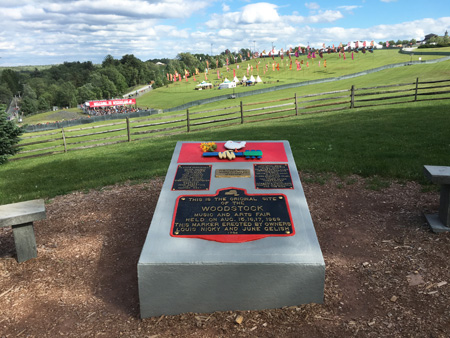 Resorts aside, a quintessential Catskills experience is still available in the form of a bungalow colony. These clusters of off-white cabins, usually on a lake, dot the countryside from Ellenville, in the region's southern foothills, to Phoenicia, ringed by green mountains an hour's drive north. Many today sport Hebrew or Yiddish signage, having been converted to summer retreats for ultra-Orthodox communities predominantly from Brooklyn.
But not all cater to the ultra-Orthodox. There are surviving colonies that welcome successive generations to a distinctly Catskills genre. "Most people come for the whole summer, year after year," said Scott Rosmarin, who has spent all 62 of his summers at Rosmarins Cottages in Monroe. His grandfather, a beer distributor from Brooklyn, founded the bungalow colony in 1941. His father took it over in the 1950s, and since 2002, Rosmarin has been in charge of the 96 rental units located on a spring-fed lake.
Like similar colonies, Rosmarins Cottages are light on square footage—they max out at two bedrooms—and heavy on outdoor amenities, including softball fields, swimming pools and courts for basketball and tennis. In one of the Catskills' most cherished traditions, there's entertainment every Saturday night; it might be a lounge singer, a comedian or a dance band at the social hall.
Cultural rhythms have altered somewhat since Rosmarin's childhood, when women camped out for the summer with the kids and fathers drove from the city to join them on Friday afternoon. Today's families are typically weekenders. But they are just as likely as generations past to appreciate the magic of twilight fireflies, the camaraderie of a weekend barbecue—and the bargain of a four-figure summer rental (at Rosmarins, cottages rent for $5,000 to around $10,000 for the season).
I could relate. A decade ago, I might have found these rivers and forests frankly boring. Now I thrilled to the sight of Zelda chasing squirrels across the lawn and curling up in the porch swing. In the dining room of the Catskill Mountains Resort that night, she tried her hand at the spoons in a lively rendition of "Makin' Whoopee," while I sang along. "You have an old soul," one of the musicians told me, winking.
Maybe it was true. But I wasn't the only one.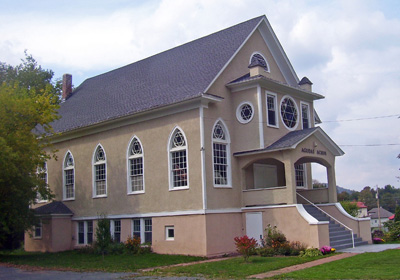 WHAT TO SEE
Sullivan County is dotted with historic synagogues, seven of which are on the National Register of Historic Places. Still-functioning shuls include Agudas Achim in Livingston Manor, now a Reform congregation; Orthodox B'nai Israel in Woodbourne; and Bikur Cholim B'nai Israel in Swan Lake. Also on the register are the defunct congregations Chevro Ahavath Zion in Monticello; Tifereth Israel Anshei in Parksville; Anshei Glen Wild in Glen Wild; and the Jewish Community Center of White Sulphur Springs.
Several Catskill hamlets feature cultural institutions worthy of a detour. The Liberty Museum, in the town of the same name, showcases local artists in an 1894 hotel building that once housed Katz's, a popular Jewish bakery. In Livingston Manor, the Catskill Art Society is an attractive, red-brick Main Street storefront with a light-filled gallery and art studios.
The tiny, picturesque hamlet of Narrowsburg offers views over the Delaware River and quirkily sophisticated shops along Main Street. Check out the Delaware Valley Arts Alliance gallery for rotating exhibits and gallery talks; the Tusten Theatre, an Art Deco landmark on nearby Bridge Street, hosts a year-round lineup of dance, literary and musical events, including local artists like the Sullivan County Chamber Orchestra.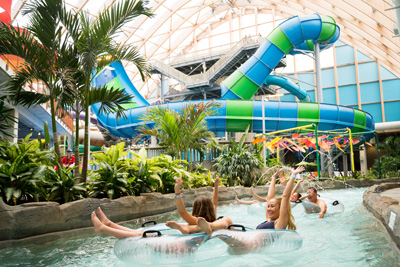 Several new attractions are part of revitalization efforts in Monticello, a Sullivan County city still struggling to recover from the Borscht Belt collapse. In April, the Kartrite Resort opened as the state's largest indoor waterpark, offering 324 hotel rooms and a host of kid-friendly attractions. Nearby, a gleaming, 18-story tower rises out of the woods: Resorts World Catskills, a $1.2 billion casino and hotel.
Borscht Belt memories live on at Bernie's Holiday Restaurant—"the last of the old-school Catskills restaurants," according to owner Randy Resnick. He bought the 1962 eatery a few years back "because we eat there every Friday of our lives."
In Woodstock, gallery hop and browse boutiques along Tinker Street. Resident artists offer workshops and exhibitions at the town's Center for Photography and the Woodstock Byrdcliffe Guild, a 117-year-old arts colony with a summer program of plays, concerts and lectures. Theater has been a specialty at the Woodstock Playhouse for 80 years.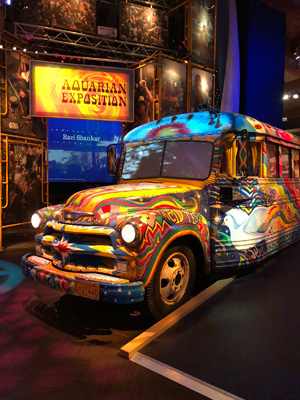 Ironically, Woodstock's namesake 1969 music festival took place 60 miles away, on the Bethel homestead of Jewish dairy farmer Max Yasgur. The site is preserved as the Bethel Woods Center for the Arts, which features a museum of 1960s memorabilia and concerts by nostalgia acts like Sha Na Na and Peter Frampton.
IF YOU GO
The Catskills is about a 90-minute drive from New York City, and a car is all but essential here, unless you hole up at a resort and take a cab into town. Don't count on Uber; cell service is largely nonexistent.
The ShortLine/Coach USA bus offers service from New York City to Liberty, Livingston Manor and Monticello, including a new daily trip to the Resorts World Catskills casino as well as day trips and overnight tour packages to the Catskills region.
Serving the Eastern Catskills is LINE, a jitney-style bus offering Wi-Fi, snacks, drinks and an onboard concierge from Manhattan's Port Authority to destinations that include Woodstock, Phoenicia, Hunter and New Paltz.
Most of the Catskills' best-known towns are clustered in Sullivan County, about 100 miles northwest of New York City. To sample vintage aesthetic, stay at one of the boutique hotels owned by Foster Supply Hospitality: The Arnold House, North Branch Inn, Nine River Road and The DeBruce. Spa treatments, fire pits, antique bowling and herb garden tours—as well as farm-to-table restaurants—are among the highlights of these renovated historic properties.
Hilary Danailova writes about travel, culture, politics and lifestyle.
---
For more on the Catskills, read our Q&A with Grossinger's heiress Elaine Grossinger Etess and a roundup of poignant reader memories of summers and honeymoons spent in the mountains. 
---