Love Hadassah Magazine? Join Our Online Discussion Group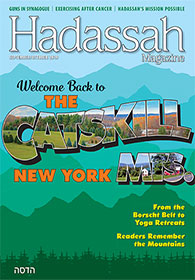 Now you can take your enjoyment of Hadassah Magazine to another level.…
Introducing the Magazine Discussion Group. It's like a book club but you do it at home on your computer (and with fewer pages to read). It's an exclusive FREE benefit for Hadassah members.
For every issue, Hadassah Magazine will host an online discussion centered on a feature in the current issue—a cover story, an interview, a book excerpt, or something equally engaging. The Magazine Discussion Group will include Hadassah members, Hadassah moderators and special guests such as journalists and profiled individuals. This will be a great way for you to engage with fellow members across the country about topics you care about.
---
Joining is easy—simply complete the ONLINE REGISTRATION FORM.
The discussion will launch on September 23.
---
For our first discussion, we're delighted to announce that the award-winning journalist Hilary Danailova, author of the September/October 2019 issue's cover story, Bringing the Catskills Back to Life, will be joining us. Hilary writes about travel, arts and culture for Hadassah Magazine and other publications, including the New York Jewish Week, where she is the travel columnist
Hilary will be online taking questions on 9/24 and 9/25, 1:00 p.m.-4 p.m. EDT, and 8:00 p.m.-10 p.m., EDT, as well as sitting in on the discussion throughout the next few weeks at various times.
Participating in the Magazine Discussion Group will enable you to hear directly from Hilary about how the Catskills region is changing, from Borscht Belt to yoga retreats and boutique hotels. We hope you will share your thoughts about this iconic Jewish vacation haven as well as cherished memories of family vacations wherever they took place. Please join us.
NOTE: The Magazine Discussion Group is a benefit exclusively for Hadassah members. To become a member, go to Hadassah.org/connect.