The Curious Case of the Jewish New Year Valentine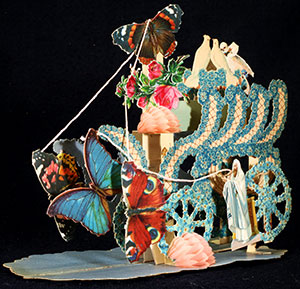 Bindy Bitterman, who owned Eureka! Antiques and Collectibles in Evanston, Ill., for more than 30 years before selling the store in 2015, was first introduced to collecting by her late husband, Richard Bitterman, a metalsmith who designed jewelry and contemporary Judaica. As a couple, they were particularly fascinated with the Jewish New Year Valentines they first discovered in 1975 while browsing in a vintage store in New England. The card was an oddity: A Valentine with hearts and flowers that depicted a vignette of a bar mitzvah as well as "Happy New Year" written in Hebrew and English. A floral sticker covered up "Happy Valentine's Day." With its intricate cutouts and a pull-down front, the card was intended to be displayed as a three-dimensional object.
Over the next few years, the Bittermans found and bought similar cards, almost always in New England, ultimately amassing more than 40 of them.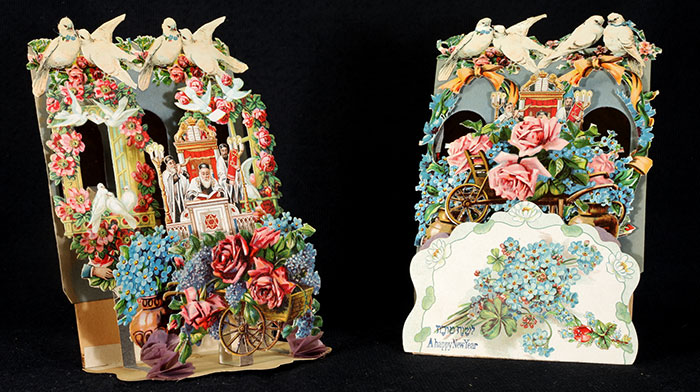 After her husband's death in 2012, Bindy Bitterman, now 88, began researching their collection. Before World War I, she learned, Valentine cards as well as ones for Rosh Hashanah were imported from Germany. Once World War I began, however, all imports from Germany stopped. At the same time, Jewish immigration to the United States was rising dramatically. There was now an audience hungry for a product—Jewish New Year cards—that was impossible to find. What was a savvy merchant to do?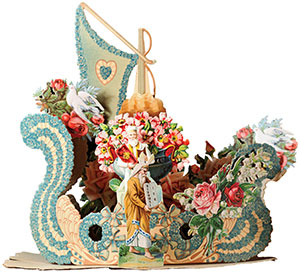 The Hebrew Publishing Company of New York, under the leadership of its enterprising founder, Joseph Werbelowsky, was the first printer to repurpose German-made Valentines into Jewish New Year greetings. His artists designed vibrant scenes of Jewish life that were then glued directly on the fronts of the three-dimensional Valentines. According to Bitterman, the artists "then used die-cut floral stickers to cover up the 'Happy Valentine's Day' greetings on the bottom flaps of the cards and printed 'Happy New Year' in English and Hebrew next to the stickers." Other printers soon followed suit.
Many of the scenes depicted immigrants arriving in New York, the Statue of Liberty or American eagles alongside Jewish ceremonies like seders or synagogue services.
Bitterman has published for herself a limited print run of The Mystery of the Jewish New Year Valentines, a book about her collection that includes a die-cut pop-up.