The High Holidays Provide a Season of Renewal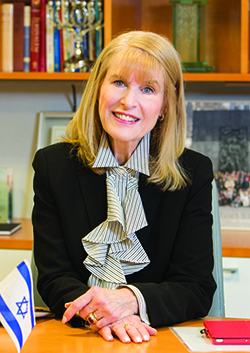 At 3 months old, Tohar Maimon's motor skills were severely delayed. At 3 years, she was totally paralyzed. Her parents, having consulted elsewhere without results and having already lost a son to the same mysterious condition, were desperate. In 2012, with the clock ticking, they made their way to Dr. Dror Mevorach, head of the Hadassah Medical Organization's Department of Internal Medicine B and director of its Center for Rare Diseases.
Working with Dr. Orly Elpeleg, head of Hadassah's Department of Genetic and Metabolic Diseases, it took Dr. Mevorach a month to find a mutation in CD59. The defective gene was interfering with Tohar's complement system that identifies and destroys bacteria and viruses. It took another three weeks to find a treatment—Eculizumab, a drug they believed could work. Once stabilized, Tohar eventually stood, learned to walk and started kindergarten on time.
Five years later, Tohar is thriving, though she continues bimonthly treatment at HMO. Her favorite class in school is gym. And Dr. Mevorach, the only doctor who treats the deadly gene mutation he discovered, regularly receives diagnosis requests from around the world.
One way to describe what Hadassah is all about is life renewal. Tohar's story is rare, but many of the patients who pass through the doors of our medical center have unique experiences—not to mention those who receive more routine treatments that give them a new lease on life. I could say much the same for the youngsters who benefit from Youth Aliyah and our other educational programs. Multiply all this by the 107 years we've been touching people's lives, and that's our story.
Our medical center renews life for individual patients, just as our medical mission built the infrastructure that transformed pre-state Israel from a medieval to a modern public health system in a generation. Hadassah also advanced new roles for women in Jewish life and became a pillar of the Zionist movement, which renewed our people and rebuilt the Jewish nation.
From the beginning, women have come to Hadassah to repair the world as well as to liberate something in themselves. Everyone talks about the challenges in their communities and in the world, but Hadassah gives us the opportunity to take action and engender change. It empowers each member to participate at her level of interest, to find her niche or passion and share it with others.
Our work connects us through solidarity and friendship and makes us role models for our children and grandchildren, and for other women. The coalitions we form, such as the 28 member organizations of the Coalition for Women's Health Equity, which Hadassah launched in 2016, increase our influence exponentially.
This is the time of year when, consciously or not, we make the connection between personal and collective renewal. Our teachings and the Jewish calendar remind us that seasons come and go, and then come again. If you belong to Hadassah—or to any cause larger than yourself—you probably know and certainly feel that your own life is a link in the chain of a much larger circuit of regeneration.
We're all familiar with the idea of Jewish holidays always coming "early" or "late," but never on time. This relativism comes from living with two calendars. And though we may joke about it, being bicalendrical is like being bilingual—it makes us better at multitasking and more agile mentally.
As we begin a new year of Hadassah activity, and as we re-engage with friends and colleagues we may not have seen during the summer, let's make this a season of renewal for Hadassah itself. Let's share our own experiences and the larger Hadassah story with women who may have little or no knowledge of what we do, showing them what they could be doing as members or donors and what our mission could add to their lives. Tell them about Tohar Maimon, or any of the other people Hadassah has touched.
Shanah Tovah. A happy, healthy and active New Year to all.