Likely Speaker of Virginia House Is Hadassah Member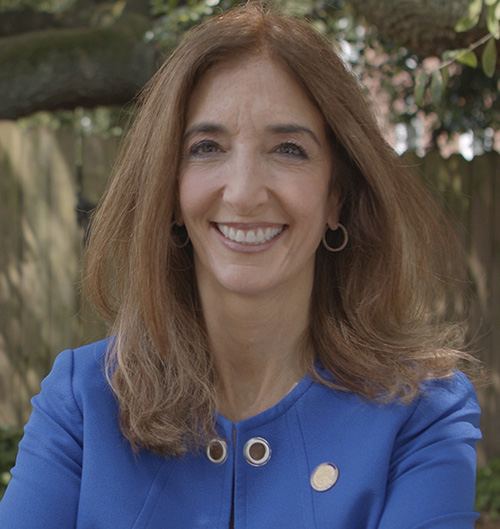 Poised to become the first woman and first Jew to serve as Speaker of the Virginia House of Delegates, Eileen Filler-Corn traces her political path to her Jewish upbringing and, specifically, the values of tikkun olam. "You may not be able to solve all the problems, but you can make a difference in this one person's life," she told Hadassah Magazine in a recent interview.
Elected by her fellow Democrats last year as party leader, Filler-Corn, 55, became the first woman to lead either party in the body's 400-year history. And she played a key role in galvanizing support for the Nov. 5 Democratic sweep of Virginia's House and Senate that positions her as the next likely speaker of the Virginia House when the transition takes place in January.
Similarly, she was instrumental in recruiting the 15 Democrats who flipped Republican seats in 2017, narrowing the GOP's House majority to 51-49. Among them were 11 women and several breakthrough candidates including the state's first transgender woman, first two Latina women, first two refugees and first two Asian members. "We now have communities that have a voice that never had a voice before," she said. "We all think differently, and we all need to be represented."
Filler-Corn, a mother of two grown children in their 20s who calls herself "proudly Jewish," brings her Jewish values and experience to her office. She's a past board member of the Jewish Community Relations Council of Greater Washington as well as of her synagogue, Congregation Adat Reyim in Springfield, Va., where both her daughter and son became bat and bar mitzvah.
A life member of Hadassah who has attended and spoken at many Hadassah events, she also currently serves on the boards of the American Jewish Committee, the Jewish Foundation for Group Homes and the Virginia Israel Advisory Board. In 2013, she said, she introduced a bill marking Israel's 65th anniversary with members of the JCRC and the Virginia Israel Advisory Board alongside her.
Her Jewish activism started early, through her involvement with the Young Judaea youth movement, through which she attended youth groups, summer camp and took part in Year Course—a gap year in Israel during which she fondly recalls waking at 4 a.m. to harvest melons on a moshav.
Although she says she never planned to run for office, Filler-Corn was long interested in politics. After college, she worked on a congressional campaign in her home state of New Jersey and landed an entry-level job on Capitol Hill after law school. She had settled in Fairfax County, Va., outside of Washington, D.C., when Virginia's Democratic Caucus approached her to run for the legislature. After losing her first race in 1999, she worked for two Virginia governors as a liaison to the congressional delegation and governors' associations.
When Filler-Corn ran again in 2010, she won by just 37 votes in the Fairfax County district she still represents. In office, she has championed such issues as education, the environment, gun control and disability rights.
She called Virginia's move to expand Medicaid to 400,000 Virginians last year "the most consequential vote I've ever taken."
Filler-Corn introduced the 2015 Achieving a Better Life Experience (ABLE) Act to enable families of children with disabilities to open tax-free savings accounts for expenses, including housing, education and support services. Passage of the bill made Virginia one of the first states to follow federal legislation authorizing states to create ABLE laws.
Her work on disabilities legislation is inspired by some of her constituents and her mother, who suffers from multiple sclerosis, as well as a brother-in-law with autism.
With so much of the country divided and with so much negativity and hate, she said, "I think it's more important than ever that we come together and give back together and stand up for everybody and just recognize that our diversity is a strength."
Rachel Pomerance Berl is a freelance writer living in Bethesda, Md.