Cranberry-Chocolate Hanukkah Kugel
Kugel for Hanukkah? by Gretchen Everin, a grandmother makes an unusual-for-the-holiday sweet treat for her granddaughter to eat. Young readers can snack on the rich, dairy kugel even as they enjoy the book.
Cranberry Chocolate Chip Hanukkah Kugel
Makes 8-10 servings
8 oz. egg noodles, uncooked
4 large eggs
1/3 c. granulated sugar
1 c. sour cream
1 c. cottage cheese, pureed in a blender or  food processor
½ tsp. vanilla extract
½ tsp. ground cinnamon
1/3 c. chocolate chips
1/3 c. dried cranberries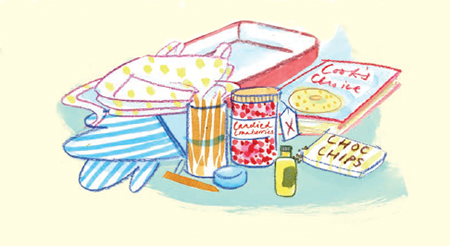 2 Tbsp. butter
Ask an adult to help you make Hanukkah Kugel.
Preheat oven to 350 degrees.
Butter the inside of a large casserole dish or 9×9-inch pan.
In a large pot, boil egg noodles, according to package directions.
In the meantime, mix eggs, sugar, sour cream, cottage cheese, vanilla, cinnamon, chocolate chips, and cranberries in a medium bowl.
Drain egg noodles and add to the mixture. Stir until well combined.
Pour into casserole dish and bake for one hour or until the kugel pulls away from the sides of the dish and a knife inserted into the center comes out clean.
Cover and refrigerate any uneaten kugel.
Recipe for Hanukkah Kugel from Kugel for Hanukkah? by Gretchen Everin © 2019 appears with the permission of Kar-Ben Publishing www.karben.com