As Time Goes By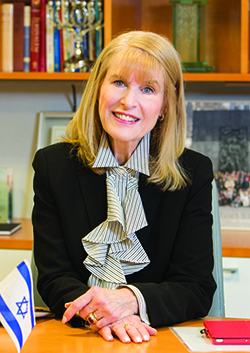 Life is full of turning points. Some are for better or worse, but many simply reflect the march of time. To understand the transition that is upon me, I find the wisdom of Henrietta Szold instructive: "There is no ending," she said, "that is not also a beginning."
In a matter of days, my term as Hadassah's 26th national president will end. I am forever grateful to all of you, the women of this organization to which I have dedicated so much of my life, for your trust and for the opportunity you gave me to serve. These four years have been challenging, often enormously hard, joyous and spiritually fulfilling beyond my dreams—which may explain why I feel as if I haven't slept since the beginning of 2016.
I will miss being able to say, "I am the president of Hadassah, the Women's Zionist Organization of America, with 300,000 members, donors and Associates." But I will cherish the memory of every time I said just that.
I will miss waking up at 6 a.m, driving to the Long Island Railroad station, working on my Tablet during the one-hour trip to Manhattan, taking the subway from Penn Station to the office, sitting in meetings at Hadassah House all day, or zigzagging across the city for other meetings. But maybe I'll get more sleep.
I will miss traveling across the United States to interact with Hadassah units, encouraging people to become members, leaders and donors. During my term, region presidents responded positively to my promise of visiting every region at least once. It's a goal I am proud to say I was able to fulfill.
I will miss the frequent 10-hour flights to Israel—somehow exhausting and invigorating at the same time—to see our projects up close, meet with the staff at our institutions and see the beneficiaries of our work, not to mention the thriving nation that our projects of healing and education serve. I will still be going to Israel, of course, but perhaps now I'll be able to go straight from Ben-Gurion Airport to my hotel and rest for a few hours before my first appointment.
I will miss representing Hadassah at tables of influence in Washington; in pursuing common goals with other national organizations; with umbrella groups in the Jewish and Zionist world; and with Israeli leaders—always feeling the power and prestige of Hadassah's name. But I will see more of my children and grandchildren and my husband, the silent partner who has always encouraged my Hadassah work.
I am extraordinarily grateful to join the elite group of past national presidents, which includes the incredible women in whose footsteps I walk and on whose shoulders I stand—Carmela Kalmanson, Marlene Post, Bonnie Lipton and Nancy Falchuk. I feel blessed to have received the mantle of leadership from Marcie Natan and to hand it now to Rhoda Smolow, with tremendous faith in her ability.
Yes, I will miss all the action and consequence of this office. But everything I have experienced will stay with me as I move on to the next phase of my Hadassah involvement. I am thrilled to have been appointed chair of the Hadassah Israel Travel Department.
As I have recounted many times, I began my Hadassah service in the parking lot of a Long Island supermarket during the Yom Kippur War, soliciting funds for treatment of war casualties. I became part of the Dix Hills Chapter that day and I had a palpable sense of being part of a movement and a history much larger than myself.
So I look forward to my next beginning, of moving from the podium to the audience, to joining the roster of the Hadassah Speakers Bureau and taking on any task this organization—so much a part of me—asks. I've learned that whenever I work in Hadassah's name, in a large or small group or on my own, I know I am exactly where I want and need to be.