Faith and Mystery After World War II in 'The Song of Names'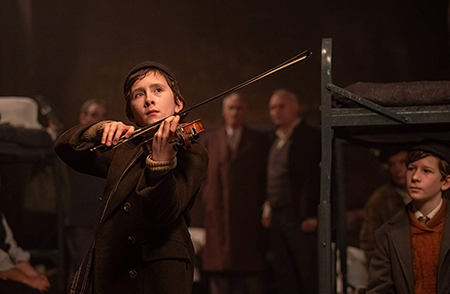 The Song of Names is a heart-warming film about remembrance and faith. The film, which opens in select theaters on December 25, is also a missing person mystery that requires a leap of faith.
During a music contest that Martin Simmonds (played by Tim Roth) is judging, one of the contestants makes a distinctive gesture: After he rosins his violin bow (applies resin to the bow string to allow the string to vibrate clearly), he then kisses the rosin. The gesture brings back memories of Martin's youth—this was how his talented adopted brother, Dovidl Rapoport, had prepared to play his own violin.
Prior to World War II, Dovidl, a musical prodigy at age 10, is brought to London by his father to perform for Martin's father, Gilbert Simmonds (Stanley Townsend), a prominent music publisher and promoter. Impressed by Dovidl's talent, Gilbert offers to board the youngster, organize study with master violinists and, not coincidentally, protect him from an imminent Nazi invasion of his Polish homeland.
Martin and Dovidl are raised as brothers, and in time became close. But Dovidl, who never finds out what happened to his family after the Nazi invasion, could be something of a jerk. "I am a genius," he'd tell Martin, who became increasingly jealous of the intruder.
In the Norman Lebrecht novel on which the film is based, the Simmonds family is Jewish. Here they are not, making the sacrifices they make for their guest—keeping a kosher home, seeing to Dovidl's bar mitzvah, buying him an expensive instrument—even more jealousy-inducing to Martin.
In 1951, Gilbert arranges a major concert for Dovidl, expecting that it would launch the young man's career. But Dovidl never shows up to the hall and is never heard from again.
The failed concert ruins Gilbert financially, likely leading to his premature death.  "He lost everything that night and two months later he died with [Dovidl's] name on his lips," Martin says.
Thirty-five years later, the rosin clue prompts Simmonds to go on a globe-spanning journey to see if Dovidl is still alive and, more important, discover the reason for his disappearance.
Eventually, Martin catches up to Dovidl and finds out what happened: Dovidl was on a bus heading to the concert hall and missed his stop.  (On a bus to debut concert?  A missed stop?  Too easy.) When he gets off, he wanders into a synagogue where congregants are reciting the Song of Names, a melody composed by survivors to remember the names of the dead from Treblinka, by putting them to music and reciting them once a year.
After losing his birth family Dovidl lost his faith as well. His faith, however, is rekindled by hearing the song, and the "concert no longer seemed important," an adult Dovidl (Clive Own), now a chasid, told Martin.
"When I abandoned the Holy One, it took him four years to find me." And as a result Dovidl decided to "compose a violin version of a Song of Names and devote the rest of my life to His worship."
The film is directed by Francois Girard, whose previous film was the award-winning The Red Violin. His timing couldn't be better. We live in an era where our collective historical memory is fading. Hopefully like Dovidl, we all find a way to remember our past and let that lead us to the future.