Glazed Chocolate Cake Doughnuts for Hanukkah
Sure, to most Israelis, Hanukkah is a season made warmer and joyous thanks to the ubiquitous glowing menorahs in windows all over the country. But beyond that spiritual sense of togetherness, Hanukkah in Israel unequivocally means sufganiyot. Weeks before the eight-day festival, bakery shelves flip their real estate from rugelach and danish to a dizzying, over-the-top, mind-bending array of doughnuts, be they the fried variety or baked.
The Hanukkah classic stills reigns supreme for a wide cross-section of Israelis who yearly devour dozens of yeasted doughnuts stuffed with red fruit preserves (strawberry? raspberry? who knows and do we care?) and topped with a dusting of powdered sugar. But if that treasured standby has become a little stale for you, no worries: The startup nation has of course innovated a host of wild flavor combinations that annually outdo themselves: Ferrero Rocher chocolate-stuffed, banana chocolate and bubble gum, just to name a few.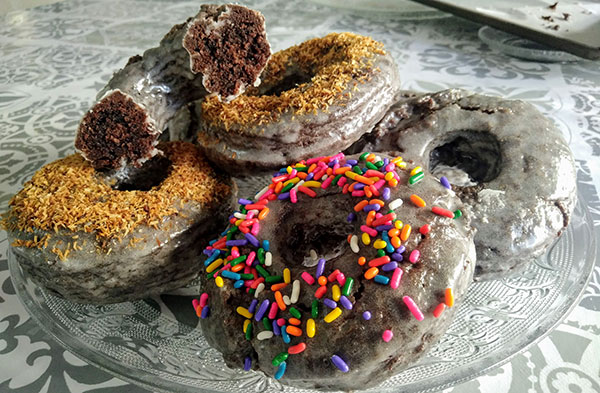 Beyond nontraditional flavors, mastering how to make a high-quality sufganiya at home requires practice and patience. It is crucial to remember that, if frying doughnuts, the yeasted orbs require a lower oil temperature setting than most frying foods. Typically bakers fry a batch on high heat until golden, then watch guests chew in disappointment after they bite into an uncooked, doughy center.
Because of their finicky nature, I readily admit that frying traditional yeasted sufganiyot is time consuming and tedious, and honestly not my favorite thing to prepare in the kitchen. (Why can't we just have latkes?) Yet that doesn't stop my family from requesting them each year, and usually, I relent and find myself bent over a hot vat of oil, frying away.
However, every couple of years, I can get away with baking cake doughnuts. Un-yeasted and formed with a hole in the center that eliminates the conundrum of a doughy uncooked center, these are the glazed American-style doughnuts you find all over the States. Having grown up in New England, native region of the Dunkin' Donuts chain—I even worked at one franchise as a teen—I am partial to glazed chocolate cake doughnuts filled with nooks and crevices that catch the hard-drying sugar glaze after the warm doughnut is plunged into a bowl liquid sugar to be coated.
These doughnuts have a slightly crunchy exterior and a soft interior, and can be eaten "plain" or topped with sprinkles or toasted coconut. Plenty festive and delicious, without half as much fuss as frying and zero time given over for the rising of a dough. A Hanukkah miracle, indeed!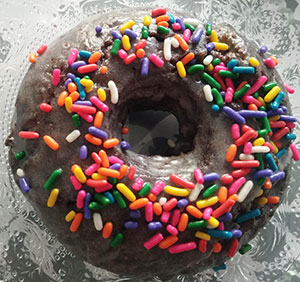 Glazed Chocolate Cake Doughnuts
Makes 7 large doughnuts
For these doughnuts, you will need to gather the scraps of the dough after cutting out a few to reroll and repeat the process.  You could fry the cut-out doughnut holes if you wish, but if you want a full 7 doughuts you'll need to add these bits back to the main dough.  This recipe doesn't need chilling in cooler weather, but might need 30 minutes to and hour in the fridge on warmer days (You'll know if the dough is too sticky to roll out immediately). This recipe can easily be doubled without a problem.
DOUGH:
2 cups cake flour
2 teaspoons baking powder
1/2 cup cocoa powder
1/2 cup sugar
1 teaspoon salt
1/4 teaspoon instant espresso powder
1/4 teaspoon ground nutmeg
1/4 cup cold butter, cut into chunks
2 large egg yolks
1 cup sour cream
1 teaspoon vanilla extract
3 liters vegetable oil (I use safflower oil)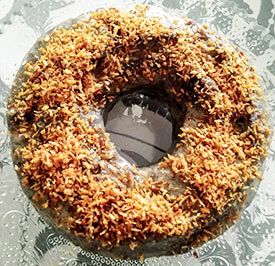 GLAZE
3 1/2 cups powdered sugar
1/2 teaspoon vanilla extract
1/4 teaspoon almond extract
Pinch of salt
1/2 cup plus 1 1/2 tablespoons milk
In the bowl of a mixer add cake flour, baking powder, cocoa powder, sugar, salt, espresso powder, and nutmeg, and mix to combine.
Add the chunks of cold butter and mix until the mixture resembles coarse crumbs with pea-sized chunks of butter throughout.
Add the egg yolks, sour cream, and vanilla extract, and mix until a workable dough forms.
Remove dough from mixer.  If the dough is sticky, form a discm wrap with plastic wrap, and let chill in the fridge 30 minutes to 1 hour. If the dough is smooth enough to roll out, turn it out onto a lightly floured surface, and roll out to a ¼ inch thick circle.
Cut out as many doughnuts as possible using a 4-inch round biscuit or cookie cutter. Place a 1 ½ inch round cookie cutter in the center of the larger circle and press down to cut out the center (Alternatively cut out a 1 ½ inch paper circle and cut around the edge with a pairing knife to create a hole. Place each cut -out doughnut on a parchment lined baking tray.
Continue the process, continually gathering the dough and the dough from the doughnut centers, until you have used all the dough.
Let the tray of cut doughnuts rest in the fridge while you heat up the oil: In a tall 5-6 liter pot, using a candy thermometer, heat 3 liters vegetable oil until 375 degrees Fahrenheit. Turn flame down to low, to preserve the heat, while not further heating the oil. The oil temperature will drop by 20-25 degrees as the doughnuts cook. This is normal.
Fry the doughnuts three at a time, 6-7 minutes, flipping halfway through the cooking time with the aid of a spatula or spider.
Remove the doughnuts from the hot oil, and place on a paper towel lined baking tray to drain the excess oil. Let oil come back up to temperature before frying the next batch.
While doughnuts are frying, create the doughnut glaze by whisking together all the ingredients in a medium sized bowl.
Using your fingers, dip the warm doughnuts into the glaze and coat all sides. Remove from the glaze and place on a cooling wrack that is set over a parchment lined baking tray. This will allow any excess glaze to drip off the doughnuts as the glaze hardens. Immediately decorate with sprinkles, or toasted coconut, as desired.