Henrietta Szold's Children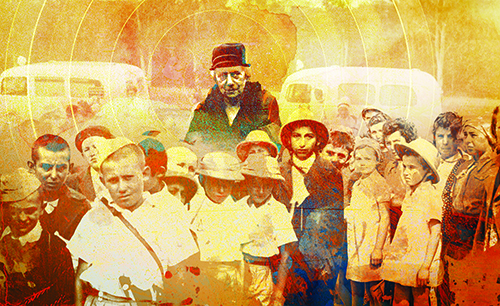 On a late afternoon in February 1943, hundreds of  Jewish children, refugees from Siberian slave labor sites who had been stranded in Tehran, arrived by train at the Atlit detention camp after a cruel journey to freedom. Henrietta Szold was there to meet them and to assure herself that they were safely in Palestine. However, she had been warned that the children's appearances were shocking. In Summoned to Jerusalem: The Life of Henrietta Szold
, biographer Joan Dash portrayed them as "bone thin, undersized with scars and sores from having lived like animals in the Russian forest." What Szold wasn't prepared for was their emotionless expressions. As Dash related, they were faces in which Szold "could find no trace of childhood—no mischief, no laughter, only cold, staring suspicion."
It was a rescue that couldn't have happened without the determination of the strongminded founder of Hadassah. A rescue that wouldn't have occurred if, Szold later wrote in one of the many letters she penned in her lifetime to friends and family, "the dark war-forebodings in Europe" had not summoned her back to Jerusalem from the United States. This year, the 75th anniversary of Szold's death, affords the opportunity to celebrate this woman's accomplishments, including the rescue of these children as part of her work with Youth Aliyah and, of course, the founding of Hadassah and its hospitals.
Fourteen years earlier, in 1929, Szold, then 70, was working exhausting 15-hour days as a member of the Palestine Zionist Executive, the Jewish Agency Executive and the Vaad Leumi, the political community of Jewish Palestine. With these positions, she directed the health and educational development of the community. But she was weary of her tasks and missed America. Was it time, she had pondered, to sit in Papa's old rocking chair on the porch of her sister Bertha's farm in Baltimore and write her memoirs? Ultimately, she did return to America, but what was meant to be a permanent stay did not turn out that way.
"I determined to…return to America for my remaining years, to be coddled by my sisters," Szold, the eldest of eight daughters, wrote in another letter. "Hitler disposed otherwise." She returned to Palestine and eventually took over the daily operations of Youth Aliyah, an organization whose initial purpose was to take Jewish adolescents out of Nazi Germany and bring them to Palestine. Youth Aliyah would prove to be one of Szold's greatest achievements and challenges.
In the summer of 1942, at the height of World War II, reports reached Szold about 870 Jewish children recently released from Siberian slave labor camps who were languishing in Tehran. Within days, Szold learned that medical resources and food were scarce, and if the children weren't evacuated quickly, most would die.
With Palestine under the British Mandate, British permission was needed for the children to travel there. Szold negotiated, through two Hadassah colleagues in Washington, D.C., with the British to transfer the children. Finally, in December 1942, Lord Halifax, the British ambassador to the United States, issued travel certificates for them to leave Tehran by ship.
The children departed from Iran in January, completing the final leg of their journey by train northward from Port Said, Egypt. On February 18, 1943, 750 children disembarked—another 120 arrived in August—and Szold, wearing a dark hat and thick coat to shield her frail body from the cold, was waiting for them.
By June, after personally interviewing each child, Szold was satisfied with the children's progress toward normalcy. "What pleases me most is that they are beginning to frolic, to be children," she wrote in one of her letters collected in Alexandra Levin's book Henrietta Szold and Youth Aliyah. "They will [now] snatch back a little of the heritage of youth that Hitler's war robbed them of."
During the months that followed their arrival in Palestine, many of the children were adopted by foster parents or reunited with family members. Five years later, 35 of the Tehran children lost their lives fighting in Israel's 1948 War of Independence.
By late 1944, ill and fatigued, Szold was admitted to Hadassah Hospital on Mount Scopus—the healing center she had worked so hard to build—where she continued to work from her room. Although her health improved and she was released from the facility, she developed pneumonia and returned to
the hospital, where she died on February 13, 1945, at the age of 84.
Late in life, Joan Dash wrote, Szold confessed that her greatest tragedy was never marrying or having children, and that she "should have had children—many children."
But when her white-shrouded body was gently set beside the grave as a snowy chill settled over the Mount of Olives, with a procession numbering in the thousands, a crowd of children gathered around. Fittingly, one of the Tehran children Szold had helped rescue, 15-year-old Simon Kresz, said the Mourner's Kaddish, in the spirit of a grateful son. 
Randy Grigsby is the author of A Train to Palestine: The Tehran Children, Anders' Army and their Escape from Stalin's Siberia, 1939–1943
(Vallentine Mitchell).