Julia Turshen Stirs the Pot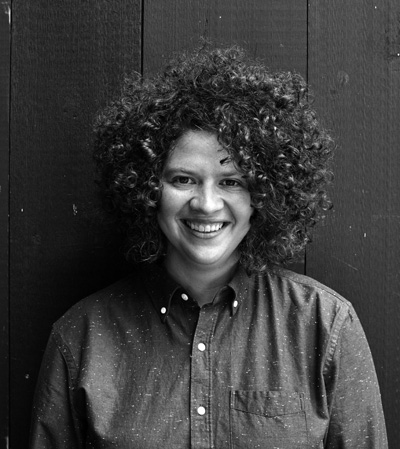 There have been times in recent years when bookstores could have had an entire shelf dedicated to Julia Turshen. Beginning with her role as the cookbook writing partner to famous chefs and personalities like Hollywood actress Gwyneth Paltrow, followed by a very successful second act as the solo author of three well-regarded volumes of her own, Turshen has established herself as an influential force in the highly competitive world of cookbook writing.
At the same time, she's become an advocate for the progressive political and social causes she believes in—gender equity and LGBTQ rights being two major examples—forging an identity as an author-activist and gaining a substantial following in the process.
Her popular podcast Keep Calm and Cook On features interviews with emerging as well as established food-world figures—examples include Queer Eye for the Straight Guy's Antoni Porowski and Indian cooking star Priya Krishna—that focus on activism as much as they do on recipes.
If you tried to guess Turshen's age based on the elegance of her writing, precision of her recipes and sheer volume of projects she's completed, you'd imagine a seasoned veteran with decades of experience in the food sphere. But Turshen is only 34—impressive, but perhaps understandable once you realize her childhood was steeped in the dual worlds of food and publishing.
Her maternal grandmother, who made her way to the United States from Eastern Europe after a yearlong stop in Cuba, eventually settled in Brooklyn, where she opened the bread bakery Ratchick's and where Turshen's mother, Rochelle Udell, was born. (Turshen's maternal grandparents passed away before she was born.) Udell became a celebrated art director who worked for decades at Condé Nast, which publishes such magazines as The New Yorker, Vogue and Vanity Fair.
Doug Turshen, her father, has had a long career designing "coffee table" books about fashion, architecture and food. It was from her paternal grandparents that Turshen acquired many of her Jewish food memories, accompanying them to Russ & Daughters, the revered 105-year-old appetizing store on the Lower East Side, and, during winters in Florida, to Rascal House, a Miami Jewish deli that closed in 2008 after a 54-year run.
"Those experiences were formative to my Jewish identity," said Turshen.
It was through her father's work with cooking and lifestyle guru Lee Bailey that Turshen first became entranced with cookbooks. "We had them at home, and I fell in love with them," Turshen told me by phone from her home in New York's Hudson Valley. "I was that rare unicorn who always knew what she wanted to do with her life."
In elementary school, any book report Turshen wrote inevitably focused on food. "I would end up finding out what they ate in Huckleberry Finn," said Turshen, laughing. "The assumption was that I would go to culinary school and open a restaurant."
While a student at Barnard College—where she nurtured her Jewish food cravings at the legendary, nearby smoked-fish palace, Barney Greengrass—she reveled in studying in an all-female environment and developing her creative writing style. She also honed her skills as a communicator while, according to Turshen, "writing earnest and probably quite terrible poems about food."
Turshen's wry self-deprecation belies her warmth and talent. While still in college, she landed an internship testing recipes for a television producer. Soon she was pulled into a group project with Paltrow (before the launch of Paltrow's alternative wellness site, Goop); the former New York City restaurant impresario and celebrity chef Mario Batali (pre-#MeToo allegations against him); and New York Times food writer Mark Bittman that brought her to Spain as the group filmed the PBS series Spain…On The Road Again and collected recipes for a companion cookbook, Spain…A Culinary Road Trip. The writer Turshen had been hired to assist on the book dropped out, so she found herself, at age 22, becoming the lead writer.
That book led to a professional relationship with Paltrow that yielded two more best sellers, My Father's Daughter and It's All Good, as well as a slew of other projects.
"It was great to travel and write," said Turshen, "flying on tickets other people paid for, but at that point it worked because I didn't have a pet, a partner or a mortgage."
That changed when she met Grace Bonney, founder of the wildly popular interior design blog and Instagram account Design*Sponge. When Bonney came out as gay to her followers in 2013, Turshen was moved by her words.
"I wrote her, asked her out to dinner, and the rest is history," said Turshen, who married Bonney a mere four months later. The couple originally lived in Brooklyn but eventually decamped for the Hudson Valley, where they live with their two dogs and where Turshen wrote two of her best-selling solo cookbooks, Small Victories: Recipes, Advice and Hundreds of Ideas for Home Cooking Triumphs
and Now & Again: Go-To Recipes, Inspired Menus and Endless Ideas for Reinventing Leftovers
.
"Although I loved all the travel and excitement, I've come to realize that I'm quite the homebody," said Turshen who, along with Bonney, works from home. They volunteer for Angel Food East, an organization in Kingston, N.Y., that serves fresh, hot food to chronically ill residents in the area. "Whenever I felt stressed out or upset, the thing that always snaps me back into a place of gratitude is that I have a place to volunteer."
Over the last few years, in response to policies put forward by the current administration, she has also turned that sense of gratitude into political action. "Growing up in a Jewish family, I have always been a volunteer," said Turshen. "I grew up with a lot of privilege, so I wanted to put it to good use." In 2017, she put together the cookbook Feed the Resistance: Recipes & Ideas for Getting Involved, recruiting food industry friends to contribute recipes and donating the proceeds to the American Civil Liberties Union.
"It was really the first time I had put myself out there on my own," she told me, "and I realized what it felt like to be heard, and opened my eyes to who doesn't get that opportunity, especially in the cookbook world."
Her multidimensional focus is appreciated by her fans and colleagues alike. "Julia finds and shines a bright spotlight on people and projects that live in the center of a Venn diagram made up of delicious food, social justice and equity," said Jessamyn Waldman Rodriguez, managing director of the two Daily Provisions cafes in New York City and the author, with Turshen, of The Hot Bread Kitchen Cookbook. "Those are definitely the people I want to share space with, so I very much appreciate her work."
To that end, in 2018, Turshen founded Equity at the Table, a resource and database that serves as a gathering place to learn about and hire chefs, photographers, writers and other food professionals from traditionally marginalized communities; there are now more than 1,000 profiles in the database. 
Turshen is also working on another book, with Somali chef Hala Hassan, focused on the cooking of grandmothers from a number of African nations.
What may be Turshen's most cherished family recipe—for chicken soup—comes not from a grandmother, but from her late Aunt Renee. Indeed, when Renee Sickles passed away in 2005, Turshen placed an obituary in The New York Times that stated, "I will take care of the soup."
In addition to the soup recipe, I'm sharing another Jewish classic, crispy pistachio mandelbrot, as well as one of Turshen's favorite entrees to cook for a crowd—Flounder With Roasted Tomatoes and Black Olives.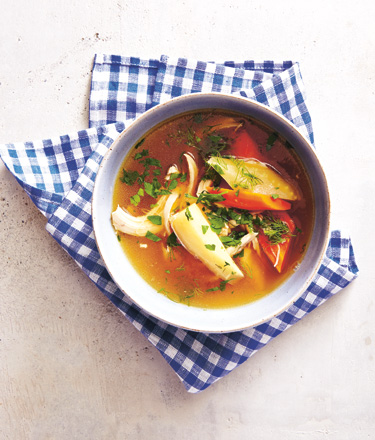 Aunt Renee's Chicken Soup
Serves 6
1 4-pound chicken, cut into 8 pieces (2 breasts, 2 wings, 2 thighs and 2 legs), backbone reserved
1 pound chicken wings
2 large yellow onions, unpeeled, roughly chopped
4 celery stalks, roughly chopped
1 head garlic, halved horizontally so that the cloves are exposed
A handful of fresh Italian parsley sprigs, stems reserved and leaves finely chopped
1 tablespoon black peppercorns
Kosher salt
8 carrots, peeled and cut into 2-inch pieces
3 quarts water
2 parsnips, peeled and cut into 2-inch pieces
A handful of roughly chopped fresh dill
1. In the largest pot you have, combine the chicken pieces, chicken wings, onions, celery, garlic, parsley stems, peppercorns and 1 tablespoon salt. Add half of the carrots to the pot and cover with the water. Bring to a boil, then lower the heat to a simmer and cook, skimming off and discarding any foam that rises to the top, until the chicken breasts are firm to the touch, about 25 minutes.
2.  Use tongs to remove the chicken breasts from the pot and set them aside in a bowl. Continue simmering the stock, stirring it every so often and skimming any foam that rises to the top, until everything in the pot has given up all of its structural integrity (the vegetables should be totally soft and the chicken should look well past its prime—this is all great, it means these things have given all of their flavor to the water) and the stock is a rich golden color, about 3 hours.
3.  While the stock is simmering, let the chicken breasts cool to room temperature, and then discard the skin, remove the meat from the bones (discard the bones) and shred the meat.
Set the meat aside.
4.  Ladle the stock through a fine-mesh sieve into a clean pot (or, if you don't have another large pot, ladle it into a bowl, clean the pot you started with, and return the stock to the pot). Discard the contents of the sieve (everything in it, including the chicken pieces, will have given all it can by this point).
5.  Bring the stock back to a boil and season to taste with salt (be bold, it will need quite a bit!).
6.  Add the remaining carrots and the parsnips, lower the heat and simmer until the vegetables are tender, about 10 minutes.
7.  Add the reserved chicken breast meat to the soup and let it warm up for a minute or two. Ladle the soup into bowls and top each with some of the chopped parsley and dill. Serve immediately.
(Recipe Reprinted from Small Victories [2017] by Julia Turshen, with permission by Chronicle Books)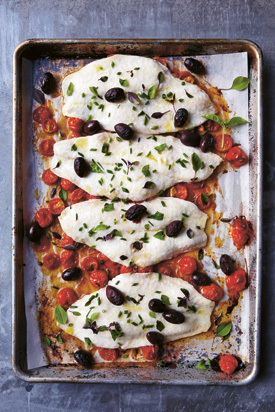 Flounder with Roasted Tomatoes and Black Olives
Serves 4
1 shallot, thinly sliced
1 garlic clove, thinly sliced
2 pints cherry tomatoes, left whole if small, halved if large*
1/4 cup extra-virgin olive oil, plus 2 tablespoons
Kosher salt
4, 6-ounce flounder or other flat fish fillets
1/2 cup black olives (pitted if you'd like, O.K. if not)
A small handful of chopped fresh Italian parsley, chives, and/or basil
Preheat your oven to 400°. Line a rimmed baking sheet with parchment paper.
Put the shallot, garlic, and tomatoes on the prepared baking sheet. Drizzle with the 1/4 cup olive oil and sprinkle with 1 tsp salt. Use your hands to mix everything together.
Roast the mixture until the tomatoes start to give off some of their juice and the juice is bubbling, about 20 minutes. If you are making this with not-great tomatoes (i.e., it's February in New England or something), feel free to roast the tomatoes for another 10 to 15 minutes to concentrate the flavors and compensate for the out-of-season produce.
Take the baking sheet out of the oven and give the tomato mixture a stir. Lay the flounder fillets on top of the mixture in a single layer (it's O.K. if they overlap a little bit). Drizzle the fish with the remaining 2 tablespoons olive oil and sprinkle evenly with 1 teaspoon salt. Scatter the olives on top of the fish and put the baking sheet back in the oven. Roast until the fish is opaque and flakes easily when poked with a fork or a paring knife, 10 to 15 minutes longer.
Scatter the herbs on top of the fish. Serve immediately. It's OK if the fish falls apart when you serve it, that's part of its rustic beauty. If you're serving the olives unpitted, be sure to let your guests know.
*Note: You can use drained canned tomatoes here. In fact, roasted canned tomatoes are delicious. Try them on buttered rice. Yum!
(Recipe Reprinted from Small Victories [2017] by Julia Turshen, with permission by Chronicle Books)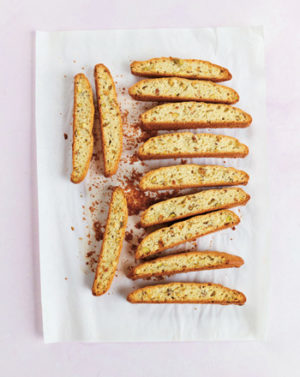 Pistachio Mandelbrot
Makes 12
2 eggs
1/2 cup sugar
1/4 cup vegetable oil
1 teaspoon vanilla extract
1 teaspoon almond extract
1 teaspoon baking powder
1 teaspoon kosher salt
1 1/2 cups all-purpose flour
1/2 cup shelled pistachios, roughly chopped
1.  Preheat your oven to 350°. Line a sheet pan with parchment paper.
2.  In a large bowl, whisk together the eggs, sugar, oil and vanilla and almond extracts, mixing well. Add the baking powder and salt and whisk well to make sure they are thoroughly incorporated. Stir in the flour and then fold in the nuts. The dough will be sticky, almost more of an extremely thick batter.
3.  Use a rubber spatula to scrape the dough onto the prepared sheet pan. Wet your hands (to prevent the dough from sticking to them) and use them to shape the dough into an 8 x 5-inch rectangle.
4.  Bake the loaf until it is golden brown and firm to the touch, about 30 minutes. Remove from the oven and carefully transfer the loaf to a cutting board (you can let it cool down a bit first if you'd like, but I am impatient). Use a serrated knife to cut the loaf into 12 cookies, each about 3/4-inch thick. I always trim off the ends and snack on them and I highly suggest it. No one needs to know.
5.  Lay the cookies on one of their cut sides on the still-warm sheet pan and return them to the oven. Bake until the exposed sides are dried out a bit, about 5 minutes. Carefully turn each cookie over and bake until the second sides are also dried out a bit, another 5 minutes. Transfer the cookies to a wire rack to cool (they will crisp as they cool).
6.  Serve at room temperature. Leftover cookies can be stored in a tightly covered container at room temperature for up to 3 days.
(Recipe reprinted from Now & Again [2018] by Julia Turshen, with permission by Chronicle Books)
Adeena Sussman is the author of Sababa: Fresh, Sunny Flavors from My Israeli Kitchen. She lives in Tel Aviv.