Empowering Their Daughters to Change the World
In this time of social distancing, when so many are being forced apart while simultaneously spending more time at home and with family than usual, Hadassah Magazine is delighted to bring you these snapshots of mother-daughter dialogue, produced in collaboration with jGirls Magazine. We hope these interviews—and those featured in the related posts, Mothers and Their Teen Daughters, in Conversation and Pride and Hope in Their Daughters' Generation—inspire you toward similarly fruitful, relationship-expanding discussions with the girls and women in your life, across generations. 
---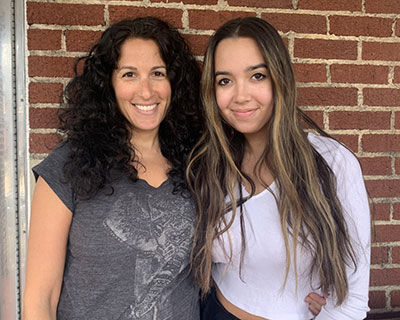 RAISED TO BE INDEPENDENT, BOLD, STRONG, WILD AND FREE
Naomi Kitchen, 17, is a junior at Taylor Allderdice High School in Pittsburgh, Pa. Her mother, Rona Kaufman, is an associate professor at Duquesne University School of Law.
---
HAVE YOU EVER FELT EMPOWERED BY JUDAISM? HAVE YOU FELT THAT YOU WEREN'T HEARD BECAUSE OF JUDAISM?
Naomi: I feel very empowered by my Judaism, rooted in my knowledge of the Jewish people's history. I went to Jewish day school until eighth grade, where I studied Jewish, Israeli and Holocaust history, and also got to study at Alexander Muss High School in Israel for two months.
I think that when I've felt unheard, it's in Jewish spaces, where I feel like my Judaism can be dismissed because I don't outwardly look Jewish. I look mostly like my father, who is half Korean and half Caucasian (and who is not Jewish). I present as multiracial, which I think much of American Jewry is not used to. Even though I am halachically Jewish, because my mother is Jewish, since my "half Jewishness" is very apparent—because of my lack of "full whiteness"—it can undermine my Judaism in Jewish spaces.      
Rona: Of all the parts of my identity, the single most empowering part is my Judaism. I know that through my entire life, anytime I have felt challenged, or questioned my ability to deal with a situation, or make it through something difficult, I immediately kind of call on the power of Jewish ancestors. Jews today come from people who fled from Spain during the Inquisition and people who resettled in different parts of Europe. People who have survived pogroms and people who have escaped the Nazis. People who found refuge in Israel and continued to fight for their right to exist in a land surrounded by hostile enemies. So, when I think about the little challenges that I've faced in my life, they're minuscule compared to the experiences of Jewish people who've come before me.
WHAT ARE WAYS IN WHICH WE ARE SIMILAR AND WAYS IN WHICH WE ARE DIFFERENT?
Rona: I love this question! So, I think we are very similar in ways that I never imagined—that I would have a child who would feel so much like home to me. And I feel so blessed that I have you. I think the way that we process a problem or information is the same, and I think that we perceive things very similarly. For example, when we attended the AIPAC policy conference this year, we had the same favorite speakers and the same critiques of some of the politicians.
When I think about how we are different, I am most aware that I move around in the world with a deep sense of uncertainty. I don't know if I've always been that way or if it's come to me with age. For example, I hesitate to call someone or something bad. Instead, I make excuses, I'll explain it away as cultural or difficult life experiences. When I look at you, I know that you move through the world with just as deep a sense, but of certainty. And it's not an arrogant certainty and it's not naïve. I find your certainty comforting and morally clear, and I learn from it. You believe what you see and know. You don't excuse badness or bad people.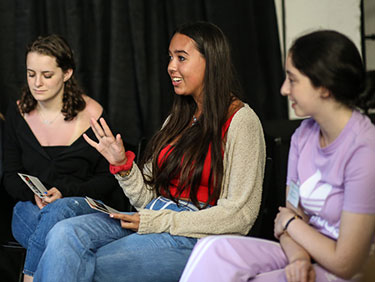 Naomi: I also think we are very similar, but I think that our similarities and differences can be illustrated by nature versus nurture. I think that our nature is very similar. For example, once when we were in a movie theater and an alarm sounded, we both immediately jumped up and made our way to the exit. We were the first ones out, while others just stayed in their seats waiting for someone to give them instructions.
Our nurture is very different because I am the you that was raised by you, and you are the you that was raised by Savta. You were raised by an Israeli immigrant to America who was shaped by her experiences as a child of Holocaust survivors and who was raised to be a dutiful daughter, mother and wife. I am being raised by a divorced mom who is a legal scholar and who writes about intersections of gender and law.
Being raised by someone who grew up after many of the dreams of feminism were realized makes for a very different nurture. That being said, we were both raised by mothers who taught us to be independent, bold, strong, wild and free, and who prioritized their mothering over everything else.
WHAT MAKES YOU MOST AFRAID AND WHAT MAKES YOU MOST HOPEFUL IN THINKING ABOUT THE FUTURE?
Rona: When I think about the future, the thing that I am most afraid of is the evil that I know exists in our world. I used to think evil on a large scale was mostly isolated to moments in history, like the Inquisition and Holocaust. Now, I recognize that evil is pervasive. It comes in the form of human trafficking, violence perpetrated by drug cartels, domestic violence, abuse of children and even things that seem relatively benign, like corporate greed.
What gives me hope is the possibility that as we move into a world where people who never had power start to gain power, that might change the balance. For example, moms are acquiring economic and political power that may make for a different world. I am hopeful that as they move into positions of power, more will be done to prevent and respond to evils like human trafficking and domestic violence. Because mothers spend so much of their lives nurturing and caring for others, it seems possible that once they have political and economic power, we will see a better world.
Naomi: I have a similar fear. I have opened my eyes to an evil and badness in the world that I didn't know existed outside of my history books. Like the worldwide, billion-dollar industry of human and sex trafficking. It's terrifying, but as my eyes have been opened to the evil, I've also seen the many people who dedicate their lives to the cause of good: volunteers who go to refugee camps simply to help, people who go when a natural disaster devastates a community. For every bad, evil and injustice, there are organizations and individuals dedicating themselves to repairing and rehabilitating—not for credit or power, but just because they care.
---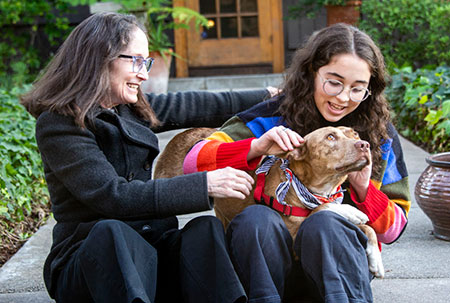 TO LIVE BY THE MANDATE OF TIKKUN OLAM
Maya Savin Miller, 17, is a junior at Polytechnic School in Pasadena, Calif. Her mother, Jody Savin, is an author, filmmaker and app developer.
---
WHAT MAKES YOU MOST AFRAID AND WHAT MAKES YOU MOST HOPEFUL IN THINKING ABOUT THE FUTURE?
Jody: I am terrified of a world in which the top levels of the United States government condone the mass incarceration of immigrants at our borders. I am terrified that the hypocrisy that has infected our national thinking and that has veritably cleaved our government right down the middle leaves us with little official, if any, moral ground. Our forefathers left too much of our government regulation to an assumed civility that is being tested right now to the extreme.
Maya: I am terrified to be living on a dying planet, in a society that tends to prioritize self-interest over the well-being of the collective, governed by a ruling class so comfortable denying the hard science warning us of the looming/imminent menace of climate change. I am afraid of a society that dissociates from the fallout of its actions so easily that it is able to justify mass pollution, the destruction of our natural world, the predations of the meat and dairy industry and the exploitation of human beings.
On a more personal note, I am afraid of the narrowing of societal expectations as I get older. I don't see myself filling the formulas that are commonly set forth for women. Sure, the recipes have loosened, but there are still so many battles for women to fight before we can achieve any semblance of equality in a world that for so long relegated us to back seats. I want to be part of an expectation-busting, front-seat generation of women.
Jody: I clearly share all of your concerns and yet, I am prone to hunt for the silver lining. And perhaps that silver lining is the empowerment of your generation, today's youth who are mindful and concerned about the compromised, intolerant and broken world they will inherit, a world doomed by its blind self-interest, wanton mass consumerism and environmental neglect. I see you and your peers all around the country speaking up, protesting, initiating projects, demanding change. Soon the world will be yours and therein lies my hope.
WHAT ARE WAYS IN WHICH WE ARE SIMILAR AND WAYS IN WHICH WE ARE DIFFERENT?
Maya: We both really like to write.
Jody: On the other hand, you are pretty quiet.
Maya: And you are really loud.
Jody: Just making up for my lack of height.
Maya: I'm not that much taller.
Jody: Four inches is a lot from where I stand.
Maya: O.K., so in addition to our height difference, we have very different relationships with Judaism.
Jody: I am a secular Jew.
Maya: I had to beg to go to Hebrew school.
Jody: I did not have a bat mitzvah.
Maya: I was determined to have a bat mitzvah. It was really important to me, and it changed my life in so many ways.
Jody: So many incredibly positive ways.
Maya: I had two strong, Jewish, female mentors to guide me through the process: Rabbi Arielle Hanien and my teacher and gabbai, Ye'ela Rosenfeld. I learned so much from them, not only about analyzing text and the mechanics of reading Torah but mostly about thinking and interpreting for myself.
Jody: You should mention A Life in Tapestry.
Maya: In the course of preparing for my bat mitzvah, the Remember Us b'nai mitzvah project introduced me to Holocaust survivor and tapestry artist Trudie Strobel, who lives in a nearby town.
Jody: Who is now a member of our family.
Maya: Yes, she is. Trudie shared with me the memory of Chana Zgierski, a young girl who was murdered in Auschwitz, so that I could carry her memory forward and share my bat mitzvah with her.
Jody: When we first entered Trudie's home, we were treated to a treasure trove of breathtaking tapestries that had not been seen by the public.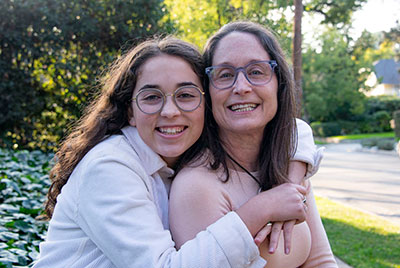 Maya: These intricately woven, large-scale works depict Trudie's history in the Holocaust as well as the history of the Jewish people. And we knew they had to be shared with the world, but neither of us had any idea how to make that happen.
Jody: Until Maya heard about the Dragon Kim Foundation, which gives service grants to youths with a project to improve their communities.
Maya: And until my mom wrote the book Stitched & Sewn: The Life-Saving Art of Holocaust Survivor Trudie Strobel, which has just been published.
HOW HAS JUDAISM INFORMED THE PATH OF YOUR LIFE, THE CHOICES YOU HAVE MADE AND THE ETHOS YOU LIVE BY?
Jody: Judaism is an integral part of the fabric of my identity. It is family and song and tradition; it is the quality of a matzah ball and the sound of the shofar. Holiday prayers make me cry because they are infused with visceral and vividly sensorial memories of my great-grandparents and my grandparents and my parents.
Maya: For me, it's tikkun olam. We live in a world that needs so much repairing, and I believe it is my Jewishly guided mission to do whatever I can, big or small, to live by the mandate of tikkun olam.
Jody: Yes. And it is also a commitment to a lifetime of study and self-improvement.
Maya: And along with that, I think it is also quite Jewish—the concept that we must question all things and that all things should be open and subject to questioning.
Jody: Which can be exhausting, of course, to the parents.
Maya: Well, I recommend that you learn from me and take a few naps now and then. 
---
These interviews, as well as those shared in Mothers and Their Teen Daughters, in Conversation and Pride and Hope in Their Daughters' Generation, were a joint project with jGirls Magazine and are also featured in the cover story of Hadassah Magazine's May/June 2020 print edition.
---