Mothers and Their Teen Daughters, in Conversation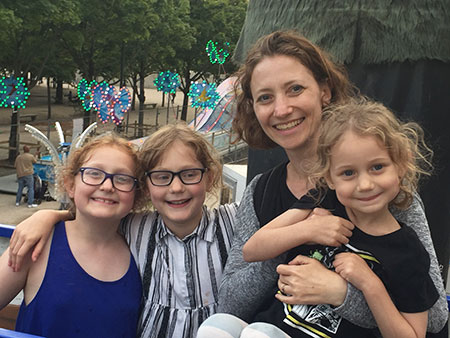 jGirls Magazine was born of motherhood and daughterhood. I am the mother of three daughters, and one of three daughters myself. As young children, my girls were assertive, loud, opinionated and fearless. These were exactly the qualities my husband and I wanted them to have as we sent them out into the world as young women.
I knew, though, from my own experience that as they moved toward their teen years, social and cultural pressures might urge them to be quieter, smaller, less-than. How could I support them—and their peers—in continuing to value their own voices, celebrate their accomplishments, feel less alone in their struggles through the teen years? How could they connect with other Jewish girls with a range of experiences and identities also figuring out who they are and who they wanted to become?
Out of this grew jGirls Magazine. This online community and magazine features content created exclusively by self-identifying Jewish girls and is curated by a 15-member teen editorial board. These remarkable young women bring their diverse perspectives to bear on the editorial process. Our pages reflect the glorious mosaic of what it means to be a young Jewish female today—and amplify and elevate those voices.  
When Lisa Hostein, Hadassah Magazine's executive editor, and I discussed a joint project between our publications, we saw an opportunity for grown women to tell their own stories in conversation with their daughters, a discussion between two generations we each serve. We asked jGirls' editors to help us develop questions that they would find meaningful to discuss with their mothers. The questions we landed on give these six mother-daughter pairs an opportunity to unpack their dreams and fears, similarities and differences, untold stories and the impact of Judaism on their lives.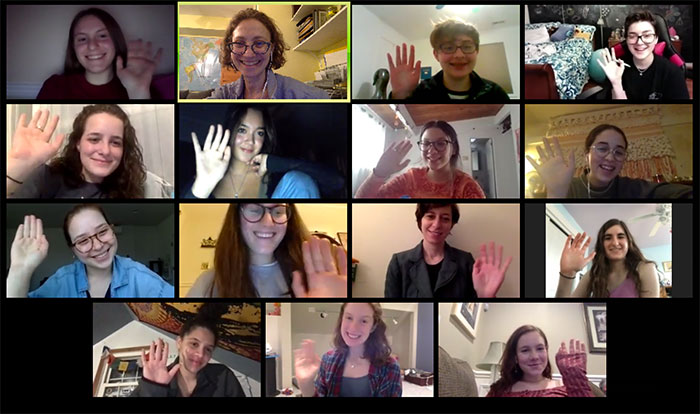 Particularly in this time of social distancing, when so many are being forced apart while simultaneously spending more time at home and with family than usual, we are delighted to bring you these snapshots of mother-daughter dialogue. We hope these interviews—and those featured in the related posts, Pride and Hope in Their Daughters' Generation and Empowering Their Daughters to Change the World—inspire you toward similarly fruitful, relationship-expanding discussions with the girls and women in your life, across generations.
All interviews were edited for brevity and clarity.
Elizabeth Mandel is the founder and executive director of jGirls Magazine, an online community and magazine written by and for self-identifying Jewish teenage girls. She lives in New York with her husband and three daughters.
---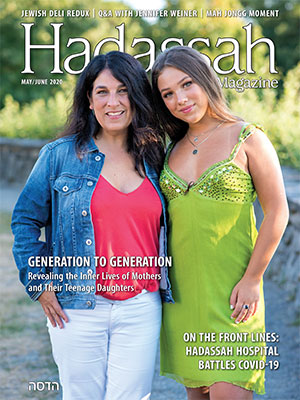 SENSE OF COMMUNITY, DESIRE FOR JUSTICE AND CARE FOR OTHERS
Annie Poole, 18, is a senior at Mercer Island High School in Mercer Island, Wash. Her mother, Sheri Davis, is a licensed clinical social worker who works with students at the University of Washington.
---
WHAT IS SOMETHING YOU WISH YOU COULD HAVE TOLD ME, BUT NEVER HAD THE CHANCE? IS THERE A QUESTION I NEVER ASKED YOU THAT YOU WISH I HAD?
Sheri: I've been reflecting as this big transition in our lives is about to happen—you graduating high school and going off to college in the fall. I've been thinking that I wish I told you a little more about how I felt during my summer in Israel in my 20s.
It was the strangest thing. I felt at home in this land that was so familiar, yet I had never been there before. I felt fearless. I felt fearless even with Israeli soldiers with guns nearby and when I went off with different people and explored. I met family who I never met before. I felt hopeful even though there was a lot of uncertainty going on in Israel then, as always.
Annie: When I was younger—this happened only a few years ago and maybe it still happens occasionally—I would cry under my covers and tell you to go away and not bother me. However, in those moments, I actually wanted you to comfort me and tell me everything would be O.K. And in the moment, I never really wanted to tell you that what I needed was for you to come hug me and sing the Shema to me.
Eventually, you would come and comfort me and that's when I would actually start to feel better. You telling me that it's better to let it all out and not hold things inside.
Especially at this moment in time, where life feels completely questionable and uncertain, I'm grateful for our extra time to have conversations.
WHAT ARE WAYS IN WHICH WE ARE SIMILAR AND WAYS IN WHICH WE ARE DIFFERENT?
Sheri: Since you were a little girl, people always called you my "mini-me." We are both good listeners and compassionate. We can be a bit quiet in new situations even though we can be very social and chatty when we feel comfortable. We both have an adventurous streak. Even though I'm cautious, I feel like I have gone on adventures or made choices that people are surprised by. Whether it was our road trip with just you, your sister and me when we moved from Austin to Seattle, or taking you both to the Flaming Lips concert for my birthday, I like to do the unexpected sometimes.
One difference is that you've really found your voice much earlier than I did. You speak up for injustice when you see people not being treated fairly, you have much more courage than I did at your age. I am constantly inspired by the issues you discuss as editor of your school newspaper. I love how you don't shy away from questioning things that most teenagers don't in high school: privilege, entitlement, equity and diversity. You are also definitely more fashionable than I am. That's an area where I learn from you.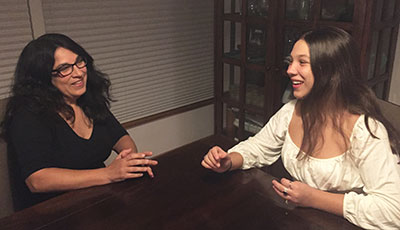 Annie: Everyone always tells me, "You look so much like your mom." I think it's our eyes—tiger eyes, as people call them—and the olive skin that easily tans in the summer. Our five-foot two-inch stature and seven-and-half shoe size. Besides that, it's our ability to empathize with others and feel things deeply, even if we don't always show it. We both are independent and powerful, but also desire love and acceptance. I think we have a strong sense of identity that helps us speak out for others and makes us resilient in the face of challenges. And to connect to my answer from the first question, I think we both bottle up our emotions.
The ways in which we are different: You're a little more cautious than I am. Maybe that comes with age, but right now I tend to push the boundaries more and question. This can be as simple as what I wear—plaid flared pants and sparkly Puma sneakers—all the way to the questions I ask people that others often don't: Why there's never been a woman president? If they've ever been in love? Have they regretted anything?
Right now, I think you long for stability while I long for change. But you're also more forgiving than I am and don't hold grudges.
HAVE YOU EVER FELT EMPOWERED BY JUDAISM? HAVE YOU FELT THAT YOU WEREN'T HEARD BECAUSE OF JUDAISM?
Sheri: When I was 9, I ended up living in a religious Jewish community in Seattle when my mom remarried. I was immersed in a Hebrew class in an Orthodox day school. I learned the language and the prayers quickly—I just absorbed it, it was natural to me. I really felt a sense of pride and accomplishment, even though sometimes I felt that I wasn't heard or didn't really fit in as a Jewish girl who had been growing up with a single mom without a lot of money.
I always really felt empowered by my knowledge and foundation in Judaism. The cool thing is that I can walk into any Jewish community or synagogue and connect with others.
Annie: I think I've always felt a little less connected with the Jewish community than you were growing up. I didn't have an in-depth education or experience like you. I loved our Friday night Shabbat dinners but I hated going to Hebrew school. I didn't have any friends that I connected with there or people that made me excited to go. After we moved synagogues a few times, I finally found people to connect with and ended up regularly going to Hebrew school.
After my bat mitzvah, my trips to temple slowed. Now, I keep making friends who are Jewish coincidentally. I've felt empowered through these people and hearing about their experiences with Judaism and how they talk about Judaism.
I think I've felt the most empowered by Judaism through my involvement with jGirls. I joke that it's really the only "Jewish" thing I do now, but it has been the most important thing for my Jewish identity. The girls I've met have empowered me to explore what role I want Judaism to play in my life. I know that I want to keep the sense of community, desire for justice and care for others that jGirls has taught me. And all of these qualities are innately Jewish.
---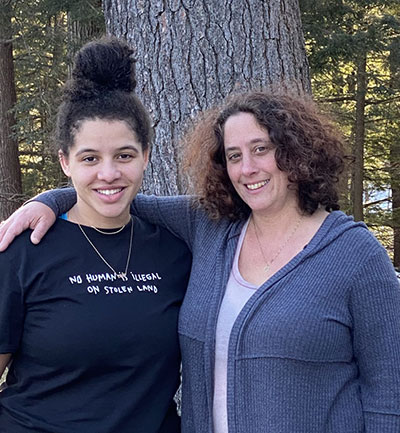 NAVIGATING TWO WORLDS
Makeda Zabot-Hall, 18, is a senior at Portland High School in Portland, Me. Her mother, Rebecca Zabot-Hall, is a senior business and application analyst at a nonprofit health care company.
---
HAVE YOU EVER FELT EMPOWERED BY JUDAISM? HAVE YOU FELT THAT YOU WEREN'T HEARD BECAUSE OF JUDAISM?
Rebecca: I grew up in Bangor, Me., and attended an Orthodox shul. My parents owned a kosher restaurant from the time I was 7 until after I graduated college. My childhood is full of memories of Shabbat dinner, shul—women in the balcony, men downstairs—waiting for the smells of kiddush during Shabbat morning service as a signal it was almost over.  Watching my mother light candles Friday night.
I do think there's something about having your own duty that can empower you. Knowing that it's a woman's job to light candles—although men can light the candles—but it's kind of a tradition that women do it. Even though certain duties can set women into a box, those responsibilities can also empower us to think of it as our gift to the world, to make a home happy.
Makeda: I have struggled with empowerment in Judaism, especially when I was younger. People were always so curious about how I could be a person of color and also be Jewish. I used to try to explain my background, but that only caused the questions to escalate. If I was to say both of my parents were Jewish, not mentioning that my father, who is Jamaican, converted, they would follow up with "were you adopted?" That question was the most painful to hear—it sets me apart from the typical group of Jews because of the color of my skin.
When I attended a Chabad-affiliated sleepaway camp, I found myself choosing to wear skirts and long sleeve shirts, as if that would overshadow the color of my skin and help me blend in. I don't find myself doing this anymore, now that I have come to the understanding that I cannot control how others perceive me. jGirls has also made me more confident because it is the first time
I have ever been with so many Jewish girls and not felt set apart. There is so much diversity on the editorial board.
I went to Israel during the summer of 2018, traveling alone and staying with a friend I had met during a pre-college program at Brandeis. My friend is an Ethiopian Jew, so I had the beautiful experience of staying with a family that encountered similar problems that I have as a Jew of color.
WHAT IS SOMETHING YOU WISH YOU COULD HAVE TOLD ME, BUT NEVER HAD THE CHANCE? IS THERE A QUESTION I NEVER ASKED YOU THAT YOU WISH I HAD?
Rebecca: I wish I could have prepared you more for having to navigate two worlds—of being black and Jewish—at a time when a lot of kids are figuring out who they are. And I think I learned with you. I learned that my children were not automatically considered Jewish when they walked into a shul or bris, or when they were in casual conversation with another Jewish kid on a school bus. I learned that they would be forced to prove their Judaism, at the bris to a rabbi who assumed my child didn't know what a bris was. On a school bus, having to prove Judaism by naming a Jewish holiday. These stories chipped away at me.
And there are beautiful stories as well. When an elderly Jewish woman connected with you, and when she found out you were Jewish, she said, "I knew it!"
Makeda: I wish you had asked more often if I was doing O.K. my junior year of high school. I feel like sometimes, when you seem stable in who you are and always seem prepared and organized, people assume you're always O.K. Junior year, I wasn't O.K. Academics have always been important, which at times can be a blessing, but also a curse. Junior year, I found myself trying to juggle way too many activities—being president of the Black Student Union, running for student council, plus making sure my grades were up to the standards of what colleges were expecting. The pressure and stress affected me more than I ever thought they would.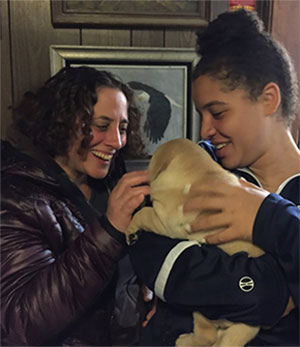 WHAT ARE WAYS IN WHICH WE ARE SIMILAR AND WAYS IN WHICH WE ARE DIFFERENT?
Rebecca: We are similar in the way we approach the world, the way we approach problems—and when it comes to food and also in how we approach relationships. We're kind of similar in the way we dress, but you dress better than I do, you have way more style. When I look at you—or any of my children—I see the best parts of me and the best parts of your father.
When I was younger, I was incredibly shy. As a teenager, you're much more ready to take on challenges and risks. You are not scared of an intense conversation, nor are you scared of taking on a new project or making a complex and difficult change in your life.
Makeda: You and I tend to be the leader of groups. If we see that a group needs someone to take charge, we are the first to step up. You have taught me that what's important is how you share the power that comes with being a leader. I have used this course of leadership and have adapted it to how I lead the Black Student Union.
I think we both have a good sense of humor and are rarely in a bad mood. I think that sometimes I can be a little more open-minded than you, but that's because we are from different generations.
---
These interviews, as well as those shared in Pride and Hope in Their Daughters' Generation and Empowering Their Daughters to Change the World, are also featured in the cover story of Hadassah Magazine's May/June 2020 print edition.
---