A Lifelong Love of Multicultural Food Began in Brooklyn
As a kid in Brooklyn, Melissa Clark grew up with a live-to-eat attitude that was a badge of honor for her family.
Clark, a beloved New York Times cooking columnist and the author or co-author of nearly 40 books—including her latest, Kid in the Kitchen: 100 Recipes and Tips for Young Home Cooks, out November 10—spent her summers cooking and eating in France with her Julia Child-obsessed parents and her sister, Amy Sara. The rest of the year they lived in the Ditmas Park section of Flatbush, where she honed her appreciation for the multicultural nature of her home borough.
"I loved growing up in a New York where everyone was so proud of their culinary heritage and curious about others," said Clark, 52. That meant you would have been just as likely to find her savoring a meat-filled Jamaican patty as a slice of pizza or a street-stand hot dog with all the fixings.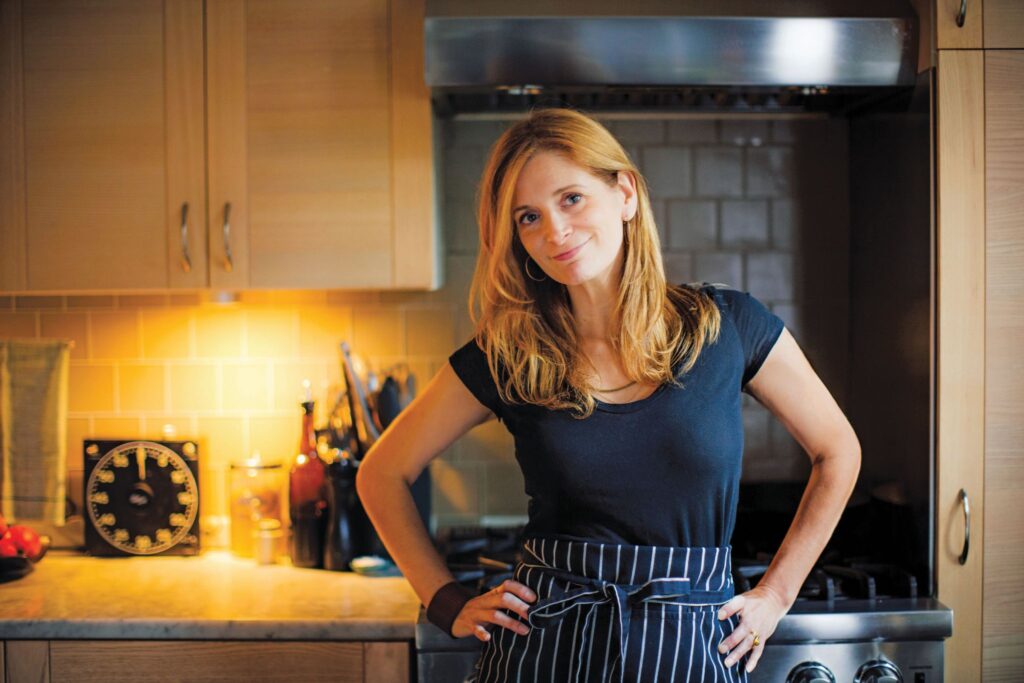 "That, and a lot of Chinese food, of course," Clark told me over the phone from her home in the Prospect Heights section of Brooklyn, where she lives with her husband, Daniel Gercke, and their 12-year-old daughter, Dahlia.
As part of a nonreligious family, expressions of Judaism often manifested themselves at the table. "I felt very proprietary about Jewish food," said Clark. Her parents, Rita and Julian, both therapists, took Clark and her sister on Jewish dining adventures throughout the city.
"We went to them all," Clark said of New York's iconic Jewish food institutions. "I love pastrami, but at Katz's I was, and still am, a tongue-on-rye person," she said of the 123-year-old delicatessen still thriving on the Lower East Side, despite being open only for delivery and takeout since March. The late, great, dairy restaurant Ratner's, in the same neighborhood, was the family destination for sour cream-topped blintzes, onion rolls and notoriously gruff service. And it was at Zabar's, the gourmet food emporium on the Upper West Side, that she developed a lifelong affinity for "appetizing," the adjective-turned-noun used to describe smoked and cured fish and all its accompaniments.
"Bagels and lox is still my comfort, the food I ask for on Mother's Day and birthdays," said Clark, whose family primarily attended synagogue on the High Holidays, though her father, who passed away two years ago, hailed from an observant family who kept kosher.
Always an avid reader, Clark majored in English and history at Barnard College, then worked briefly in restaurants and ran a small catering operation from her fifth-floor Brooklyn walkup before completing a master's degree in creative writing at Columbia in 1994.
With the Food Network having launched just a year before and culinary magazines and cookbooks gaining in popularity, Clark found herself poised to document an edible cultural zeitgeist with which Americans were becoming increasingly enamored.  "It was a combination of unwitting preparation and good timing," she said.
She wrote a few early books on subjects like bread machines and pasta, then rode the celebrity cookbook craze, becoming the co-author of choice to chefs such as Daniel Boulud, David Bouley and renowned pastry chef Claudia Fleming.
"Working with Melissa was an absolute dream," Fleming told me via email. "Her enthusiasm gave me so much confidence. Her intuition is remarkable, and her curiosity led me to places I may not have gone on my own! She's whip smart, insanely organized, incredibly generous and has impeccable taste."
Clark became an under-the-radar celebrity in her own right, influencing an entire generation of food writers—including this one—who modeled their careers after hers. (Full disclosure: In her capacity as a New York Times staffer, Clark included my own book, Sababa, on the Times' 2019 list of Best Fall Cookbooks).
After watching many of the books she co-authored win industry awards, Clark began to focus more on her own work. Since 2010, she has written seven titles, including, in 2017, Dinner: Changing the Game, which won an International Association of Culinary Professionals Award, and this year's Dinner in French, inspired by her lifelong romance with French cuisine. And, of course, through her writing at the Times, she has grown her audience in the print world and, especially, in the digital sphere, where some of her recipes garner thousands of comments and five-star reviews. (Visit cooking.nytimes.com and search for Red Lentil Soup With Lemon, as one example.)
But it is Kid in the Kitchen she's most excited about now. "The book makes so much sense," said Clark, who co-authored the book with her husband. "Kids at that age—8- to 14-year-olds—shouldn't be talked down to, and it's a perfect time to get them excited about cooking." Dahlia even tested some of the almost 100 recipes at the Clark home, making the book a true family affair.
Since the recipes are pared down and written in an extremely concise fashion, Clark believes the book has a wider audience than its intended demographic. "More experienced cooks look at a recipe, eyeball it and know what to do," said Clark. "Doing this one has made me a better cook and writer.
"I am always learning from my readers," she added, noting that she tries to reply to every comment and question she receives. "I love to see what people are into, how they are adapting the recipes to the pandemic." For every coronavirus-era, labor-intensive sourdough loaf and chocolate babka ("So many babkas," she laughed), millions want dinners to be super flavorful and simple.
It doesn't get much simpler than one of Clark's all-time lunch favorites: cabbage. Each day, she might prepare for herself—her husband and daughter are not fans—cole slaw with kimchi and a side of cottage cheese, sautéed cabbage with parmesan and sliced chiles, cabbage soup with garlic or kimchi soup with tofu.
For Hanukkah, Clark typically bakes olive oil cakes—one lemon, one orange—and fries everything from latkes and donuts to chickpeas and springs of rosemary. You might also find her braiding a loaf of her Citrusy Olive Oil Challah and using any leftover slices in her decadent, holiday-brunch-worthy Fresh Custardy French Toast.
Citrusy Olive Oil Challah
Makes 1 loaf
2 medium oranges, at room temperature
1 packet (2 1/2 teaspoons) active dry yeast
1/3 cup extra-virgin olive oil, plus more for the pan and bowl
3 large eggs, at room temperature
1 large egg yolk, at room temperature
3 tablespoons granulated sugar
1 teaspoon kosher salt
3 to 3 1/2 cups bread flour, plus more for kneading the dough
Using a Microplane or other fine grater, finely grate 1/2 teaspoon zest from one of the oranges and set it aside.
Activate the yeast: Squeeze the juice from both oranges into a measuring cup to yield 1/2 cup (if it's less than that, add water, if it's more than that, drink the rest). Pour the juice into the bowl of an electric stand mixer or another large bowl. Sprinkle the yeast over the juice and let it sit until it becomes frothy; that's the yeast getting active.
Blend the ingredients: Using the paddle attachment or a wooden spoon, mix in the oil, 2 eggs, the egg yolk and the sugar, salt and orange zest until just combined, about 1 minute. Switch to a dough hook if you are using a mixer, and mix in the flour, 1 cup at a time. (Or use your hands to do this if you are working in a bowl.) You may or may not use all of the flour, so at the end, add it gradually, stopping when the dough turns into a sticky, cohesive mass.
Knead the dough: Transfer the dough and any floury bits at the bottom of the bowl to a floured work surface and knead until smooth, about 5 minutes. Put the dough in the greased bowl and turn it over so the greased side is up. Cover the bowl with a large plate, a pot lid or plastic wrap, and set it in a warm, draft-free spot until the dough has doubled in size, 1 1/2 to 3 hours.
Press down on the dough to expel the air, deflating it. Cover the bowl again, and let the dough rise for another 45 minutes. It will be puffed looking, but not doubled in size.
Form the loaf and let it rise: To make a classic challah with three ropes, just braid them into a loaf, tucking the edges under. In a small bowl, combine the remaining 1 egg with 1 teaspoon water to make the egg wash. Place the formed loaf on the greased sheet pan and brush it all over with the egg wash (reserve the unused egg wash). Let it rise, uncovered, for 45 minutes.
Meanwhile, place a rack in the middle position and heat the oven to 375°.
Gently brush a second coat of the egg wash over the dough, put the sheet pan in the oven, and bake the challah for 25 to 35 minutes, until it is a deep rich brown and the bottom sounds hollow when tapped. (Stay alert! When it starts smelling like freshly baked bread, start checking.) Let the challah cool completely on a wire rack, about 2 hours, before serving.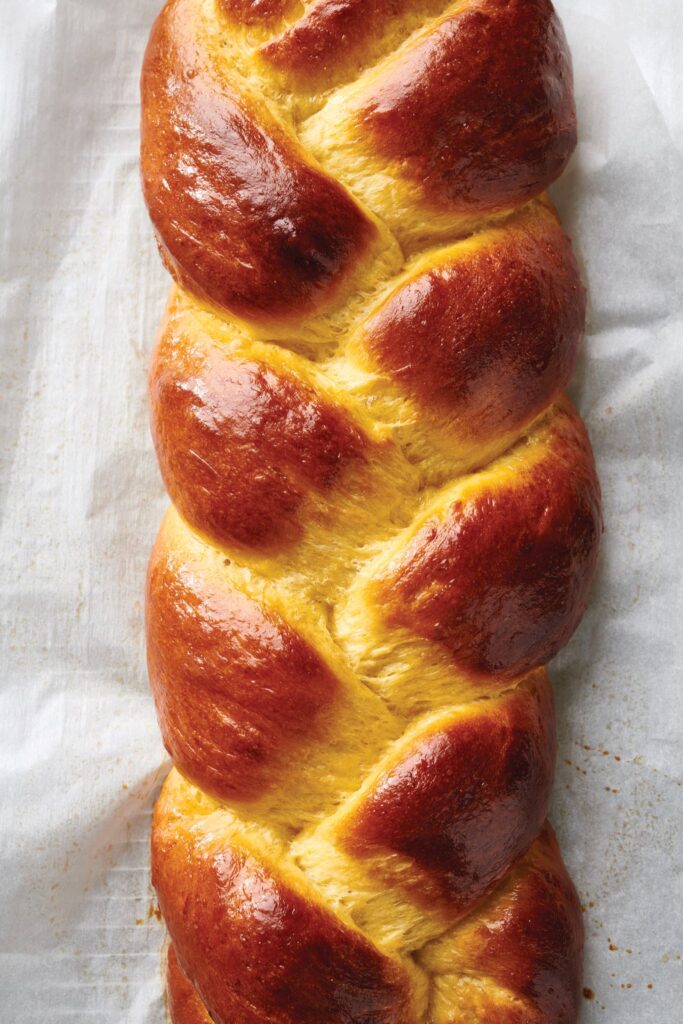 Fresh Custardy French Toast
Serves 4
6 to 8 (1-inch-thick) slices challah
5 large eggs
2 egg yolks
1 cup whole milk (nondairy is fine)
1/2 cup heavy cream or coconut milk
2 tablespoons honey, maple syrup or agave syrup, plus more for serving
1 teaspoon vanilla extract or ground cinnamon
1/2 teaspoon finely grated lemon zest (optional)
Pinch of kosher salt
4 to 6 tablespoons unsalted butter
Heat the oven to 375°. Arrange the bread slices on a sheet pan. Bake until lightly golden in spots, 3 to 7 minutes. Transfer pan to a rack to cool. If you're making a smaller batch of French toast, toast the bread in your toaster.
Reduce the oven temperature to 250° if you want to keep the French toast warm (otherwise, serve the slices as they are cooked).
In a large bowl, whisk the eggs and egg yolks until the whites and yolks are well mixed together. Whisk in the milk, cream, honey, vanilla, lemon zest if using and salt.
Working with one slice at a time, add bread to the egg mixture and push it down to submerge it. Let it soak for a few minutes, then turn it over carefully, so it doesn't break. Allow it to soak until it's saturated. When you squeeze it gently, liquid should bubble out.
Transfer the slices to the sheet pan that you toasted them on and let sit at room temperature for 5 minutes to firm them up a little, which helps them brown and crisp when you fry them.
Place a large skillet over medium-high heat. Add 2 tablespoons of the butter and let it melt. After it melts, let it continue to cook it for another minute or two, until you can smell the butter turning nutty and see the white foam settle to the bottom of the pan and turn golden brown. (This is called brown butter, and it adds a ton of flavor.)
Immediately add 2 or 3 bread slices to the pan. They should fit in one layer without overlapping. Cook the bread on one side until it turns golden brown, 2 to 3 minutes, then flip and cook the other side, another 3 minutes. Serve the slices immediately or transfer them to an ovenproof serving platter or a clean sheet pan and put them in the oven to stay warm.
Continue frying the French toast, browning more butter in the pan between batches, until it's all cooked. Serve hot or warm, with more syrup on top.
Reprinted from Kid in the Kitchen. Copyright © 2020 by Melissa Clark and Daniel Gercke. Photographs copyright © 2020 by David Malosh. Published by Clarkson Potter, an imprint of Random House.
---
Adeena Sussman is the author of Sababa: Fresh, Sunny Flavors from My Israeli Kitchen. She lives in Tel Aviv.