Buffalo Cantor Resigns As She Vows to Fight Sexual Harassment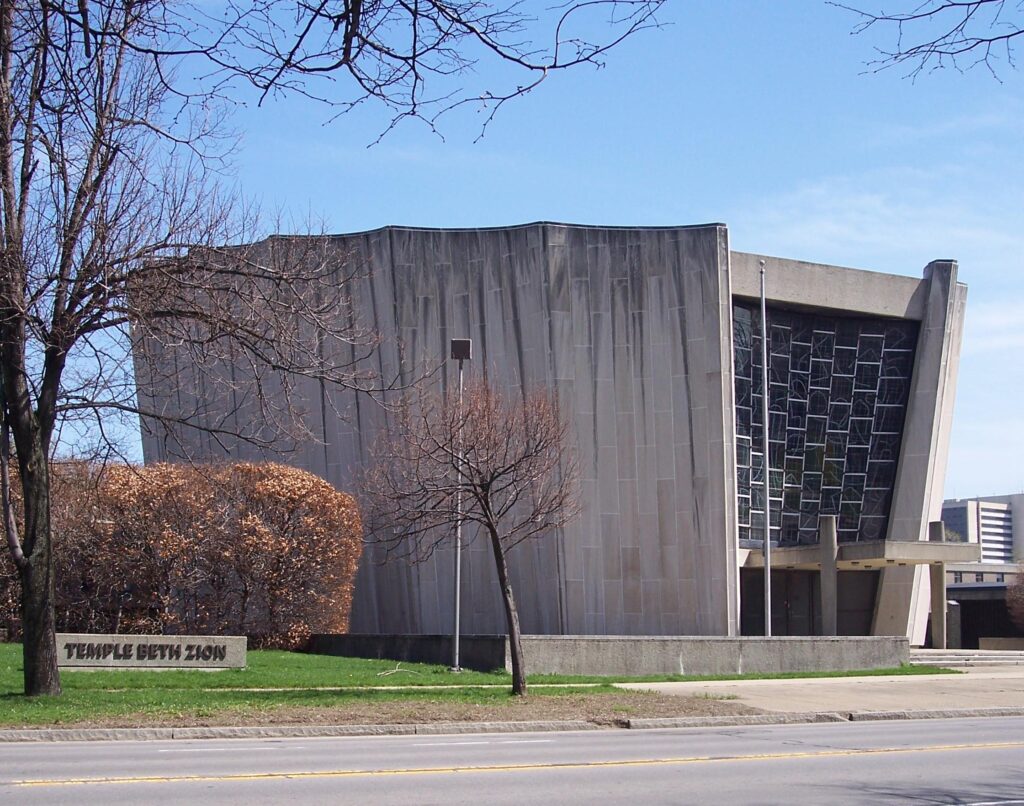 After years of battling sexual harassment at Temple Beth Zion, the large Reform congregation in Buffalo, N.Y., where she had worked for 14 years, Cantor Penny Myers has resigned her position.
"I cannot represent Temple Beth Zion in good faith as clergy in this 'charade' anymore," Myers wrote in a December 3 email to David Goldberg, the synagogue president, who in turn sent out a three-sentence email to the congregation informing them of Myers' decision.
Myers, 46, said she has no plans to sue the temple. Instead, she said she intends to create an organization to fight sexual harassment in religious spaces.
"It's taboo to speak out and up about this," Myers said. "What I did is beyond risky. Most people in the clergy are the main challah winners in their families and they need their jobs. I have the luxury and the curse of not risking food on my family's table." Her husband, Dr. Bennett Myers, is a physician.
Myers' resignation came nearly a year after she filed an ethical complaint with the Central Conference of American Rabbis, the Reform rabbinic organization, against the synagogue's rabbi for inappropriate comments. The complaint resulted in a censure against Rabbi Jonathan Freirich by the CCAR in March 2020.
In August, the board of the 750-unit congregation decided to end Freirich's contract on December 31, 2020, six months early, but only informed the congregation after a news story about the situation was published in The Buffalo News on October 26. No reason for the early termination was provided.
Myer's complaint to the CCAR cited five specific allegations of inappropriate comments, including Freirich's description of her as the "beautiful blond cantor," a comment he made from the bimah during the weekend of his hiring interview in 2016. It also included a reference to his remark about "Fifty Shades of Cantor" after she returned from an overnight 20th-anniversary celebration with her husband in October 2018.
Myers, whose contract was slated to end on June 30, 2021, took a paid leave of absence due to the emotional fallout of the conflict. The leave began after Yom Kippur and was set to go through the end of 2020.
In a November interview, the Hadassah life member had said she hadn't given up on the synagogue and that the way its leadership was handling the situation had become a bigger issue for her than the rabbi's behavior.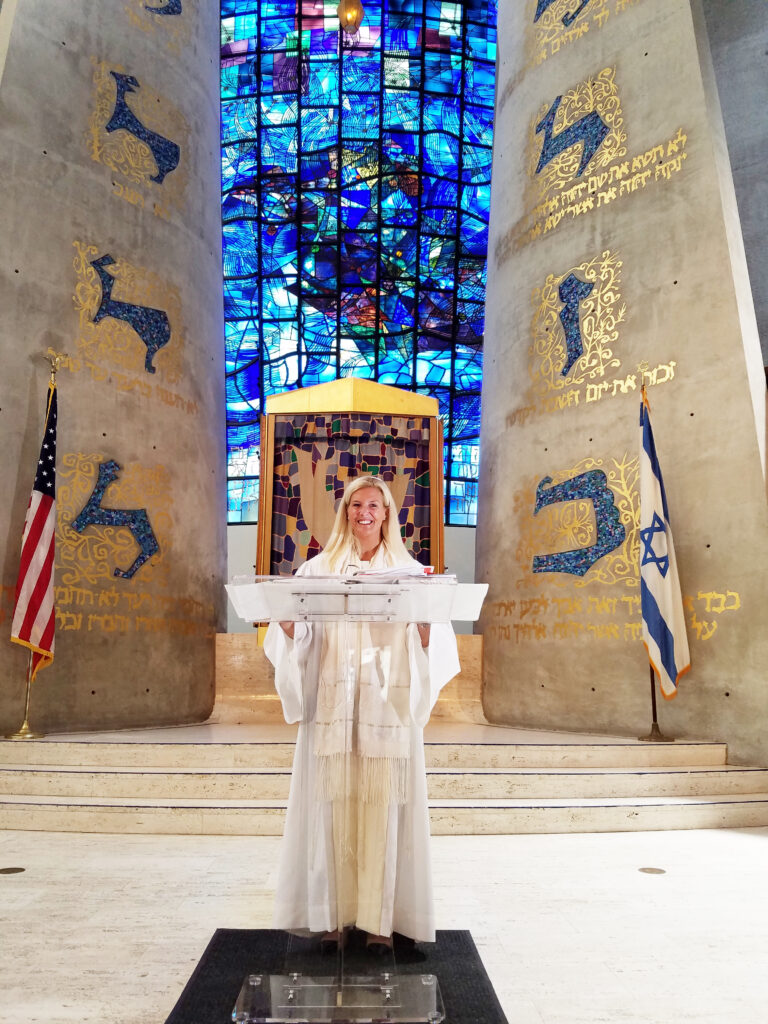 She said the board was bound by her contract to decide by December 31 whether to renew her contract, but in recent weeks, she said, she had received no responses to the numerous emails and texts that she and her lawyer, Lindy Korn, sent to the board regarding her proactive attempts at "reintegration" into the synagogue.
The board did, however, offer an interim position to Rabbi Sharon Sobel, with the title of "senior" rabbi, without informing Myers, a move that Myers said implies a supervisory role and a demotion in her own position. She had previously been co-clergy with Freirich.
For his part, Freirich previously told Hadassah Magazine that he "apologized for inappropriate comments and takes responsibility for them. My punishment is serious, and I accepted it. I am working on what the CCAR and Temple Beth Zion set as my path to repentance and reconciliation."
Now, the large and historic Buffalo congregation, founded in 1850, is roiled by dispute, division and confrontations over the developments.
At least one congregant, Matt Schwartz, has publicly withdrawn from the synagogue, dismayed by what he says is a lack of transparency.
It was in part his actions that Myers said motivated her to resign, along with the lack of response from the leadership and what she saw as her demotion.
Schwartz, a 36-year-old social worker who had formerly served on the congregation's ritual committee and taught in the Hebrew school, said he had gathered more than the 50 signatures required by the bylaws on a petition he posted on his blog. The petition called for a meeting to discuss Freirich's continued employment through the end of the year rather than his immediate dismissal. Schwartz also sought to introduce a motion for a new bylaw mandating that all board meetings move forward with "radical transparency," including being livestreamed, recorded and archived; and to introduce motions calling on all board members to resign and do teshuvah adjudicated by an outside party.
Schwartz said in a phone interview that he feels "gut-wrenching disappointment with the board. How do we say that we pursue tzedek [justice], that we do mitzvot, if we can't even do right by our own cantor?"
---
Read More: Buffalo Cantor Still Reeling From Sexual Harassment
---
Goldberg told Hadassah Magazine that the call for the congregational meeting is not being ignored. "We are working to set it up," he said, noting that only 48 of those who signed the petition were actual members. "We reached out to the drafter of the petition, but he resigned from the congregation rather than engage further in the process."
Goldberg said he could not comment on Myers' communication with the board, but said, "TBZ is grateful for her years of service to our congregation and for her leadership, especially over the past High Holiday season. We wish her well in whatever the future holds for her."
"People are choosing to have sides," Schwartz said. "There are definitely people who are supportive of the board, who believe that we should handle things internally in a hush-hush way. I've received messages saying this is bad for the temple, bad for the community."
But, said Schwartz, "you don't have to protect the institution. Institutions are made of people. You have to protect people. This is the era of #MeToo. Even if you don't take the Jewish lens, New York State law is clear on sexual harassment policy."
On the Temple Beth Zion Facebook page, member Stephen Steve wrote in connection to a post about the petition: "A meeting is a good idea but I'm not signing this ugly petition to get to it. Too bad the author stacked it with nasty talk to suit his agenda. Throwing gasoline on the fire."
Strong feelings persist on both sides.
Myers' Facebook post about her resignation, with a screenshot of the president's terse message to the congregation, has drawn over 150 supportive comments from congregants and peers. She signed it with an #TimesUp.
"The issue is gender," she told Hadassah Magazine. "I know it's the right thing. I can't go back.
"Sexual harassment in religious spaces is not uncommon but people will not talk about it because of fear of retaliation or not being believed," she added. "Even now, the people in power just want me to get over it."
---
Rahel Musleah leads "NamaStay at Home," virtual tours of Jewish India and other cultural events (www.explorejewishindia.com).