Lotte's Meringue Cookies, a Recipe From 'Jew-ish'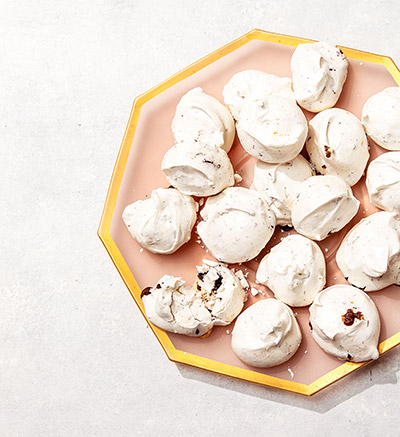 VIRTUAL COOKALONG WITH JAKE COHEN
MARCH 11 AT 12 P.M. EST
REGISTER HERE
Recipe excerpted from Jew-ish: A Cookbook: Reinvented Recipes from a Modern Mensch

By Jake Cohen. Published by Houghton Mifflin Harcourt (2021).
Lotte's Meringue Cookies
Makes 36 cookies
3 large egg whites
1/4 teaspoon cream of tartar
1 cup sugar
2 teaspoons cornstarch
1 teaspoon kosher salt
1 teaspoon vanilla extract
5 ounces dark chocolate (70 percent cacao), chopped (1 cup)
1 cup walnuts, coarsely chopped
Preheat the oven to 200°. Line two half sheet pans with parchment paper.
In the bowl of a stand mixer fitted with the whisk attachment, whip the egg whites and cream of tartar on medium speed until frothy. Then, with the mixer running, stream in the sugar and whip until white in color and beginning to grow in volume, but not yet able to hold soft peaks.
Meanwhile, in a small saucepan, whisk the cornstarch with 1/3 cup water. Cook over medium-high heat, stirring continuously, until thickened, about 2 minutes.
With the mixer running, slowly pour the hot cornstarch slurry into the egg white mixture, followed by the salt and vanilla. Raise the mixer speed to medium- high and whip until the mixture holds stiff peaks, 10 to 12 minutes. Gently fold in the choco-late and walnuts.
Spoon 2-tablespoon-sized mounds of the meringue mixture onto the prepared sheet pans, spacing them 1 inch Bake for 2 hours, then remove from the oven and let cool completely.
Serve once cool, or store in an airtight container lined with paper towels at room temperature for up to 4 days.