Elephants, Matzahs and Magic: Picture Books for Passover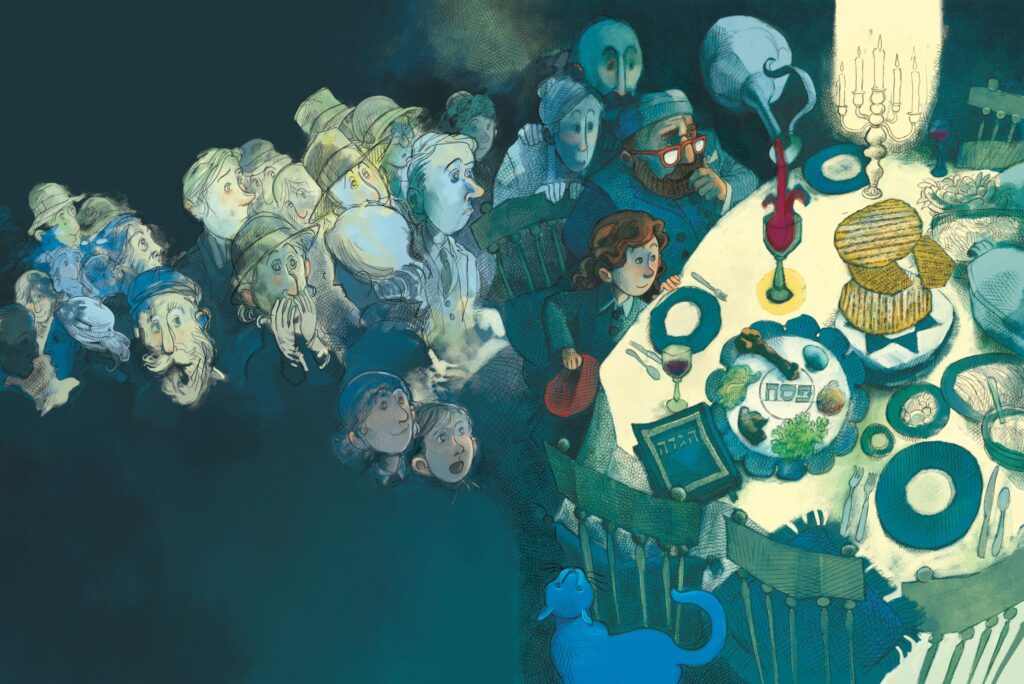 Two beautifully illustrated retellings of Der Kuntsenmakher (The Magician or The Trickster) from the great early-20th-century Yiddish writer I. L. Peretz lend a bit of magic to Passover. The enchanting tales focus on a mysterious stranger who turns out to be Elijah and who brings food to an impoverished couple for Passover.
The Passover Guest
By Susan Kusel
Illustrated by Sean Rubin (Holiday House)
Muriel gives a penny to a colorful but threadbare juggler standing before the Lincoln Memorial on the eve of Passover, even though her parents have little food for the seder. The juggler then visits her home with a surprise—to the joy of her family as well as the entire Jewish community.
Set in Washington during the Great Depression, the breathtaking illustrations by Sean Rubin are tribute not just to the capital in spring but also to artist Marc Chagall, who illustrated the I.L. Peretz tale back in 1917. Whimsical, Chagallesque touches, including fiddlers and a chicken, are scattered throughout the book's pages. Meanwhile, the colorful, detailed imagery—famed monuments, the soup lines, the historic Adas Israel synagogue on Sixth & I and a Passover spread—merge Jewish and American history, making The Passover Guest not just an Elijah fable but also a story of hope and faith.
The Magician's Visit
By I. L. Peretz. Adapted by Barbara Diamond Goldin
Illustrated by Eva Sanchez Gomez (Green Bean Books)
Barbara Diamond Goldin's traditional retelling of the Yiddish fable takes place in a small village. The magician is a wandering one who pulls ribbons from his mouth and turkeys from his boots. The protagonists, Jonah and Rebecca, are a poor but generous couple who give their last pennies to the Passover fund. Eva Sanchez Gomez's soft palette and colored-pencil illustrations add a warm glow to scenes such as the couple watching in amazement as they receive a complete Passover seder, from candles to food and even cushioned chairs, the result of their kindness and "a gift from heaven brought by the prophet Elijah himself."
The Great Passover Escape

By Pamela Moritz
Illustrated by Florence Weiser (Kar-Ben)
A large purple elephant and a curious kangaroo clandestinely leave Jerusalem's Biblical Zoo in search of a seder. Kids will enjoy yelling out corrections as the two escapees, aided by a know-it-all chimp, try (and often fail) to recall details of the holiday. Parents will appreciate the Jerusalem background and the opportunity to reminisce fondly about a time when traveling to Israel for the holiday was a possibility.
Matzah Craze

By Jamie Kiffel-Alcheh
Illustrated by Lauren Gallegos (Kar-Ben)
Noa shares the story of Passover—and some of her crunchy matzah—with her curious classmates in a sweet story that will encourage young Jewish schoolchildren to explain to friends why their regular lunches suddenly change for eight days during the spring.
A Sweet Meeting on Mimouna Night
By Allison Ofanansky
Illustrated by Rotem Teplow (Groundwood Books)
Miriam and her family in Morocco are preparing for Mimouna, the post-Passover festival, by making moufleta, paper-thin, sweet pancakes topped with butter and jam. But first, Miriam and her mother must visit a Muslim neighbor to get some flour as there was none to be found in the house over the Passover holiday. At the neighbor's house, Miriam meets Jasmine and the two girls become friends, spending the Mimouna dinner together. The warm tale of cross-cultural relationships provides a window into North African culture and community and, as a tasty bonus, includes a recipe for moufleta.
---
Leah Finkelshteyn is the senior editor of Hadassah Magazine.