In Atlantic City, Take a Jewish Boardwalk Down Memory Lane
Editor's Note: We are offering this updated Atlantic City travel story, originally reported in 2011, to coincide with our selection of Florence Adler Swims Forever as the next One Book, One Hadassah pick. Longing to explore old-time Atlantic City? Then please join us on June 10 at 7 p.m., when Hadassah Magazine Executive Editor Lisa Hostein will interview Rachel Beanland, author of this National Jewish Book Award winner, which is set in the atmospheric world of 1930s Atlantic City. Please register for the free event here.
---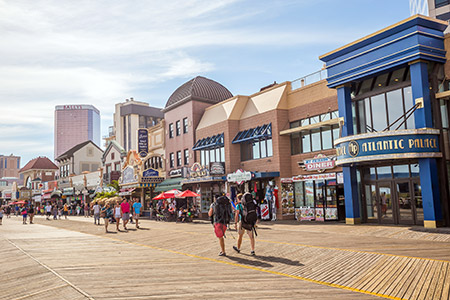 If Charles B. Darrow, the creator of Monopoly, had depicted the personality of Atlantic City, N.J., circa 1935 rather than simply borrowing its street names, the rotund, mustachioed little man in the tuxedo might have been wearing a kippah instead of a top hat.
The town's character has shifted dramatically since its boom times, which began in 1854 with the development of a train from Camden to Atlantic City, until then almost inaccessible because of primitive roads leading to its location on Absecon Island.
Driving around Atlantic City today still resembles a board game come to life, but most of the grand old hotels have been demolished, replaced by the rise and fall of modern casinos, several of which front the seven-mile boardwalk and overlook the city's free beaches. Gambling, which was approved in 1976 to revive the area's faltering economy, still is a main draw to what was once called the Playground of the World and Queen of Resorts.
The Covid vaccine rollout has helped Atlantic City welcome visitors back. The marina district serves as home to casinos, including Borgata, Harrah's and Golden Nugget, with gleaming floors, endless slot machines and upscale restaurants and nightclubs. In February 2021, what was the former Trump Plaza Hotel and Casino was imploded with no plans announced yet for the property, but several of the nine remaining casinos are making multimillion dollar investments in renovations.
For families and non-gamers, Steel Pier's Observation Wheel offers riders sweeping views of the Atlantic Ocean and the city skyline from inside climate-controlled gondolas. The Showboat Hotel, which no longer operates as a casino, is planning a $100-million indoor water park and has just launched New Jersey's largest arcade, Lucky Snake. Shoppers will enjoy Tanger Outlets The Walk, a 109-store open-air outlet mall. The four-story Playground Pier, a luxury shopping and restaurant mall that succeeded the famous Million Dollar Pier, fizzled down to only 10 stores in 2019 but hopes to be back up to its 75-plus stores with an investment by Caesars.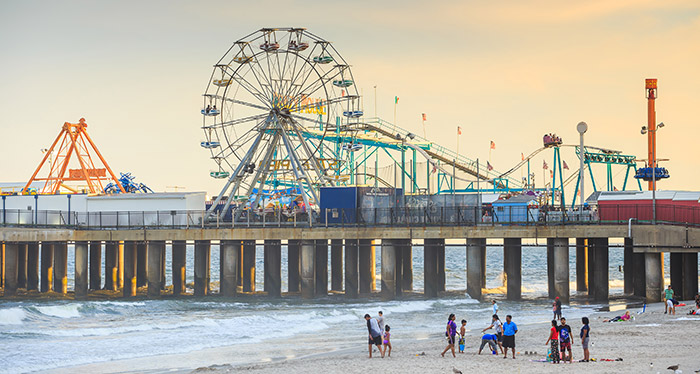 HISTORY
The city's history dates to 1838, when Jeremiah Leeds, who was not Jewish, built the first permanent dwelling in the area. In 1870, a boardwalk was constructed to prevent sand from being tracked into trains and hotels. Working-class day-trippers, middle-class vacationers and wealthy tourists began spending their summers by the sea, lured initially by the healthy sea air. Atlantic City soon became a fantasy world from which they could come home with post cards (said to have originated here), souvenir trinkets, saltwater taffy and photographic portraits.
Italian, Irish and African-American communities preceded the first Jewish families from Baltimore and Philadelphia who settled in Atlantic City in 1880. The Southeast Inlet part of town became a destination for Jews of varied ethnic and socioeconomic backgrounds. Many originally came as tourists and returned to take advantage of employment and business opportunities. To accommodate them, the city teemed with Jewish-owned rooming houses, small hotels, apparel stores, jewelry shops, pharmacies, restaurants, groceries, theaters and clubs.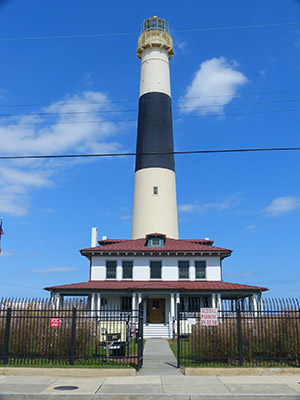 The first High Holiday service was held in a private residence in 1888, followed in 1893 by the establishment of the first synagogue, Congregation Beth Israel, a Reform community on Pennsylvania Avenue. Its maroon awnings and Moorish windows are still visible, though the cream-colored building at the corner of Pacific and Pennsylvania Avenues is now in disrepair.
The first kosher hotel, the Rosenaur Villa, and the Orthodox Rodef Shalom synagogue both opened in 1896.
By 1918, 1,200 hotels had sprung up, many of them extravagant palaces that accommodated guests from Franklin Delano Roosevelt to Frank Sinatra and boasted elegant ballrooms, rooftop greenhouses, steam heat and private baths. Star-studded shows, theatrical productions, amusements on the Steel Pier and the Miss America pageant, starting in 1921, boosted the city's profile.
Jewish tourists flooded the resorts, too, and 10,000 Jews settled there permanently by midcentury, making up about a sixth of its total year-round population. Hundreds of small kosher hotels accommodated the swell of summer visitors. The Jewish businesses that once lined the city's avenues and its legendary boardwalk have now largely disappeared, as the community has spread to the more suburban Ventnor, Margate and Longport areas.
So many Jews converged on Atlantic City that some hotels began restricting their clientele, causing an uncomfortable period of discrimination but an upsurge in Jewish hotels. During World War II, the city served as a training site for military recruits and a recovery and rehabilitation center for wounded soldiers. The 400,000 soldiers it hosted over a three-year period trained on the boardwalk and were treated at a local hospital; Jewish troops were invited for High Holiday meals.
Many Holocaust survivors settled in Atlantic County, and though they had no farming experience, took on the chicken and egg business. They were not initially accepted by the established Jewish community, so they built their own synagogues and social network in Egg Harbor. Later, they made careers in real estate, construction and hospitality.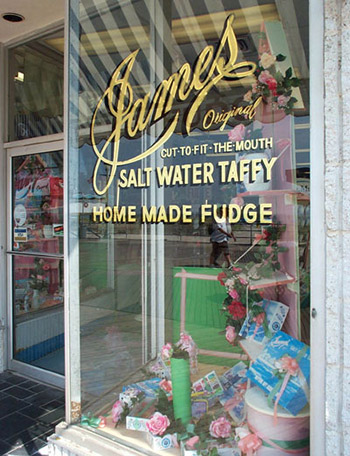 The son of survivors, Leo Schoffer has gathered many recollections in A Dream, A Journey, A Community: A Nostalgic Look at Jewish Businesses in and Around Atlantic City. Shelly Wiessler recalls working on the Steel Pier as a teenager, where she met a woman who convinced her to buy her fortune-telling bird concession. Wiessler's parents let her use some of her college money for the investment, and while she studied at the Philadelphia College of Art, her mother trained 12 parakeets to perform for audiences. The birds hopped to a house of fortune cards, chose one using their bills and dropped them into customers' hands—all for a dime.
Lew Tendler, a southpaw boxer who lost only eight times in 167 fights and was inducted into both the International Boxing Hall of Fame and the International Jewish Sports Hall of Fame, opened Mammy's restaurant, where you could order two donuts and a cup of coffee for 15 cents. (The restaurant closed in the 1970s).
Margie and Stanley Berk remember the boardwalk in its heyday, with its rows of "rolling chairs"—which resembled wheelchairs for two—occupied by summer visitors who "sat in their finery and watched the evening's passing parade." In more recent years, rolling chairs made of wicker continue to escort visitors along the boardwalk.
Al Gold became Atlantic City's official photographer, capturing images of presidents and movie stars. His personal favorite, recalls his daughter, Vicki Gold Levi, was Marilyn Monroe, who was the Grand Marshall of the Miss America Parade in 1952. Levi, co-author of Atlantic City: 125 Years of Ocean Madness, co-founder of the Atlantic City Historical Museum and an independent film consultant, has her own fond memory of serving as a 5-year-old page in the 1945 contest, which ended with Bess Myerson being crowned the first—and still only—Jewish Miss America. Gold carried Myerson's crimson velvet train onto the pageant stage each night.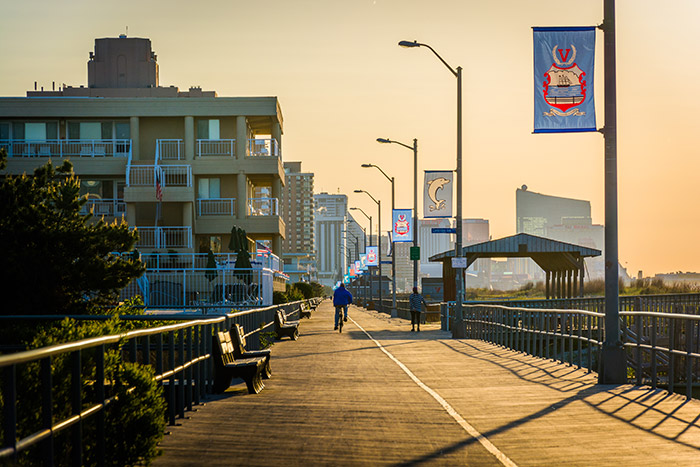 COMMUNITY
By the 1960s, the center of Jewish life had moved to the "downbeach" communities of Margate, Ventnor and Longport. The Jewish Federation of Atlantic and Cape May Counties counts 12,000 to 15,000 Jews in the area. The federation's headquarters in Margate also houses the Milton and Betty Katz JCC of Atlantic City. The nine synagogues listed on the JCC website include Shirat Hayam, one of the handful of synagogues across the country that offers separate Reform and Conservative services in different sanctuaries, though all other activities are done as one community.
Chabad has also become a strong presence in the area. Chabad at the Shore, located in Ventnor, has resumed indoor services and will prepare fresh kosher meals for visitors to be picked up Sunday to Thursday evenings with an online reservation.
The boardwalk, long the place for both the sweet and surprising, is still slated to be the home of a new million-dollar Holocaust memorial. In 2019, the Casino Reinvestment Development Authority approved reserving a $500,000 matching grant for the project, to be built near Stockton University's city campus. The Jewish community has raised $125,000 of the remaining funds to date and hopes to complete its fundraising this year.
The Golda Meir and Shaloma Hadassah chapters have members in Atlantic City, Margate, Ventnor and the surrounding towns. In Hadassah's early days, several national conventions were held in Atlantic City at famous hotels such as the Chelsea. (Enjoy a nostalgic Hadassah return-trip to Atlantic City's hey day with this roundup of archival photos.)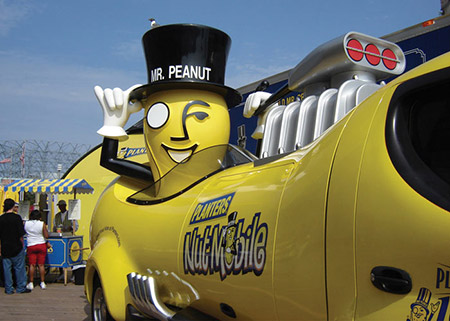 SIGHTS
The Knife and Fork Inn, still operating at the intersection of Atlantic, Pacific and Albany Avenues, was originally an exclusive men's drinking and dining club frequented by the likes of mob boss Enoch "Nucky" Johnson until federal agents raided it during Prohibition. Milton and Evelyn Latz bought the building and converted it into a restaurant, operating it for decades until they sold it in 2005.
Mr. Peanut used to point visitors to a miniature boardwalk at the Atlantic City Historical Museum, until the museum closed in 2016. The museum's collection is now part of the Atlantic City Experience, organized by the the Atlantic City Free Public Library. Vintage items available to see via appointment at the library include costumes, posters, photographs, song sheets, post cards, souvenirs and Miss America memorabilia. Among the personalities featured is Louis Zaris, a World War II hero, bombardier on a B-24 Liberator plane he called the Boardwalk Flyer and a captive in a German POW camp. His uniform is on display. A documentary screened at the museum, Boardwalk Ballyhoo: The Magic of Atlantic City, is sprinkled with Jewish entertainers like Eddie Cantor and Jerry Lewis as well as short films of the beach shot by Thomas Edison and videos of the high-diving horses at the Steel Pier.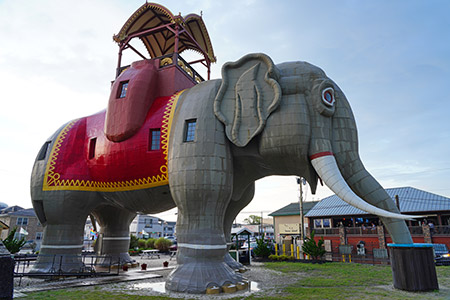 Atlantic City showcased a number of firsts, bests and assorted oddities. The world's first "Ferris" wheel turned at Missouri and Mississippi Avenues. Created in 1892 by William Somers, it was the precursor to George Washington Gale Ferris's wheel constructed at the Chicago World's Fair. The Chesterfield sign, once the world's largest electric sign with 27,000 bulbs, lit up one of the piers. Jim Whelan Boardwalk Hall, formerly Convention Hall (the onetime site of the Miss America pageant) and now the venue for concerts and sports events, still houses a 33,000-pipe organ, the world's largest. Climb 228 steps to the top of the Absecon Lighthouse, the country's third tallest lighthouse, dating to 1857.
Lucy, a 135-year-old, 90-ton, six-story elephant-shaped Atlantic City eccentricity made of wood and tin, was saved and refurbished in 1970 and moved to Atlantic Avenue in Margate. Originally an attempt to attract real estate business and tourism, Lucy is now designated a National Historic Landmark. Visitors can ascend her leg, scramble onto the howdah on her back and learn about her history at a museum in her interior.
Whether it's the tang of ocean air, the pull of taffy, the whiff of nostalgia or the temptation of winning big that draws you in, try your luck in Atlantic City.
IF YOU GO
The Atlantic City Convention Center provides an online visitor's guide, hotel recommendations and other information.
In Ventnor, sample falafel and other kosher delicacies at the dairy Shalom Pita and Grill, which is open during the summer season, and Bubbies Bistro, serving kosher Italian food.
The Downbeach Deli in Margate has kosher cold cuts though the restaurant itself is not kosher. The ACME in Ventnor Heights offers a small selection of kosher groceries.
Tova's Challahs and Knishes are for sale outside Chabad's Chai Center every Friday from 9:00 to 11:00 a.m.
Don't leave Atlantic City without a taste of James Candy Company's salt water taffy, which are kosher. They'll pull you back for another visit!
---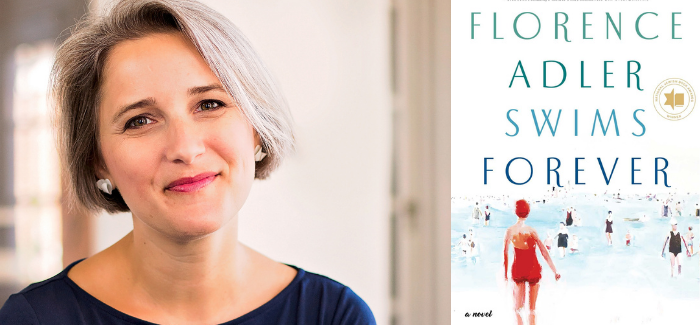 Celebrate the first anniversary of One Book, One Hadassah as Hadassah Magazine Executive Editor Lisa Hostein interviews Rachel Beanland, author of the acclaimed Florence Adler Swims Forever. Touted as "the perfect summer read" and one of the best books of 2020 by USA TODAY, the story, set in 1930s Atlantic City, begins with a shocking tragedy that results in three generations of a Jewish family grappling with heartbreak, romance, antisemitism and the weight of family secrets. The book is the winner of the 2020 National Jewish Book Award's Goldberg Prize, which honors a debut work of fiction. The event is free and open to all. Please register here.