Gazoz Drinks Will Make Your Summer Sparkle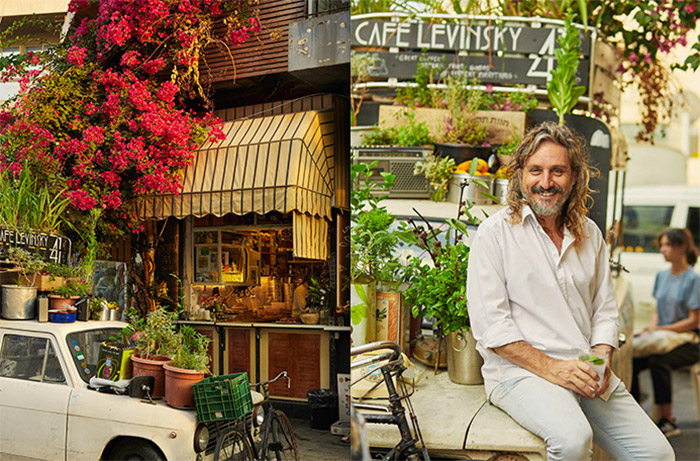 If evocative aromas and tastes can transport us from our kitchens to anywhere in the world, then one sip of a gazoz—a carbonated non-alcoholic beverage usually loaded with fruits and spices and derived from the Turkish word for gas—will zing you straight to Tel Aviv's atmospheric Café Levinsky.
Gazoz drinks and their historic popularity among Tel Avivians predate Benny Briga by a hundred years or so. But in 2021, no Israeli is more closely identified with gazoz than Briga. A denizen of the Levinsky Market in the Florentin neighborhood, Briga concocts his bubbly masterpieces behind a six-foot-long counter in his boho-chic, postage-stamp-sized cafe that is equal parts seltzer bar and natural apothecary thanks to the colorful array of jarred fruits, herbs and spices that surround him.
A long-time chef who once owned his own restaurant, Briga eventually found that as much as he loved to cook, he loved preserving fruits and translating them into wildly exotic sparkling drinks even more.
Now, after years of growing his soda business and in the process becoming, in his own words, "recognizable as the crazy guy on the vintage bike, my curly hair flowing behind me, greens peeking out of my backpack and bike basket," Briga is out with a how-to guide to prepare gazoz at home, a collaboration with best-selling cookbook author and Hadassah Magazine's own beloved food writer, Adeena Sussman.
"Benny is a true original, and one of the kindest, most soulful individuals I have ever met," Sussman says of her friend and co-author. "He also has highly trained culinary chops, having worked as a chef for many years in Tel Aviv. He brings that precision and taste level to every gazoz drink, only interpreted through his wild, seasonal, produce-driven style."
Titled, of course, Gazoz: The Art of Making Magical, Seasonal Sparkling Drinks, Briga and Sussman break down the steps to build the perfect drink. Alas, while there's nothing hard about the process, it's not as easy as spending 30 seconds with your SodaStream. There is prep involved, what Briga has dubbed sweet fermentation—of fruits, spices and chiles—and the boiling down of syrups that must be done days if not weeks in advance.
Those building blocks of fermented fruits and spices as well as syrups grace the glass of the most Basic Gazoz, along with fresh fruit, fresh herbs and flowers, ice and sparkling water. In the book, released on June 1, you'll find Basic Gazoz recipes for a simple (no gazoz is truly simple) Peach drink and more unusual ones, such Loquat, Persimmon and Muscat Grape. This being Israel, there's a Sabra, or prickly pear, drink as well.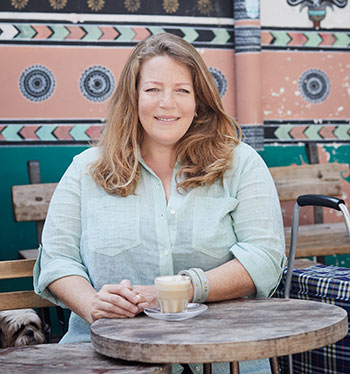 But Briga's expertise goes beyond the Basic Gazoz into milkshakes, vegetable-based drinks and of-the-moment ingredients like kombucha. After you master the basic technique, try your hand at such standouts as Halvah or Pistachio milky concoctions; Carrot or Beet varieties; and Pomegranate Kombucha.
And keep in mind, as you approach the recipes in the book, Briga's philosophy is more about mastering techniques than following strict rules. All of which helps to explain why the first half of the book is a primer on not only the sweet fermentation processes and syrups, but also making au courant probiotics such as kombucha, jun and kefir and working with edible and food-grade flowers.
So, what do you think—are you ready to usher in summer with one of these beauties, or create one inspired by your own garden and kitchen? As Sussman recently told me, "every drink is unique, just like Benny"—or just like you.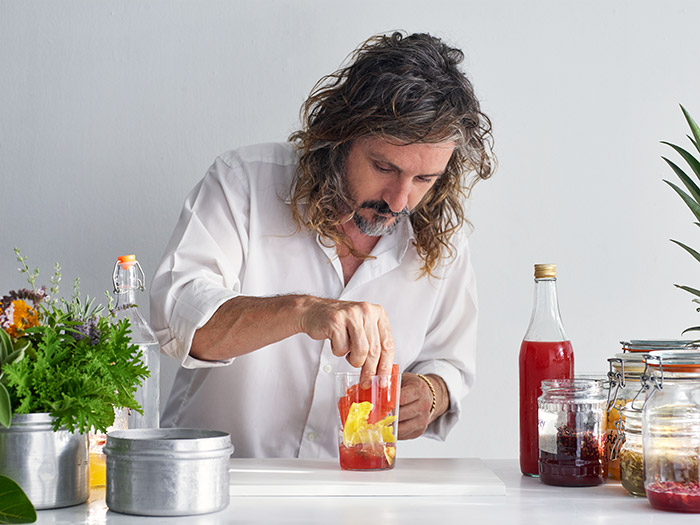 ---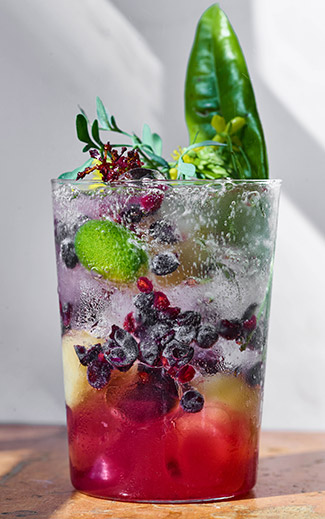 Basic Gazoz
These are the basic proportions to follow when building a simple gazoz. Master this, and every glass will be your creative playground.

Makes 1 drink
3 or 4 large ice cubes (see Note)
2 slices or pieces of fermented fruit, plus 1 to 2 tablespoons syrup from the fruit or milkshake syrup
1 or 2 slices fresh fruit
1 or 2 pieces fermented whole spice or chiles, plus 1 teaspoon fermented spice syrup
12 ounces sparkling water
Leaves, greens, herbs and flowers of your choice
Place the ice in a 12- to 16-ounce glass; spoon in the fermented fruit syrup. Add the fermented fruit, fresh fruit, fermented spice and fermented spice syrup on top. Fill the glass with sparkling water, then garnish the top with the herbs, leaves, greens,and flowers of your choice. Insert straw and drink immediately.
Note: Though any ice cubes work well, cubes made with filtered mineral water or tap water that has been boiled and cooled will be clearer and more compact and will melt more slowly. Try to avoid crushed ice, which will melt quickly and dilute your beverage.
---

Sweet Fermented Fruit in Syrup
Start the fermentation process with clean, unblemished fruit of the highest quality, preferably organic, seasonal, and local. The fruit is the star of the show and should be treated as such, especially because once you're done drinking your gazoz, you will most likely lift the juicy slices of fruit out of the glass and eat them. The general rule for the fruit-to-sugar ratio is 70 percent sugar in relation to the weight of the fruit. Use that as your guide, unless otherwise indicated.

Makes 3 to 4 cups fruit with syrup
1 heaping tablespoon baking soda
1 3/4 pounds whole thin-skinned fruit (see Notes)
Lemon juice (optional)
1 1/4 pounds sugar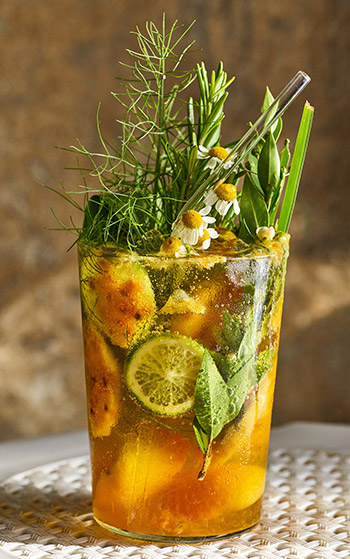 1. Wash the fruit: Combine the baking soda with 2 quarts cold water in a large bowl; add the fruit, rub it well with a soft cloth to clean it, then transfer it to a separate large bowl filled with ice water; let the fruit stand for 30 minutes to firm up.
2. Prepare the fruit: Slice the fruit into 1-inch wedges (remove the cores, stem and pits); you should end up with about 1 1/2 pounds cut fruit. If you're using fruits that might turn brown (such as apples, pears, quince, etc.), drop them in a bowl filled with a mixture of 90 percent water to 10 percent lemon juice as you slice them.
3. Layer some of the fruit in a roughly 1-quart jar with a tight-fitting lid, then sprinkle with sugar. Continue to layer the fruit and sugar until the jar is filled, leaving at least 1 1/2 inches of headroom at the top of the jar.
4. Ferment the fruit: Seal the jar tightly and let it stand on the counter until a syrup has formed and the fruit has softened and slumped slightly, 1 to 3 days, depending on the temperature of your kitchen; the sugar will dissolve more with each passing day. Open the jars daily to release any built-up pressure from fermentation and also to check the progress of the fruit. This is the critical juncture; once you detect an aroma that is the essence of the fruit with a drop of sourness and acidity—sort of like cider—that is the time to decide if you want to let it ferment longer so it becomes more tart, or refrigerate the jar to slow fermentation. You can also dip a spoon in to taste the syrup, which will give you a good indication of what's going on in the jar.
5. When you are happy with the flavor of the fruit, transfer the jar to the refrigerator. Use the fermented fruit and its syrup within 2 weeks.
Notes: To make 1 3/4 pounds whole fruit, you'll need 4 or 5 apples, peaches or pears, or 8 to 10 plums or apricots. If using fresh berries, omit steps 1 and 2.
---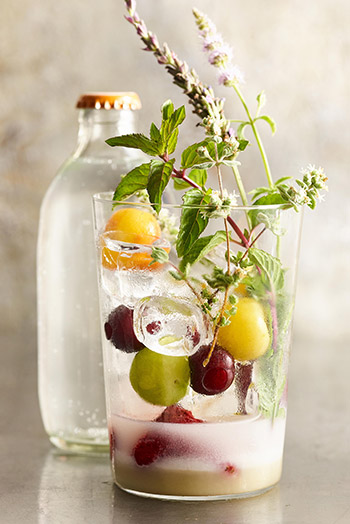 Fermented Whole Dried Spices and Chiles
Adding the flavor of spices and chiles to beverages opens up new worlds of flavor. Think of the way the addition of black pepper, cloves or chiles enhances savory food—or even desserts—and you get the picture. There really are no rules for how you combine flavors, but use a light touch when adding these quick-change artists to your glass of gazoz.
Spices and chiles contain essential oils that dissipate over time, so the fresher the spices, the fresher the oils. When combined with simple syrup, their flavors meld to create the optimal finished product. If you're using cloves, for instance, inhale deeply; the aroma should almost overwhelm you, a veritable spice bazaar under your nose. Try to get whole, not broken, spices, and make sure there is no sand, bugs or anything else that shouldn't be there.
Cinnamon sticks; whole cardamom pods; allspice berries; black, green or pink peppercorns—any whole dried spice you would want to grind to season your food will work wonderfully here—as well as dried chiles.
Makes 1 cup 
1 3/4 ounces whole dried spices, or 1/2 ounce dried hot chiles, such as chile de árbol
3/4 cup 1:1 Simple Syrup, at room temperature, plus more as needed
1. Place the spices or chiles in a clean 6-ounce jar with a tight-fitting lid, leaving about an inch of headroom.
2. Carefully pour the simple syrup on top of the spices or chiles, making sure the spices or chiles are completely covered.
3. Seal the jar tightly and rinse the outside with warm water to remove any sticky syrup; dry.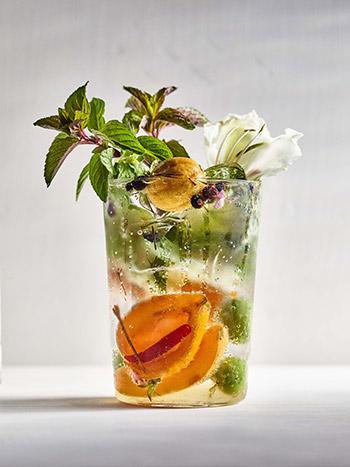 4. Let stand at room temperature for at least 1 week before using, adding more simple syrup to cover the spices or chiles as they absorb the liquid, so the flavors really infuse into the syrup. The spices or chiles will keep at room temperature for at least a year. (If you're going on a trip and your house will be left warm without air-conditioning while you're gone, pop the jars in the refrigerator until you return.)

1:1 Simple Syrup
Wherever straightforward simple syrup is called for, this is the recipe to use. I follow a very basic 1:1 ratio of sugar to water. Use it to ferment spices and mix it with fruit and vegetable juices. It plays well with anything you mix it with, is neither treacly nor watery and can be made in less than 5 minutes. Stored in an airtight container in the refrigerator, simple syrup keeps indefinitely.
Makes 2 cups 
1 1/2 cups sugar
1 1/2 cups water
Combine the sugar and water in a small saucepan and bring to a low boil over medium heat, stirring occasionally. Boil just until the sugar has dissolved, then reduce the heat to very low and simmer for 1 to 2 minutes. Let cool completely, then transfer to an airtight container and store in the refrigerator until ready to use.