The Re-emerging Scourge of Antisemitic Violence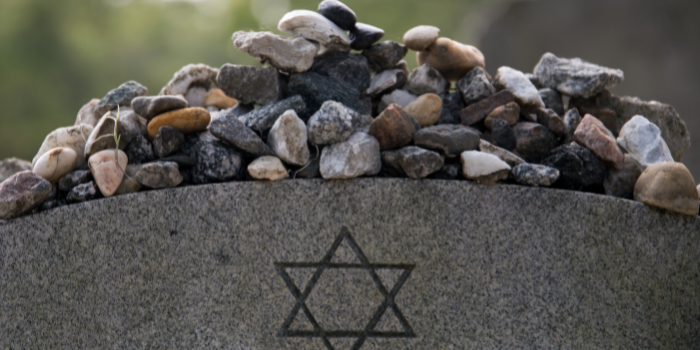 The third time there was a shooting attack against American Jews, The New York Times did not call me to ask for a quick op-ed, as they often did, and neither did anyone else. I presume this was because when something happens three times, it is no longer news. Perhaps these news outlets realized just how un-newsworthy this story actually was. People murdering Jews, as a 3,000-year-old global phenomenon, is pretty much the opposite of news. When no one called me, I felt profoundly relieved, because the things I wanted to say about it were no longer things that I could actually say.
The third shooting attack, the one in Jersey City, N.J., on December 10, 2019, and the dozen or so other physical attacks on American Jews that followed in rapid succession after it—some barely reported—were what privately changed me, perhaps because that third shooting happened at a kosher grocery store about 20 minutes from my house.
Unlike after the synagogue attacks in Pittsburgh on October 27, 2018, and in Poway, Calif., near San Diego, on April 27, 2019, information on the Jersey City attack was slow to accumulate. The two assailants first killed a livery driver (it was later discovered that they had Googled his Jewish-sounding surname), then progressed to killing a police officer who had noticed their stolen U-Haul and then proceeded to attack the grocery store, resulting in a protracted gun battle in which the grocery's owner, a customer and a store worker were killed, along with the two assailants, who were killed by police after an exchange of fire that lasted well over an hour. The scene in the city was dramatic: Entire neighborhoods swarmed with state troopers and the National Guard, and children in nearby schools were held in lockdowns until late into the night.
The event was initially reported as a kind of perp chase gone horribly wrong, during which criminals outrunning cops ducked into a random store for cover. But antisemitic screeds found in the attackers' vehicle and on their social media posts told a different story. So did the tactical gear they wore, the massive stash of ammunition and firearms they brought along, and security camera footage showing them driving slowly down the street, checking addresses before parking and entering the market with guns blazing. Their real targets, authorities surmised, were likely the 50 Jewish children in the private elementary school at the same address, directly above the store—all of whom huddled in closets for the entire gun battle, listening to their neighbors being murdered below.
The delayed clarity on what exactly happened in Jersey City muted some of the public empathy that instantly followed the previous attacks. So did the identities of the attackers, both of whom were Black, and their targets, who were Hasidic Jews—who, it has progressively become clear, many otherwise enlightened Americans view as absolutely fair game for bigotry.
This was obvious from reporting within hours of the attack, which gave surprising emphasis to the murdered Jews as "gentrifying" a "minority" neighborhood. This was remarkable, given that the tiny Hasidic community in question, highly visible members of the world's most consistently persecuted minority, in fact came to Jersey City fleeing gentrification, after being priced out of long-established Hasidic communities in Brooklyn. More tellingly, as the journalist Armin Rosen has pointed out, the apparently murderous rage against gentrification has yet to result in anyone using automatic weapons to blow away white hipsters at the newest Blue Bottle Coffee franchise. What was most remarkable about this angle, however, was how it was presented in media reports as providing "context."
This "context" was breathtaking in its cruelty. As the Associated Press explained in a news report that was picked up by NBC and many other outlets, "The slayings happened in a neighborhood where Hasidic families had recently been relocating, amid pushback from some local officials who complained about representatives of the community going door to door, offering to buy homes at Brooklyn prices." (Like many homeowners, I, too, have been approached by real estate agents asking me if I wanted to sell my home. I recall saying no, though I suppose murdering these people would also have made them go away.) New Jersey's state newspaper, The Star-Ledger, helpfully pointed out that "the attack that killed two Orthodox Jews, an Ecuadorian immigrant and a Jersey City police detective has highlighted racial tension that had been simmering ever since ultra-Orthodox Jews began moving to a lower-income community"—even though the assailants never lived in Jersey City, and apparently chose their target simply through internet searches for Jewish institutions in the New York area. The Washington Post began its analysis of the murders by announcing that Jersey City "is grappling with whether the attack reflects underlying ethnic tensions locally and fears that it could spark new ones"—even though the rest of the article described in detail how "longtime Black residents and ultra-Orthodox implants alike say that they haven't experienced significant ethnic tensions here."
I was not able to find any similar "context" in media reports after the 2015 massacre at a Black church in Charleston, S.C, or the 2016 massacre at an LGBTQ nightclub in Orlando, Fla., or the 2019 massacre at a Walmart in El Paso, Texas, frequented by Latino shoppers—all hate-crime attacks that unambiguously targeted minority groups. In each of those cases, as was true in Jersey City, media coverage included sympathetic pieces about the victims, along with investigative pieces about the perpetrators, the latter focused on how perpetrators were drawn into violent, irrational hatred. But in reviewing media reports from the aftermath of these events, I found no coverage of how straight people in Orlando other than the perpetrator—in other words, reasonable, non-murderous, relatable "normal" neighbors—were understandably upset about gay couples setting up shop in the neighborhood and disrupting their "way of life," or about how white people with deep family roots in Charleston felt understandably wistful about the Black community's "takeover" of certain previously white neighborhoods, or about how non-Latinos in El Paso felt "squeezed" by ongoing "tensions" with Latinos who had pushed for more bilingualism in schools.
No one covered this "context," because doing that would be bonkers. It would be hateful victim-blaming, the equivalent of analyzing the flattering selfies of a rape victim in lurid detail in order to provide "context" for a sexual assault. That doesn't mean that intergroup tensions (or the problems with flattering selfies) aren't ever worth examining. It simply means that presenting such analysis as a hot take after a massacre is not merely disgusting and inhuman, but also a form of the very same hatred that caused the massacre—because the sole motivation for providing such "context" in that moment is to inform the public that those people got what was coming to them.
The mental gymnastics required to get the Jersey City attack out of my head were challenging, especially when the Jewish community in the New York area was treated in the two weeks following this massacre to more than a dozen other assaults of varying degrees, most of them coming during the festival of Hanukkah. These included Jews being slapped, punched, kicked and beaten on the streets by people who made their motives clear by shouting antisemitic insults, and many other variants on this theme that received much less attention. (One that shook me personally was when a young white man broke into my students' dormitory at Yeshiva University at 4 a.m. and started a fire—using matches from the dorm lobby's Hanukkah candle lighting.)
This new normal culminated in another particularly horrifying attack on December 28, 2019, less than three weeks after the Jersey City shooting. A man entered a crowded Hanukkah party at a Hasidic rabbi's house in Monsey, N.Y., wielding a four-foot machete. He stabbed or slashed five people, all of whom were hospitalized; one victim, a rabbi who fell into a coma, died several months later from his wounds. Stabbing Jews was apparently in vogue in Monsey, as this was the second antisemitic knifing in town in just over a month. The previous attack's victim was beaten and stabbed while walking to morning prayers, winding up in critical condition with head injuries. Media coverage of these attacks also sometimes featured "context" (read: gaslighting), mentioning heated school-board or zoning battles between Hasidic and non-Hasidic residents—even after the perpetrator was identified as a resident of a town 40 minutes away. One widely syndicated AP article situated the previous week's bloodbath by informing millions of readers that "The expansion of Hasidic communities in New York's Hudson Valley, the Catskills and northern New Jersey has led to predictable sparring over new housing development and local political control. It has also led to flare-ups of rhetoric seen by some as antisemitic." In other words, the cause of bloodthirsty antisemitic violence is…Jews, living in a place! Who wouldn't express frustration with municipal politics by hacking people with a machete?
After the first attack in Pittsburgh, I was devastated. After the second attack in Poway, I was angry. But after the third attack near my home and the season of horror that followed, I simply gave up.
There was no way I could write about any of this for The New York Times, or any other mainstream news outlet. I could not stomach all the "to be sures" and other verbal garbage I would have to shovel in order to express something acceptable to a non-Jewish audience in 1,000 words or less. I could no longer handle the degrading exercise of calmly explaining to the public why it was not O.K. to partially amputate someone's arm with a four-foot-long blade at a holiday party, even if one had legitimate grievances with that person's town council votes. Nor could I announce, as every non-Jewish media outlet would expect, that these people whose hairstyles one dislikes are "canaries in the coal mine," people whose fractured skulls we all ought to care about because they serve as a warning—because when Jews get murdered or maimed, it might be an ominous sign that actual people, people who wear athleisure, might later get attacked! I was done with this sort of thing, which amounted to politely persuading people of one's right to exist.
The thought of writing about this for Jewish media was difficult for a different reason. It was demoralizing to confront the American Jewish community's ongoing and escalating panic, the completely justified intergenerational PTSD freak-out voiced constantly from every point on the political spectrum, the repetitive anxiety attacks expressed on social media, the nonstop discussion about whether this was like Berlin in 1935. This facile comparison was of course ridiculous on its face as well as insulting to the overwhelming majority of Americans who responded to these attacks in exactly the opposite fashion from the mass state-sponsored violence of Nazi Germany. If anything, this feels more like Paris in 2005—a place where there was no shortage of legal protections and official goodwill, but where one wouldn't be crazy to occasionally hide a yarmulke under a baseball hat. Yet the thought of explaining this was exhausting, too, and also beside the point. Was I really going to expend energy delineating why this wasn't like the Third Reich, but perhaps resembled, say, second-century Egypt or 10th-century Spain? To what end? To reassure everyone that "only" a few Jews were actually maimed or dead, so everything was cool? Nitpicking over sloppy historical analogies was a convenient distraction. The fact was that a communal memory of multiple millennia had been activated, and it was deep and real.
Of all the tedious and self-serving explanations for why this scourge was apparently re-emerging in American life (Guns! Trump! Trolls! Twitter!), the most convincing was actually the most boring, and also the most disturbing: The last few generations of American non-Jews had been chagrined by the enormity of the Holocaust—which had been perpetrated by America's enemy, and which was grotesque enough to make antisemitism socially unacceptable, even shameful. Now that people who remembered the shock of those events were dying off, the public shame associated with expressing antisemitism was dying, too. In other words, hating Jews was normal. And historically speaking, the decades in which my parents and I had grown up simply hadn't been normal. Now, normal was coming back.
Given the ugliness of recent months, normal seems here to stay. As American Jews have endured more physical attacks along with widespread vitriol online and in person, the public response to these pre-pandemic attacks is particularly instructive—not just the violence, but the gaslighting that now routinely accompanies that violence. The instant delivery of victim-blaming "context" serves to convince everyone that these attacks are in fact the Jews' fault. Hasidim are stabbed and maimed, the press informs us, because they manipulate and seize power on the town council; Jews who don't want Israel to be bombed are bludgeoned and burned, Instagram tells us, because they thirst for the blood of innocent children.
These are remarkably unoriginal lies, the same absurd blood libels and nutjob conspiracy theories that hateful people have used to attack Jews for centuries. Jews have long inherited the communal historical memory of this ancient "normal." What's more painful to discover, though, is the equally ancient "normal" of the psychological attack—that millennia-long attempt to convince everyone, including the Jews themselves, that they deserve it.
---
Dara Horn is an award-winning author of five novels and a scholar of Hebrew and Yiddish literature who has taught at Harvard University, Sarah Lawrence College and Yeshiva University. This essay is excerpted and adapted from People Love Dead Jews: Reports from a Haunted Present. © 2021 by Dara Horn. Used with permission of the publisher, W.W. Norton & Company, Inc. All rights reserved.