Jeweled Israeli Couscous in the Instant Pot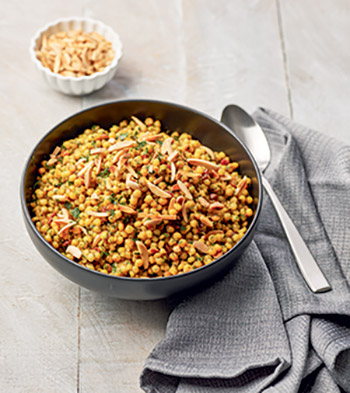 Israeli couscous, or ptitim, as it is called in Israel, was invented in 1953 when Prime Minister David Ben-Gurion asked the local industry to create a wheat-based substitute for rice, which was scarce at the time. It is also called "Ben-Gurion's Rice." In this recipe I prepare it like the Persian rice dish served at special occasions.
On November 11 at 12 p.m. ET, in the next installment of the Hadassah Magazine Discussion series, Paula Shoyer will be preparing this recipe live on Zoom during a cookalong and conversation with Adeena Sussman. 
PARVE, VEGAN
HANDS-ON TIME: 10 Minutes
TIME TO PRESSURE: 9 Minutes
COOKING TIME: 6 Minutes
BUTTONS TO USE: Sauté and Pressure Cook
RELEASE TYPE: Natural Release for 3 Minutes
ADVANCE PREP: May be made 2 days in advance
Serves 6
2 tablespoons extra virgin olive oil
1 small onion, chopped into 1/3-inch pieces
1 (8.8-ounce) package of Israeli couscous
2 1/2 cups vegetable stock
1/2 teaspoon saffron threads
1/4 teaspoon allspice
1/2 teaspoon salt
1/2 cup raisins or 1/3 cup barberries
1/2 cup dill, finely chopped
1/2 cup Italian parsley leaves, finely chopped
1/2 cup cilantro leaves, finely chopped
1/8 teaspoon black pepper
1/3 cup slivered almonds, toasted*
Press Sauté, and when the display reads "Hot," add the oil and onions to the inner pot. Cook for 2 1/2 to 3 minutes, stirring often, until the onions start to brown. Add the couscous and cook for another 2 minutes, stirring often. Press Cancel.
Add the stock, saffron, allspice and salt and stir, scraping the bottom clean with a wooden spoon. Secure the lid, ensuring that the steam release handle is in the Sealing position. Press the Pressure Cook button and set the cooking time for 6 minutes. When the cooking time is complete, let sit for 3 minutes to naturally release the pressure. Turn the steam release handle to the Venting position to release any remaining pressure.
Press Cancel and remove the lid. Add the raisins or barberries, stir, and let sit for 1 minute. Carefully remove the inner pot from the device and add the dill, parsley, cilantro and pepper. Mix well. Taste and add more salt if needed. Serve garnished with the toasted nuts.
To reheat, add some moisture by adding a tablespoon or two of hot water to the couscous, mix in, and then reheat.
*TOASTING NUTS
On the stovetop: Heat a frying pan over medium heat, add the nuts, and stir often until golden brown on all sides. Watch them very carefully.
In the oven: Preheat the oven to 325°. Spread the nuts out on a cookie sheet lined with parchment paper and bake for 15 to 20 minutes, shaking or stirring once or twice, until golden brown and fragrant.