Broadcasting Jewish 24/7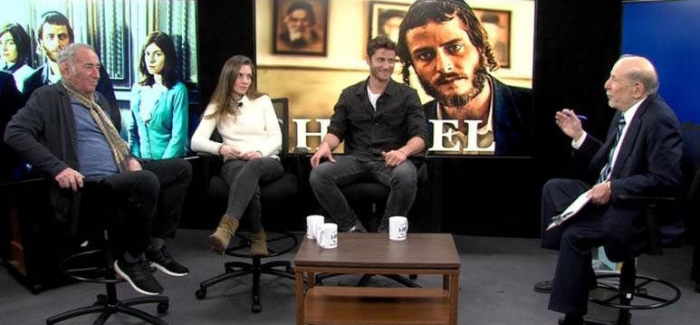 In 2003, when Rabbi Mark Golub created Shalom TV—the first dedicated Jewish television channel, now known as Jewish Broadcasting Service—there were few at-home media options for Jewish content. Golub, who leads a havurah in Stamford, Conn., had experience producing popular media for diverse audiences. In 1991, he created a Russian-language television channel to serve Jews from the former Soviet Union who did not speak English, and he produced several Broadway plays, notably revivals of The Gershwins' Porgy and Bess, Who's Afraid of Virginia Woolf and Vanya, Sonia, Masha and Spike—all Tony winners.
Today, the Stamford-based Jewish Broadcasting Service (JBS) has more than a half-million monthly viewer households—a figure that continues to rise during the pandemic, as many Americans stay home. Donor-funded JBS received a huge boost in viewership when Comcast added it to its channel lineup in late 2020. JBS also broadcasts via internet streaming providers like DirecTV, Apple TV and Amazon.
Although much of JBS's content is available elsewhere online, for many viewers, "it's still easiest to interact with a channel right on your television," explained JBS Senior Vice President Shahar Azani. "This is a centerpiece around which all Jews can engage—a point of access to Jews and Judaism."
The channel's 24/7 lineup includes religious services and events from New York Jewish institutions; Israeli and Jewish films; and daily English-language news from the Israeli media outlet ILTV. It also has broadcasted Hadassah events, including some Hadassah Magazine programs.
JBS has a wealth of original programming as well. Among the most popular is Golub's weekly talk show, L'Chayim, which began on radio in 1979 and is now a JBS primetime staple. Other originals include The Wisdom of Ruth Westheimer, an advice show with the noted sex therapist, and Shalom Kids, a children's program. During Hanukkah, JBS invites Jewish celebrities to light the menorah live. Past candle lightings have included actress Tovah Feldshuh and Israeli food writer and television personality Gil Hovav.
"JBS is a lifelong dream come true for me, but it never occurred to me that it would become such an important fixture in the American Jewish landscape," said Golub. "A place where a Jew can learn to read Hebrew, study a page of Talmud, have a front row seat at major Jewish gatherings and lectures and see in-depth interviews with the brightest and most exciting people on the world Jewish scene—including, of course, leaders of Hadassah!"
While JBS presents diverse Jewish perspectives, Azani said, the channel's "unabashedly pro-Israel" bias is necessary to counter anti-Israel propaganda. "There's so much imbalance out there that we're not shy about showcasing Israel's position. We're offering a point of view you won't see from The New York Times or CNN." But Azani pointed out that on L'Chayim, Golub has hosted Jews with a variety of perspectives, including Morton Klein, president of the right-wing Zionist Organization of America, and Jeremy Ben-Ami, who leads the liberal group J Street.
"There's so much more to Israel and the Jewish world beyond geopolitics," Azani added. "We amplify eclectic and diverse voices. And every day, we get emails from people who first engaged with Jewish content through our TV."
---
Hilary Danailova writes about travel, culture, politics and lifestyle for numerous publications.