All About Mel Brooks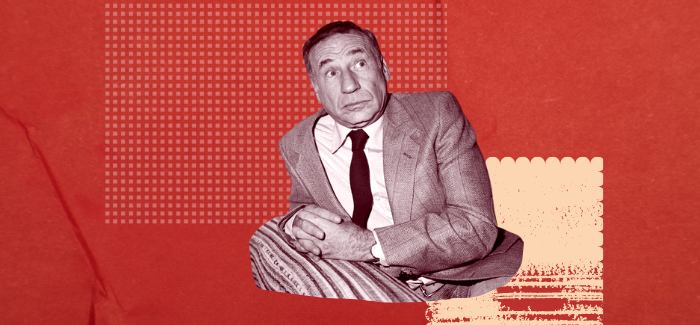 All About Me!: My Remarkable Life in Show Business By Mel Brooks (Ballantine Books)
Mel Brooks is show business royalty, and to quote him, in The History of the World Part 1, "It's good to be the king."
Indeed, the 96-year-old legendary funnyman was the eighth person to become an EGOT—someone who has won an Emmy, Grammy, Oscar and Tony award. He's made millions of people laugh by following a simple rule: Don't give the audience what it knows. Give them, he writes in his memoir, "what they don't expect."
And he's done it time and again, with fresh takes on the science fiction genre (Spaceballs), Westerns (Blazing Saddles) and suspense films (High Anxiety), among others.
And he covers all these films in All About Me!—and then some.
Born Melvin Kaminsky to an impoverished Brooklyn family, he had a largely happy upbringing, despite his father, Max Kaminsky, dying of tuberculosis when the Brooks was only 2. Of his mother, Kate Kaminsky, he writes that she was his "first comic foil, and enabler." As a teen, an uncle took him to his first Broadway show, an experience that convinced Brooks to go into show business rather than the rag trade like everyone else in his neighborhood.
From that point, Brooks shares stories about his World War II experiences in the military, as a Catskills tummler and his work with Sid Caesar—alongside the likes of Neil Simon, Larry Gelbart and, briefly, Woody Allen.
And, of course, there are his Jewish jokes and one liners, many of them classics: In Spaceballs, the royal daughter of the Planet Druidia is, naturally, a Druish princess; Moses drops five of the 15—make that 10—commandments; the 2,000-year-old-man recalling his time with "that antisemite" Paul Revere who, afraid Jews were moving into Boston, spent the night riding to every village and farm shouting, "The Yiddish are coming! The Yiddish are coming!"
He also goes into the origins of each of his major projects—much of it fascinating. For example, I didn't know (or forgot) that Young Frankenstein was Gene Wilder's idea. Or that Blazing Saddles originated from a script written by Andrew Bergman.
All this would have been enough for a fun book about a funny man. But he goes on. And on. For every film, television show and play, he mentions by name and praises set designers, lighting designers and costume designers.
Readers, or at least this one, would have preferred learning more about Brooks, the son, husband, father and friend. Sadly, he writes that his "intention in writing this book was mainly to share my adventures in show business, and not to indulge in too many stories of my private life."
He's probably saving those for his next book, perhaps titled All About the Rest of Me.
May the Schwartz be with him.
---
Curt Schleier, a freelance writer, teaches business writing to corporate executives.