'Zabar's,' an Appetizing History, With Recipes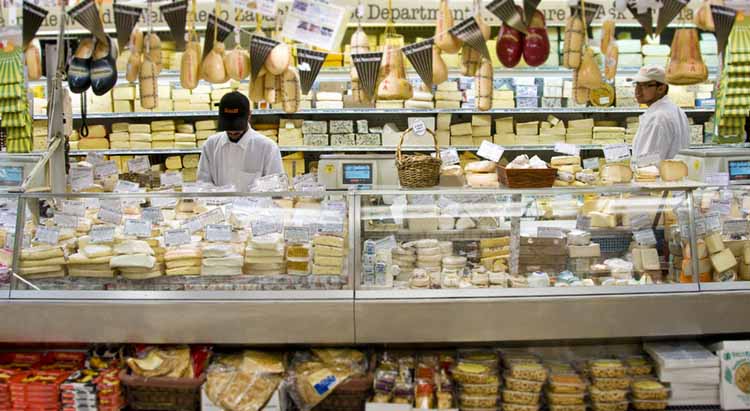 Zabar's: A Family Story, With Recipes
By Lori Zabar (Schocken)
Back in the 1970s, there was nothing more magical than a Saturday night at Zabar's. The quintessential New York City food purveyor was open late in those days, and the crush of Upper West Siders stopping at the store on Broadway and 80th for nova, cream cheese, babka and a bit of gossip on their way home after a night out was an existential part of that fabled period of low rents, high style and the occasional mugging.
While that halcyon time is long gone, Zabar's still flourishes, albeit differently. The story of the store that began in 1934 as a tiny mom-and-pop appetizing counter—a vintage appellation for places that sold smoked and pickled fish, cream cheese spreads and, maybe, dried fruit, but no meat—is also the story of the family.
Zabar's: A Family Story, With Recipes takes readers from the Ukrainian shtetl origins of the Zabarka/Teitelbaum families and an existence rife with danger and pogroms, to the upper-middle-class Upper West Side, where four generations of Zabars all lived and flourished within 10 blocks of the store. (Except, that is, for the family apostate, Eli Zabar, one of Louis and Lilly's sons, who fled to the Upper East Side to start his own food empire.)
Zabar's is a delicious, overstuffed history of the family and the shop, including the precarious early days and the legendary price battles over Cuisinart food processors, which Zabar's sold well below the retail price, infuriating the Cuisinart company and thrilling loyal customers. Also covered is the decades-long internecine quarrel between Zabar sons Saul and Stanley (Lori's father), and their partner and co-owner Murray Klein, whose marketing genius made the store famous.
And then there are the family recipes and the delicious dive into the stories behind the company's almost infinite inventory of (mostly nonkosher) cheese, smoked fish, baked goods, herring, coffee, pastrami and more. (See below for Lilly Zabar's Stuffed Cabbage and Zabar's Nova Cream Cheese Spread, with intros from Lori, perfect for the Shavuot holiday.)
But mostly, the book is about the tenacity of Zabar's—and the Zabars. Lori, who passed away in February at the age of 67 after a five-year battle with cancer, has written a loving, and lovable, book that captures the unique culinary and cultural cachet the store still holds. As a longtime patron reflects, "I can't even picture life without Zabar's, I hope it lasts forever."
Lilly Zabar's Stuffed Cabbage
Adapted by Judith Zabar; edited and tested by Monita Buchwald
Makes about 24 stuffed cabbages
"This is my favorite of Grandma Lilly's recipes. When my mother makes her adapted recipe, I love the combination of sweet and savory flavors. Stuffed cabbage tastes best if it's made the day before, to allow it to absorb all that good sauce. This recipe can be doubled, with cabbage rolls frozen for another time."
INGREDIENTS
1 large head green cabbage (about 4 pounds)
1⁄2 cup apricot preserves
One 15-ounce can stewed tomatoes
1 1⁄2 cups water
Juice of 1 lemon
1⁄4 cup packed dark or light brown sugar
1⁄2 cup raisins or currants
2 garlic cloves, minced
2 pounds ground beef
1⁄2 cup uncooked white rice
1 1⁄2 teaspoons kosher salt
1⁄4 teaspoon freshly ground black pepper
1 large egg
1 medium onion, grated
1⁄4 cup ketchup
Tomato juice or soup stock, if needed
Core the cabbage and place it in a large pot with water to cover. Bring to a boil and then simmer, covered, for about 10 minutes, until wilted. Drain; cover with cold water and drain again. (Alternatively, you can place the cored cabbage in the freezer for a few days. Defrost 24 hours before making the stuffed cabbage. It will wilt naturally.)
Combine the preserves, tomatoes, 1 cup of the water, the lemon and brown sugar in a saucepan. Bring to a boil. Add the raisins and garlic and stir until combined. Remove from the heat and cover.
Combine the meat, rice, salt, pepper, egg, onion, the remaining 1⁄2 cup water and the ketchup in a large bowl. Blend with your fingers until well-mixed.
Pull off the tough outer leaves of the cabbage and discard. Remove the big veins with a V cut in the other leaves, if necessary. Chop any leftover cabbage and reserve it to put on top of meatballs.
Pull off the inside leaves and place them one by one on a flat surface, outside down. Fill with 2 or 3 heaping tablespoons of filling, depending on the leaf size. Fold up like an envelope: top first, then bottom, then the two sides. Place, seam side down, in one layer in a large Dutch oven. You can add a few more on top.
Pour the sauce over the stuffed cabbage, place the Dutch oven on the stove and simmer, covered, for 2 hours.
Preheat the oven to 300°F.
Place the stuffed cabbage in the oven and cook, uncovered, for another 30 minutes. Add tomato juice or stock if more liquid is needed.
Zabar's Nova Cream Cheese Spread
Created by Tiffany Ludwig Edited and tested by Monita Buchwald
Makes 2 Cups; Serves 4 as a main course, 6 to 8 as hors d'oeuvre
INGREDIENTS
8 ounces cream cheese (at room temperature for easier mixing)
4 ounces sour cream
1 1⁄2 teaspoons fresh lemon juice
1 to 2 tablespoons capers, drained and rinsed<
2 tablespoons minced red onion
1 tablespoon chopped fresh dill
4 ounces smoked nova salmon, finely chopped
Bagel chips, bagels, rye bread, crackers or carrot sticks for serving
DIRECTIONS
Mix together the cream cheese and sour cream in a medium bowl until smooth.
Add the lemon juice, capers, red onion and dill. Stir until combined.
Gently fold in the nova salmon until evenly mixed.
Serve on bagel chips, bagels, rye bread, crackers or carrot sticks.
---
Beth Segal is an award-winning writer and photographer specializing in food projects. Her work has appeared in The Plain Dealer, The New York Times Sunday Magazine, Bon Appétit and many other publications.