The Cramm Translates the News for Gen-Z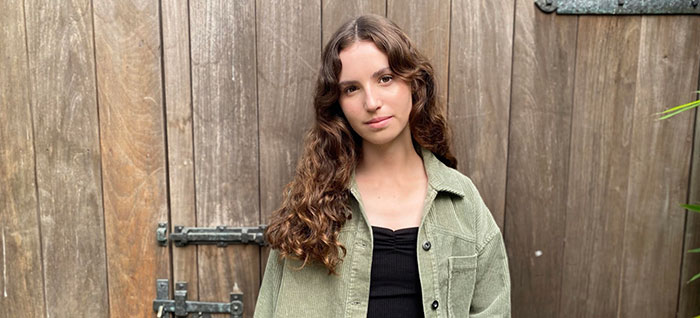 As Olivia Seltzer followed the results of the United States elections in 2016, the then-12-year-old decided that it was time for her to become more informed about the news. Unfortunately, she said, she quickly realized that much of the media was "primarily targeted toward and created by an older demographic."
Recognizing a vacuum, the now 18-year-old Santa Barbara, Calif., native set out to make news digestible for tweens and teens—and The Cramm was born.
According to Seltzer, who will be a first-year student at Harvard in the fall, her digital platform now reaches 2.5 million monthly readers, with followers in 113 countries who look to The Cramm's newsletter—delivered via email or text every weekday—website and social media channels to understand politics, global events and more. Recently, she's been sharing news about Russia's invasion of Ukraine. Other routine topics include the rise of antisemitism; American politics; Israeli-Palestinian relations; Covid-19; and the occasional light story, such as one about Dolly Parton turning down a nomination to the Rock & Roll Hall of Fame. Seltzer sources her stories from major outlets—ABC News, The New York Times and The Wall Street Journal, among others—and frequently links to original articles in her copy.
"I don't write with any sort of bias," Seltzer stressed, but added that she does "take a very strong pro-human rights stance." Indeed, as a descendant of Jewish refugees from the former Soviet Union, she sees herself as an activist with a desire "to make the world a better place."
Following years of waking up at 5 a.m. to work on The Cramm before school, Seltzer identified yet another vacuum among her fellow Gen-Z compatriots—the underlying history behind many of today's leading news stories.
"I realized there's this assumption in the news that we all have an understanding of the major events that have happened over the last century or so, but in reality, a lot of us don't," she explained. "You can't be expected to solve the world's problems if you don't understand them."
And so, earlier this year, Seltzer published Cramm This Book: So You Know WTF Is Going On in the World Today, a book that decodes the backstory, for example, to the Arab-Israeli conflict and the civil rights movement that she connects to the Black Lives Matter movement.
"I tried to be very straightforward and matter of fact in my writing," Seltzer said, "which is easier to do when I'm cramming, pun unintended, so much into just one book. So there really isn't the time to inject it with my own perspective and personal biases."